Well, I said either I would kill the marathon, or it would kill me--and in the end I think both happened. I think it was like a old West shoot-out where they march 10 paces and draw--and we both shot each other in the hearts. Or quads, in my case.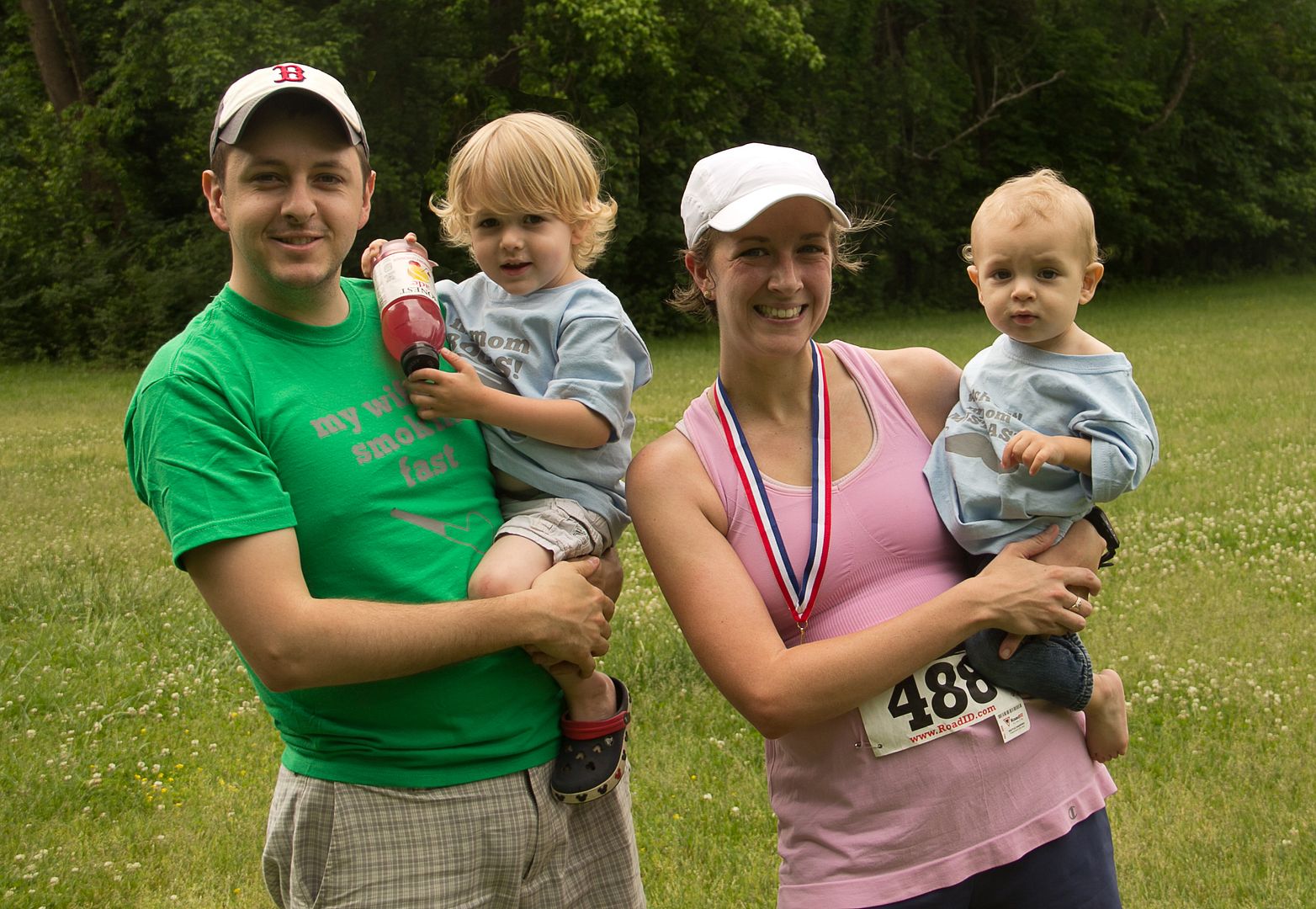 Anyways, it was a GREAT race. I wanted to run under 3:40 and
dreamed
of running under 3:35, but knew I had no business doing that. I ended up at 3:39:02 (unofficially--it wasn't chip timed, they pulled the tag off my bib which was INSANE) and was just thrilled. I apparently can't read a website and thought until after the race that this year's Boston qualifying time was still 3:40, but upon closer inspection it's actually 3:35. I think I was confused because I seriously didn't know what year it was. Whoops?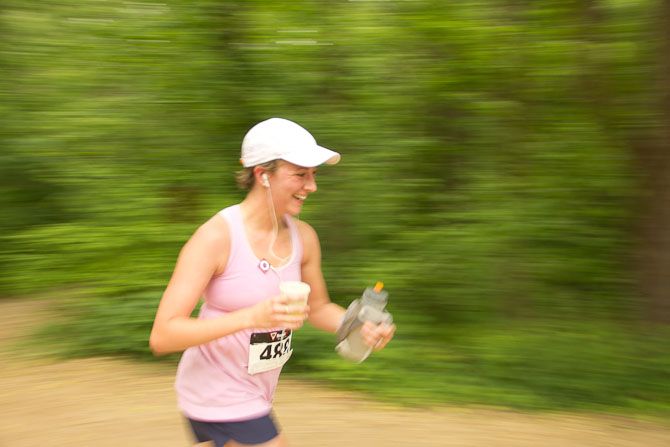 I'm still claiming that I Boston Qualified--unfortunately it was for the race last month. :) My goal since 2006 has been to run under 3:40 AND I DID IT. No matter what the BAA says, I qualified. And truth be told, running Boston in 2013 was going to mess up my ability to grow Finley and Braden a sister... I would rather run in 2014. So watch out Chicago, you are next on my list of marathons to kill and be killed by.
And here's the race recap. Saturday, we went to Mellow Mushroom in Adams Morgan for some carb-loading, which is one of the parts of marathon training in which I excel greatly. I ate that pizza so good, dudes. So did B-Town. Look how happy he is.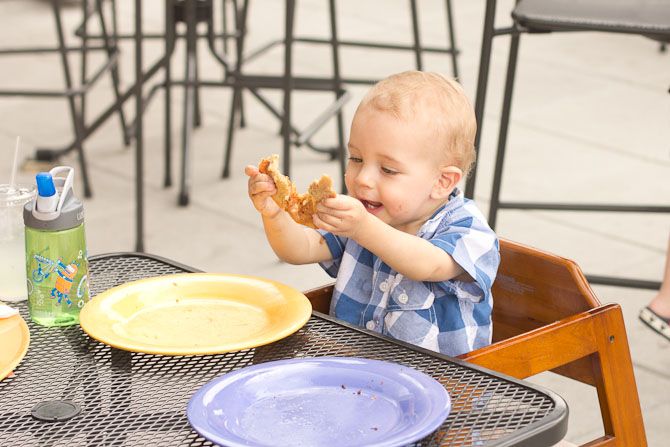 The race had two start times, and I opted to start at 6:30 rather than 7:30 so it would be a little cooler when I ran. Less people ran this one (I think I was the 3rd girl and 15th person in that race!) so it could have been really difficult to run if no one was near me. Luckily I stayed a few strides behind a guy in a blue jersey for about 19 miles and averaged 8:10s for that part. Seriously. I kept wanting to slow down but I didn't want to lose my pal, and I felt really good. (Which is what always happens... the first 20 miles are easy and then you die.) The last six miles is where I got kicked in the pants. Repeatedly. I passed the blue jersey dude and a couple other dudes (!!!) even though I slowed down A LOT. It was sliiightly up hill the whole way back with a few very short, steep inclines over some locks. I wanted to keep it under 8:20... then 8:30... and finally hoped and prayed I could keep it under 9:00 for the last 6 miles. I ended up averaging 8:39 for the last 6.2 miles, which is something of a miracle.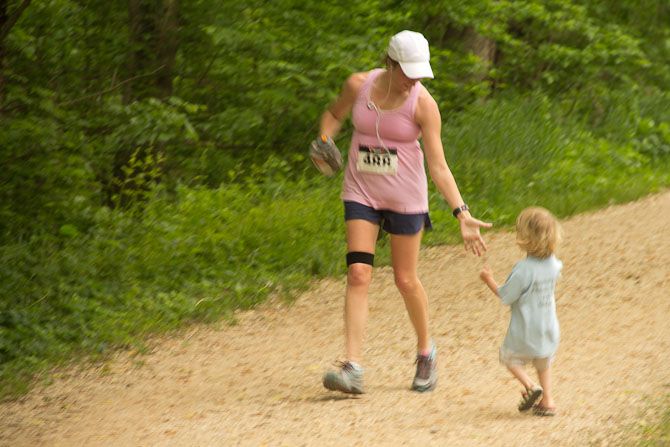 Sol and the boys saw me at least 5 times... along with the 20 other people cheering. Seriously, having a crowd and other runners make a HUGE difference. If it wasn't for blue jersey man, it would have been a very different race. I ran with an iPod for the first time ever and spent a good amount of time picking the perfect play list with songs at the right times to inspire me (I'm a little obsessed with Florence + the Machine lately... let's just say "Dog Days are Over" and "Shake it Out" made up a good chunk of the playlist.) However, dumb iTunes took it upon itself to fill my iPod with other junk since I didn't use all the space... so I had to skip over a lot of David Archuleta. Sorry, Archie. It's not you, it's me.
Sol designed (and I helped with font choice and using the Silhouette...) really cute shirts for the boys and him to wear. I loved them. They say, "my mom rocks" with a boom box, "watch out! my mom must dash" with a mustache and "my wife is smokin' fast" with a pipe. And the backs said "lucky number seven" for Sol, "Boston or bust" for Braden and "my mom is running a 3:40 today!" for Finley. They were great!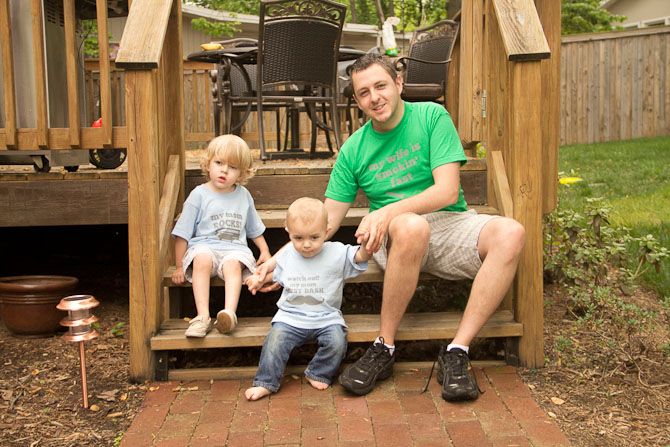 And one of the best parts of the whole race is that Finley would run out to me on the course and say, "Here's your water bottle, mama!" as he handed me my bottle. Too sweet. I always have to thank Sol--for giving me the time to train and for carting two squirrel-y boys all over a marathon course to cheer for me. I love that he makes this possible for me.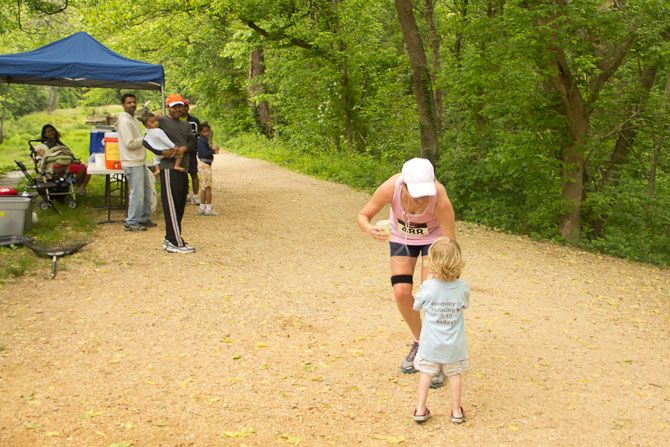 All in all, I'm thrilled. I didn't crash quite as hard as I sometimes do in the finish--I'm actually pretty proud of those last 6. My quads are HURT--I tried to take an ice bath but accidentally used warm water instead of cold water and it melted my ice. But I did foam roll! Yippee! My knee brace also removed some of my favorite skin on my leg--normally I take it off after 10 miles when it starts to chafe but apparently it cut right through the nerve endings because I wore it the whole time. It's gross. I didn't hurt my IT band like I normally do when I run hard--no injuries at all this time! I'm just happy. I'm not going to be able to walk down stairs for a week, but I'm happy.
Going forward, I'm registered for Chicago in October and am excited to run. It's pretty much the polar opposite of this race in a great way. I signed up to run with a training group starting in June which is something I've never done before. I pretty much train alone so who knows what will happen when I have other people to run with and coaches to advise me. Olympic trials, probably. I'm running a few 5Ks in the next few months (which I can't recall ever running one before, so I'm excited about races that take less than 30 minutes to finish) and am excited to see what I can do. I clearly need to work on finding some speed at the end. And I probably need to make a date at my nearest track to do that. Ugh.
Holy long post! Did you read all that? If so, I'll send you my tacky terrible medal to wear for a day. Also the t-shirt I got was ironed on--not even screen printed. It was a little rinky dink marathon, but it was great. I PRed and FINALLY achieved my goal. Sub 3:40, baby.