Finley requested a Lego Police Party for his birthday this year--he slowly added that it also needed to have science experiments and Star Wars... but I managed to keep him focused on Lego Police.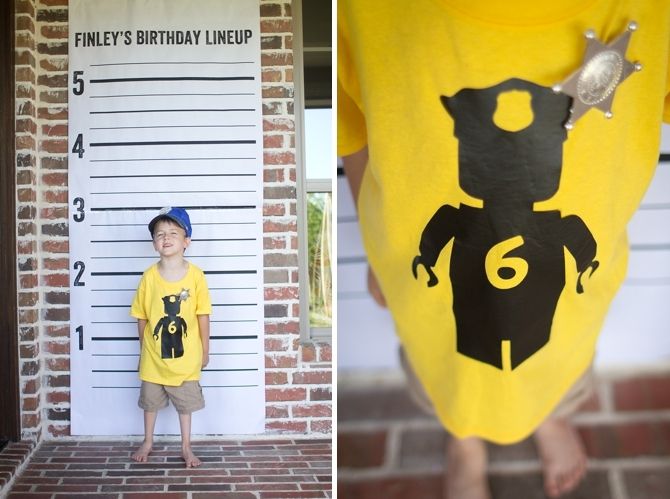 This party was thrown together a lot quicker than Braden's--due to Keaton getting tubes and a last minute flight out of town, I didn't have much time to plan. It ended up looking a lot like the boys' parties from
last year
... and reusing a few elements of Braden's party. To be honest--I had a lot of stuff we didn't even get to use. We decided reusing
Braden's donut pinata
was acceptable... but we forgot to put it out. And I had a lot of decor from lats years black and white Batman party that never went up. Whoops! My number one party tip--don't do it all yourself. If you want a fancy party and want it to be photographed well, you need a partner. Thank God Jenn is moving back to Texas in a month!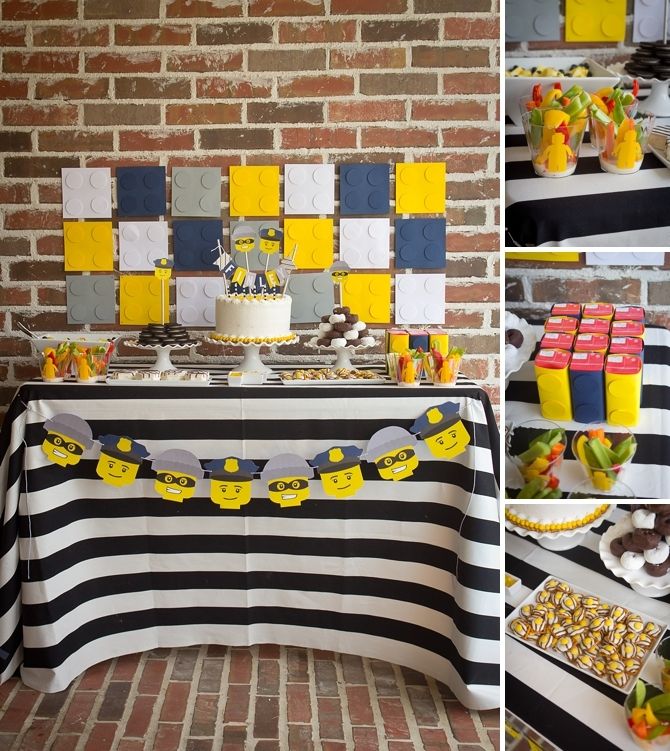 I do looove this dessert table. I made the same veggie cups as from
Braden's 1st Mustache Bash
--and the same hug pretzels that we used last year. Those are always a hit! As were the lego brick juice boxes.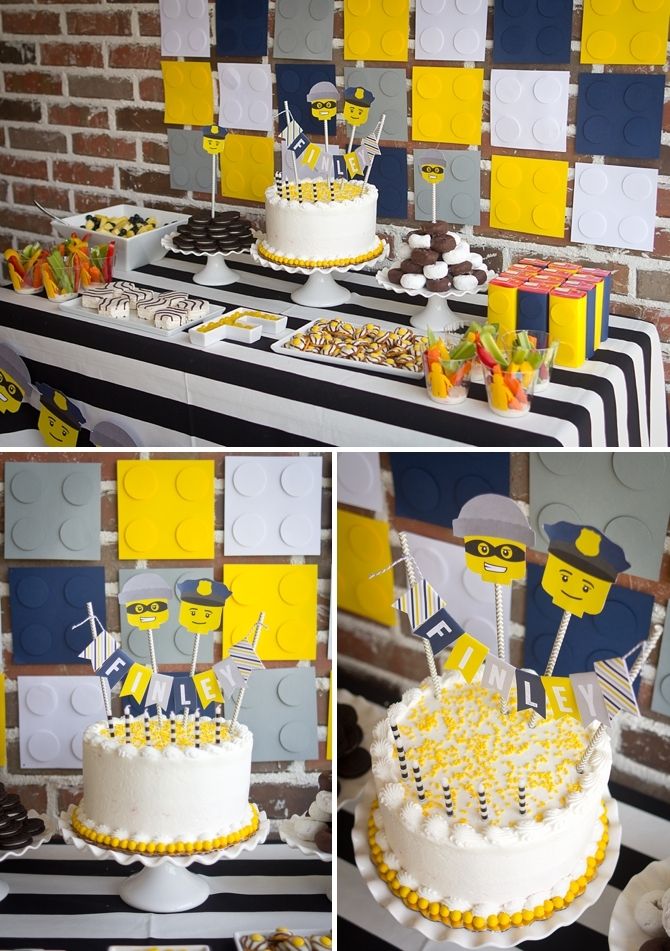 The cake was a storebought white cake that I threw some candy and printables on and called it a day! I love the way it turned out and think it looks adorable in front of the lego brick backdrop.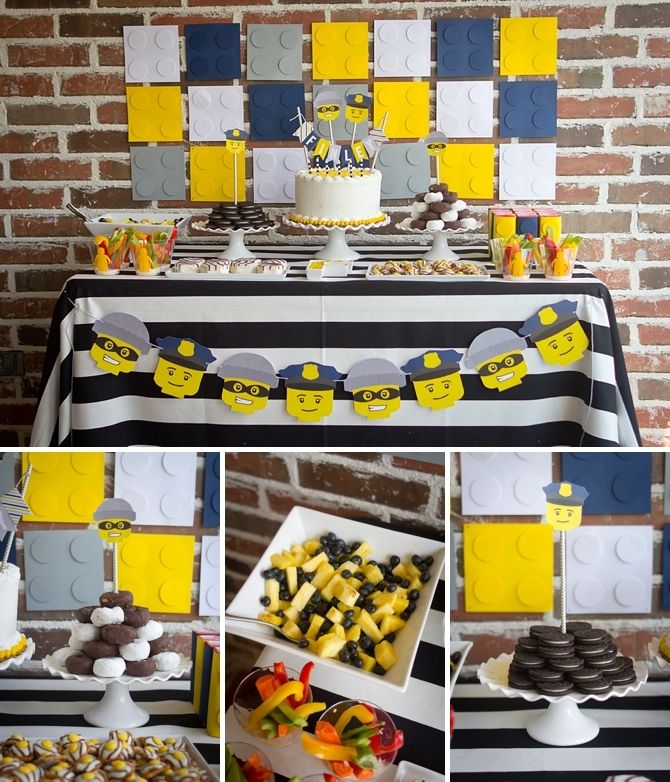 Black and white donuts... oreos... quick and easy food matching the color palette that looks cute in a tower. Yellow and blue were the other main colors--pineapple and blueberry fruit salad helped add a bit of nutrition to the spread.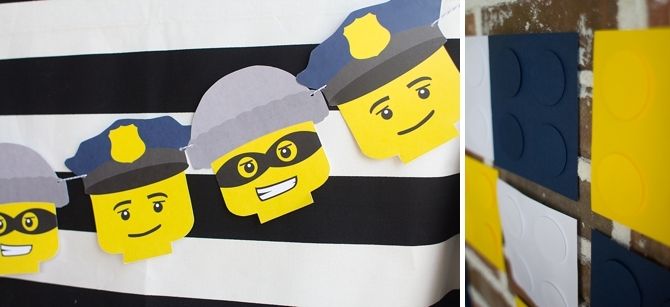 Normally my favorite thing is setting a table for the kids to sit at... but I didn't quite have enough time to fully execute my Lego Police centerpiece. The kids had lots of fun playing with it! And I continue to love these plates from Zazzle--Finley was thrilled with them!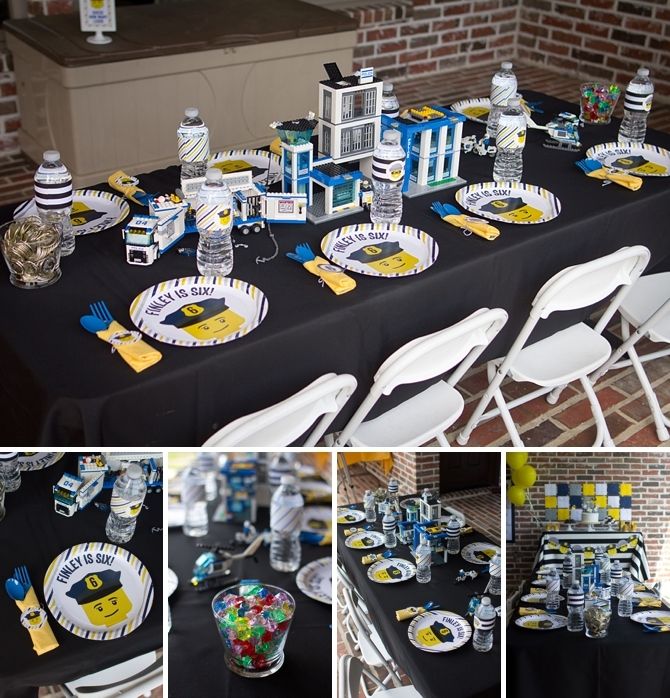 We got hats, handcuffs and badges for all our little crimefighters to play with--and they all got fingerprinted when they arrived. That didn't make a ton of sense since they were supposed to be police officers and not criminals... but they didn't question my logic too much.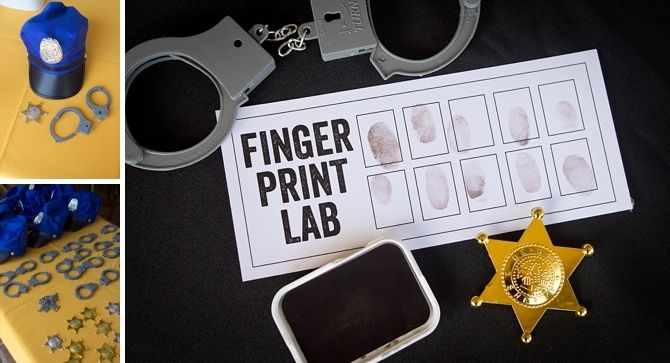 It was too windy to have the candles stay lit for more than a few seconds, so the cake part of the party was somewhat anticlimactic.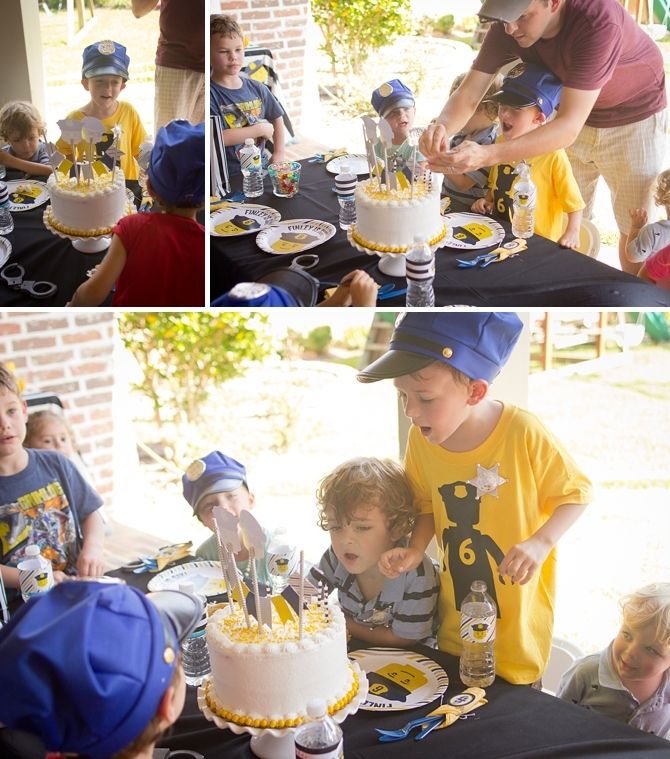 Apparently one of the things that comes with being six is making questionable choices--like repeatedly sticking his head in his cake. Oh dear.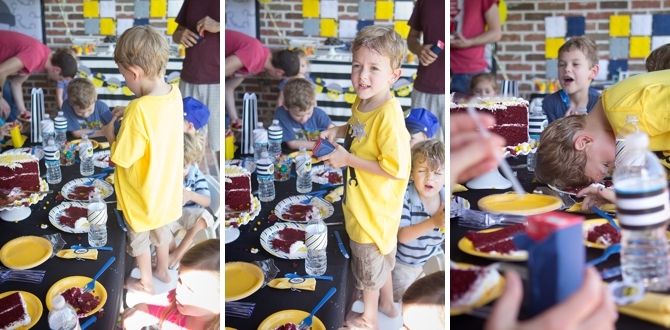 I meant for this activity to be done at Braden's party but we ran out of time... so our little police officers ate donuts while handcuffed! They thought it was super funny--although most of the donuts broke and fell off after a few bites.
Recognize the truck? Yep, it's the donut truck. I slapped some more paint on it so we could get a little more use out of it! Our other activities were hunting for robbers (ping pong balls illustrated by Sol) and disarming bombs (black balloons!) 15 balloons was NOT enough.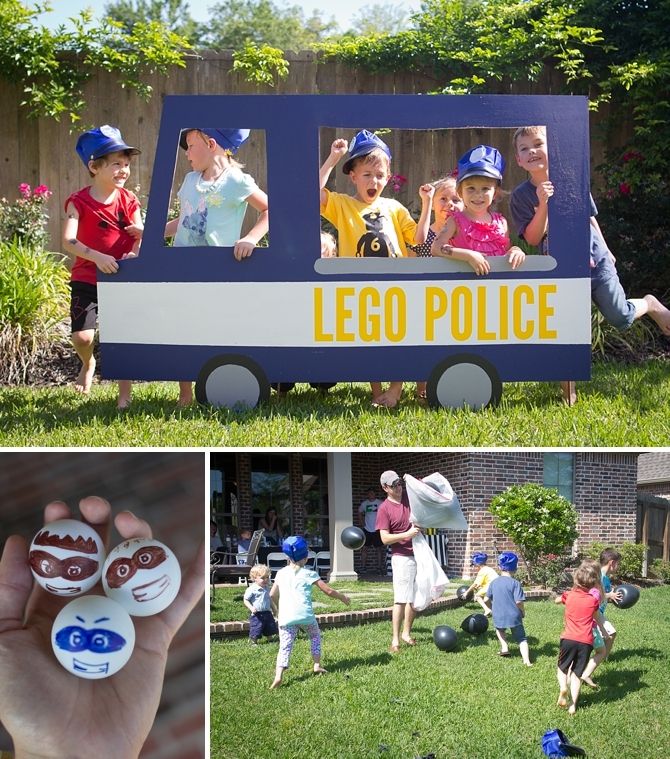 All the kids enjoyed pinning the mask on the robber! Finley nailed it on his first try--after that my bandanna tying skills improved!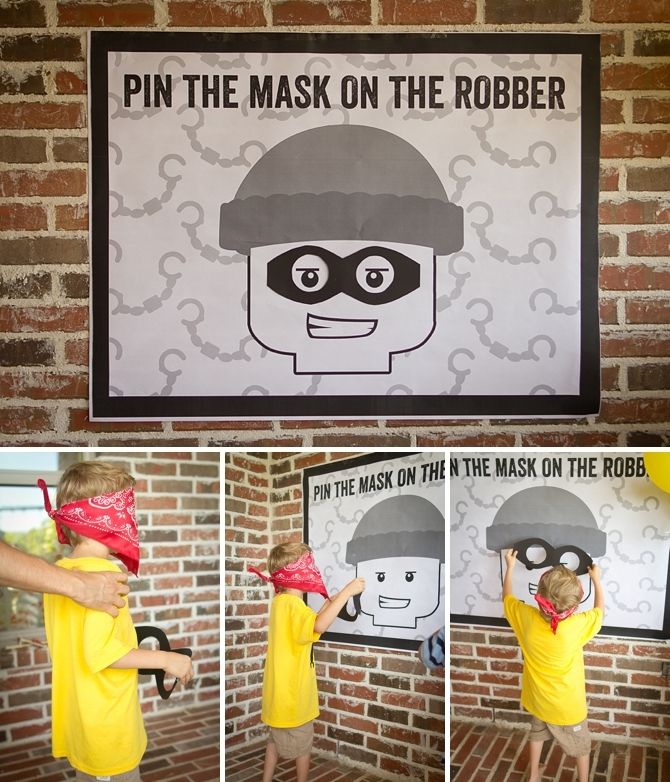 I'm so glad we have all these sweet pictures of Finley with his pals! They were a bunch of crazy kindergartners--and Finley had a blast. When I asked him what his favorite part of his party was--he said when Riley came. So clearly, he appreciated my efforts. :)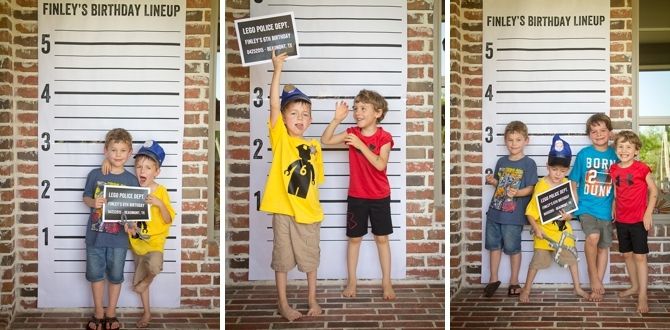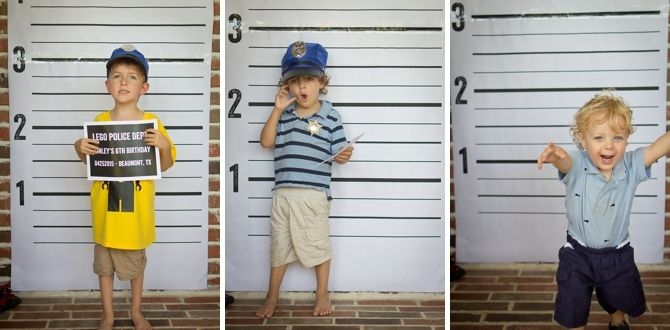 Braden and Keaton had a blast too! Keaton loved to have his picture taken on the wall--anytime someone went over to it, he tried to go lean on it too. So big. And you can see Finley was elated to take pictures with his brothers!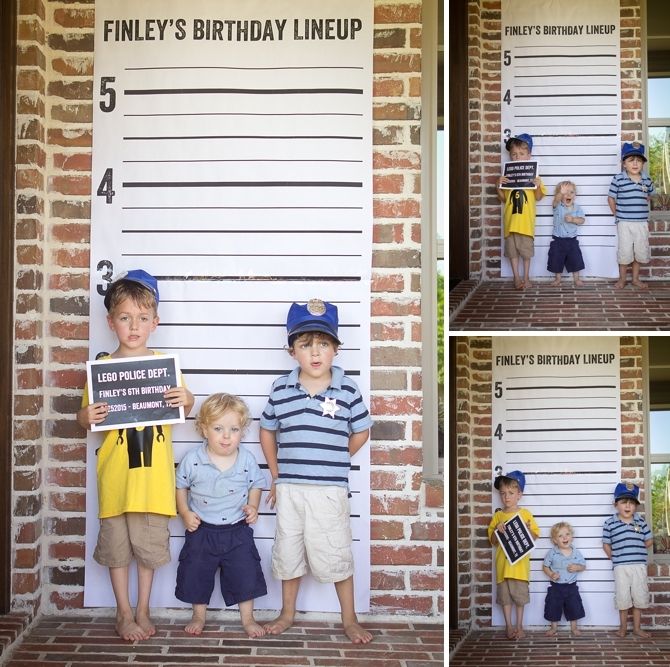 We got a decent picture in the truck--the boys were getting pretty tired by this point.
Sol was not too tired to take a picture with me! He's such a trooper--willingly moving things around and only pointing out that I'm ridiculous a few times.