Well, this party was a lot of fun to cook for! I tried to keep the foods "little" and "manly" to go with our theme.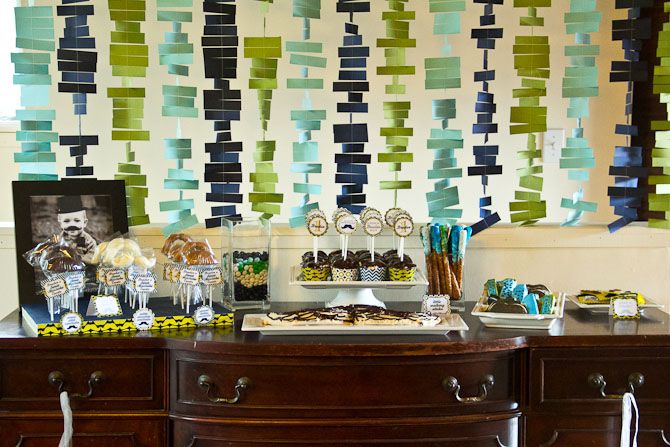 (Love the backdrop? Tutorial
HERE
.)
The main food was "little man burgers." Unfortunately they didn't get photographed (although we did something similar at
Finley's first birthday party
) but they were little sliders on Hawaiian rolls. We had Buffalo (chicken, buffalo sauce and blue cheese), Hawaiian (BBQ sauce and pineapple on chicken), Cheeseburgers and Burgers with lettuce and tomato. Totally cute. We also had cute little pigs in a blanket which I did remember to photograph. These went quick--I should have made more!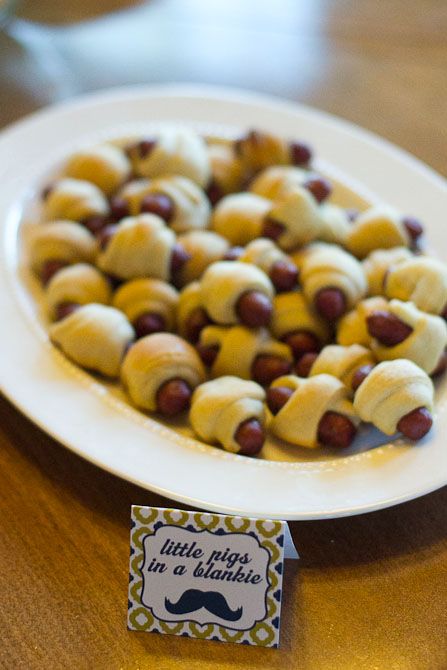 I kept seeing this idea float around Pinterest--little crudites in individual cups! They were bright, easy to eat and little. And the little bow tie on the cup made me smile. Sol sweetly cut up red pepper, carrots, celery, zucchini and added a snap pea. I saw lots of recipes for fancy dips--but I used a fun Parmesan Ranch Peppercorn from Wegman's.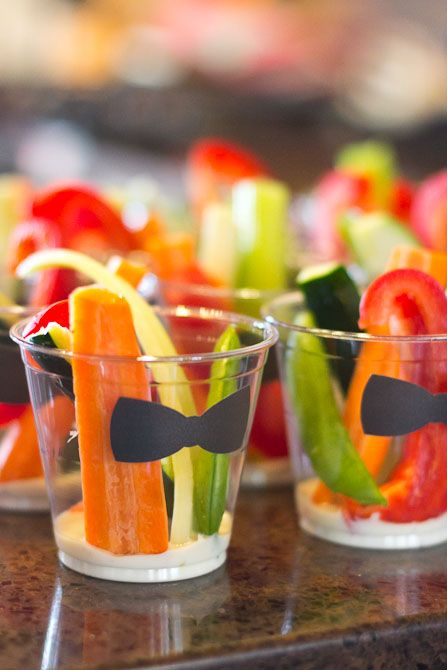 This was one of the times I thought I was real clever--pretzel walking sticks! Let me tell you--they were a HUGE hit with the under three crowd. Finley and his pal Margaret kept begging us for more.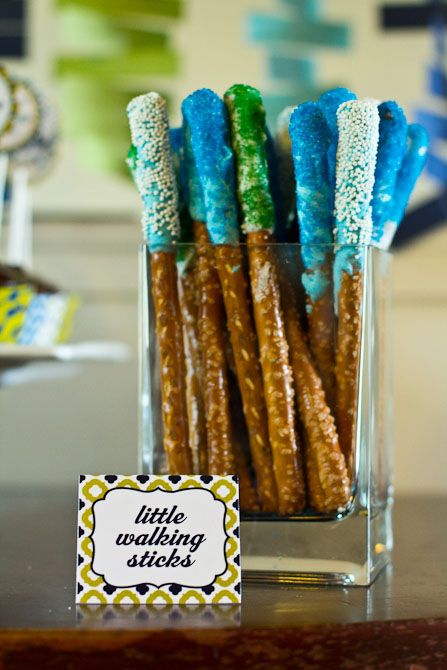 I used my Silhouette to cut out the mustaches for these cups as well as the bow ties above. And the cute stripey straws are from
DKDelektables
--if you are looking for party stuff, they were SO great to work with!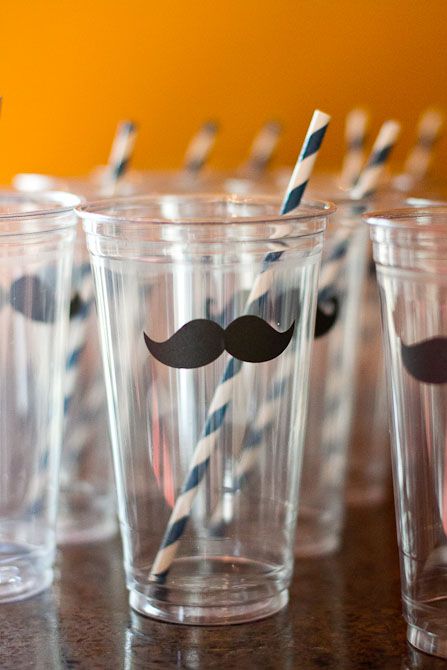 This cake was loads of fun to make and even more fun to eat. I used this
mustache cake mold
from Amazon--good news, you can also make Jello in it! Sol would not let me make Jello.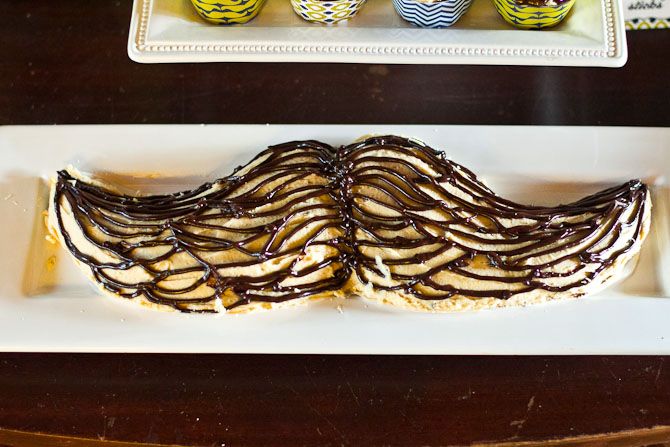 The cake and cupcakes are my FAVORITE cake recipe from
Smitten Kitchen
. It's a lot of work to make, but so so good.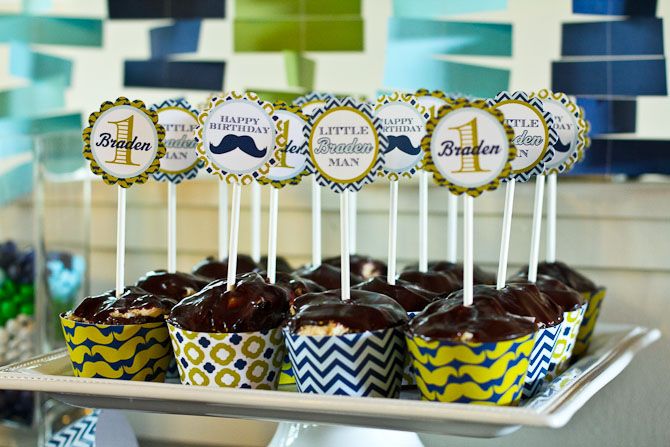 Victoria
sweetly made and shipped us these sugar cookies. Aside from being the cutest things in the ENTIRE world, they made me take back every mean thing I've ever said about sugar cookies. Even without chocolate, I loved them. Thanks Vic!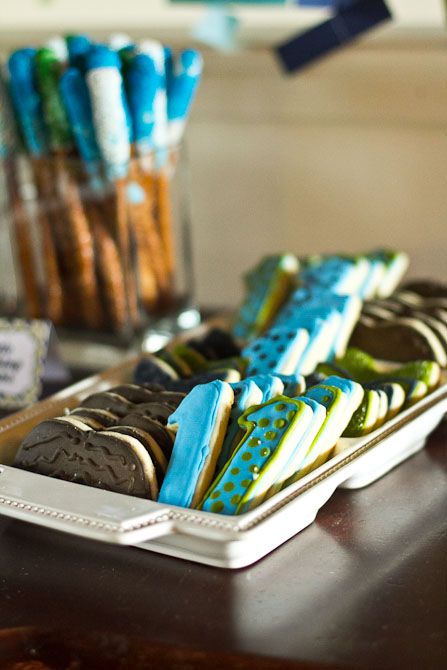 And the favors were these silly lollipops.
Such a fun party! That officially concludes the posts about mustaches. And just in time--Finley's third birthday party is Saturday! Get ready for some sailboat pictures.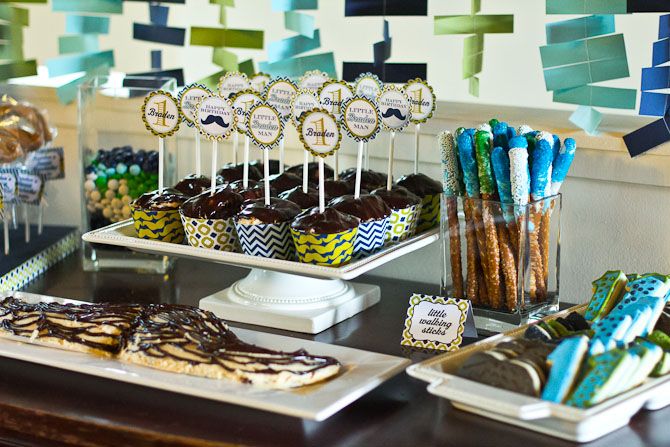 In case you missed it... here are the
Mustache Bash Decorations
and a
party overview
. All decorations can be bought on
Etsy
.