Like all parties, this one started with an
invitation
. I like to say that the invitation sets the tone for the party, the envelope sets the tone for the invitation and the stamp sets the tone for the envelope. I can't remember what kind of stamps I used--it was either Reagan or Kansas, but either way it set the tone from the beginning that this was a party for Republicans. (By the way, just prior to this sentence is a joke. Pretty much only the first sentence makes any sort of sense.) I printed the invitations at my new favorite website,
MPix
. They are a Kansas company and the only place I'll be printing cards in the future. They were fast, gorgeous and affordable. You can even print the back! And the paper was shiny! Swoon. Obviously, I used
Paper Source envelopes
, as if there was another option.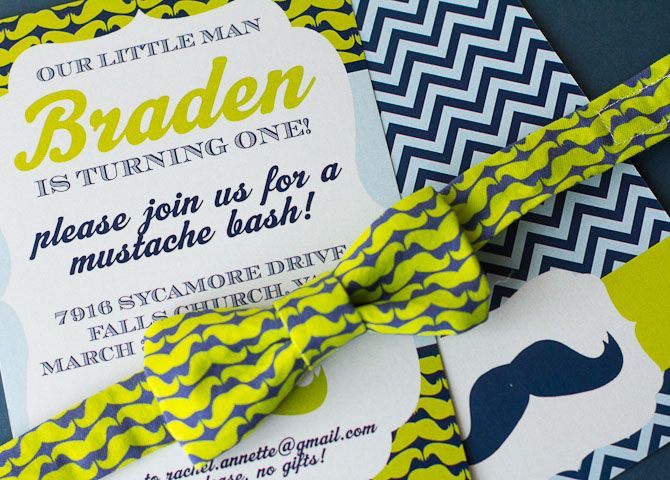 My pal Sarah poked fun at me for printing my own fabric, and I probably deserved it. I was going to buy the boys matching bow ties off Etsy, but once I realized how much it was going to cost me and how easy it was to make them (they are just a smaller version of the
bow pillows
I made) I decided to make my own. And then I remembered that my best friends over at
Young House Love
had custom printed fabric for Clara's first birthday and I decided I just had to have some too. I used
Spoonflower
--it was super easy and still way cheaper than had I bought some on Etsy. I ended up making three bow ties for my three gentlemen, a belt for Braden and a blindfold for "Pin the Mustache on the Braden." If you are interested in printing the same fabric, shoot me an email and I'll give you the file you can upload. Seriously, mustaches on the bow tie. Could it get any cuter? I do not think so.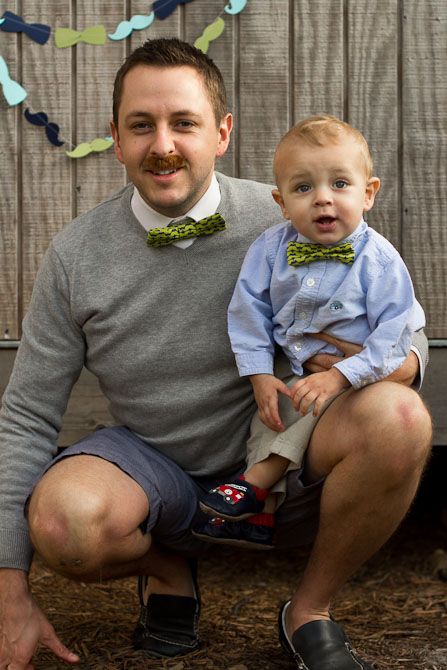 I made all the other standard items we sell in our
Etsy shop
... cupcake toppers and wrappers, water bottle labels, treat bag toppers (that I converted to lollipop tags last minute), a banner, food labels and thank you cards. All that could be yours for the low price of $45!!! Or you can buy them individually if you don't need the whole shebang.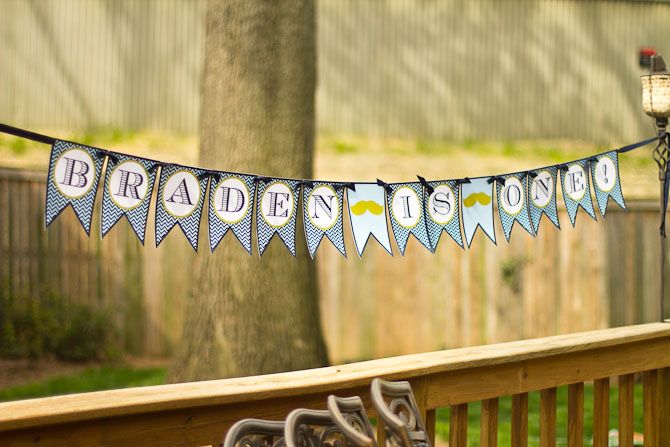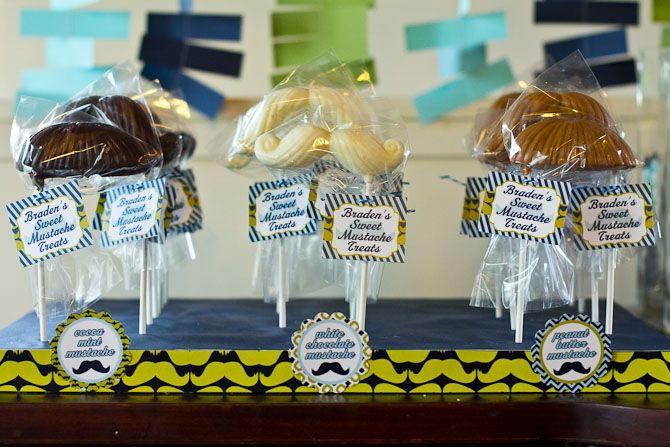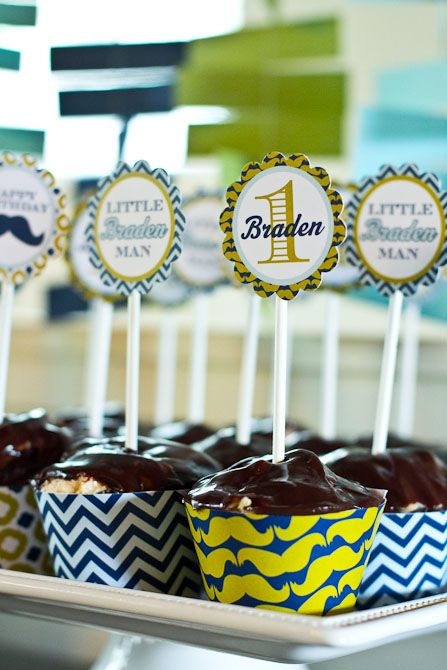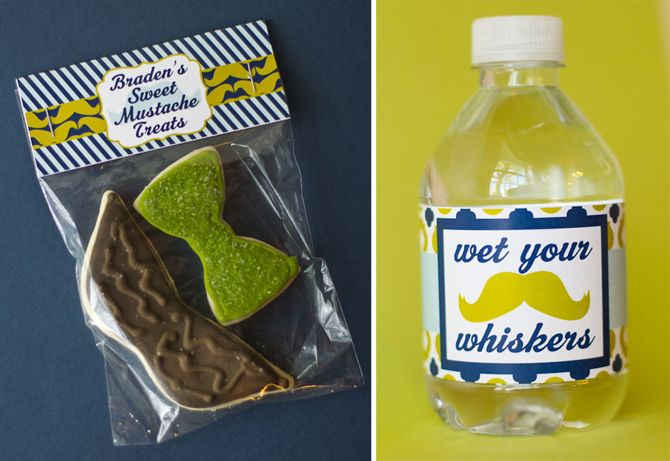 My parents gave me a
Silhouette Cameo
for Christmas because I
neeeeeded
one real bad. And then it mostly sat in the box until a few weeks before the party, but let me tell you what, that bad boy was my hero in party prep. It's actually amazing. You know what a printer is, right? Basically it's a printer but instead of printing with ink, it slices with a blade. MAGIC. It cut out hundreds of mustaches and bow ties, as well as the fancy backdrop behind the dessert table. I'm not kidding, the thing was magic. I had to make myself stop making garlands because I was getting a little out of control. (Me? Out of control? Never!)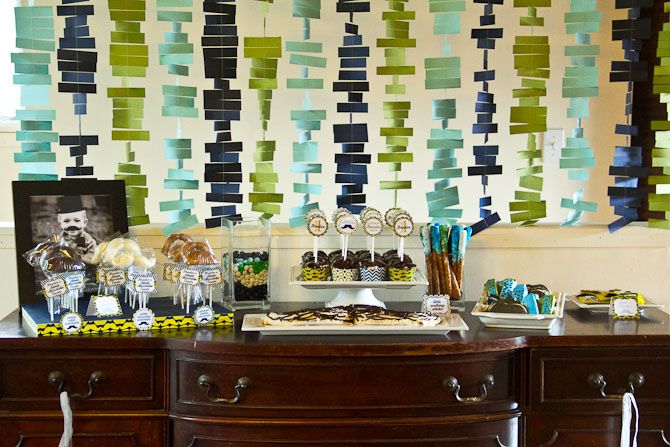 Interested in making your own backdrop?
Full directions are here!
Who doesn't love pictures of the birthday boy? Just like I did for Finley's first birthday, I made a banner out of pictures from Braden every month. Oh that boy.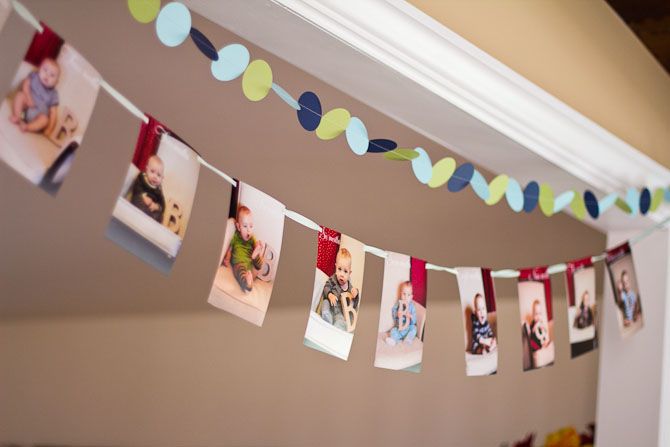 I used a recent photo of him to add some embellishments to--a top hat, bow tie and mustache. What a debonair little fellow. Finley did NOT like that there were things on Braden's face!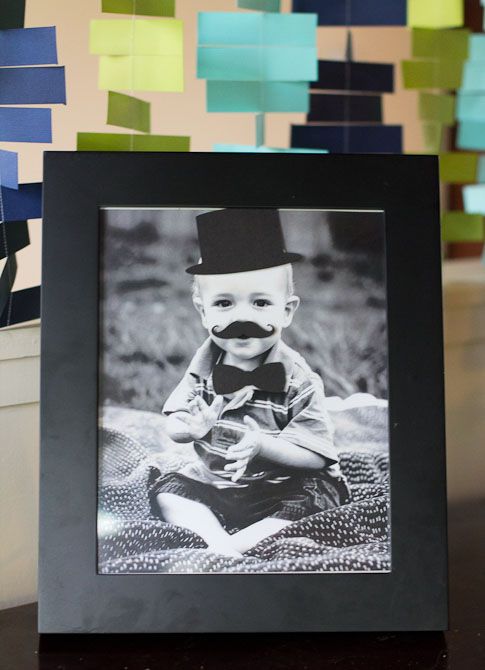 I had quite a few extra mustaches laying around and thought it would be fun to stick them on a family photo. It's the little things that put a party over the top. I'm not sure that necessarily a good thing.
One of my favorite things was "Pin the Mustache on the Braden." This would have been a big hit with a slightly older crowd... the three year olds weren't that into it.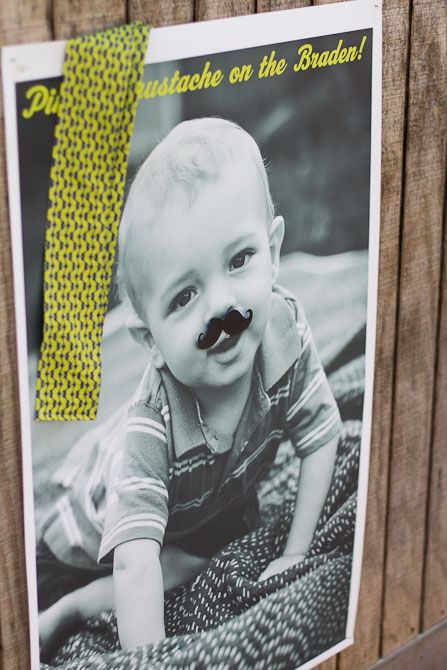 And the super trendy idea that I was so excited for... the photo booth. These are all the rage now--I see them all over the silly party blogs I follow. It was perfect for a mustache party. The Silhouette cut out cute little accessories that I put on sticks for people to pose with. So fun. The 30 foot garland in the background was currently for sale in the
Etsy shop
--but it sold very quickly! I'm currently not taking orders for it because they are quite time consuming.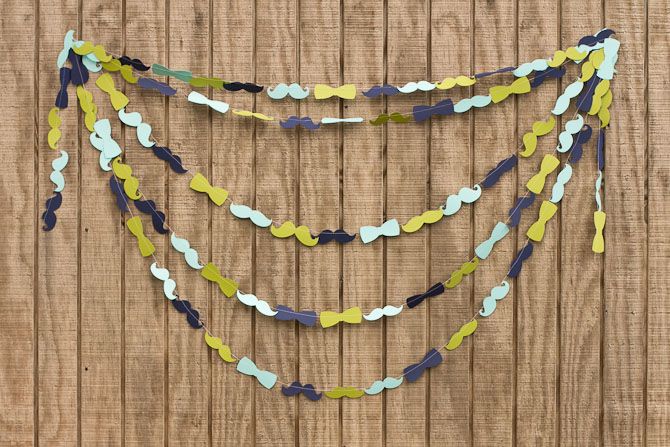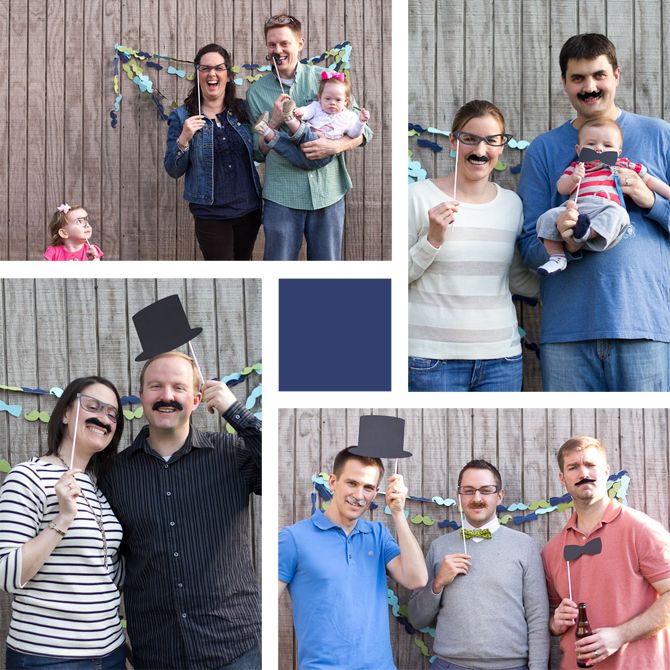 Here's a post detailing the
menu and food from the mustache party
. And here's a post with a
preview of the whole thing
.
And all decorations are available here in our Etsy shop!
Fabric available here.