As I opened my cupboard to make lunch today, jars fell on me. Jars of different peanut butters. And I realized that I'm beginning to have a problem. A first world problem, but kind of a funny problem nonetheless.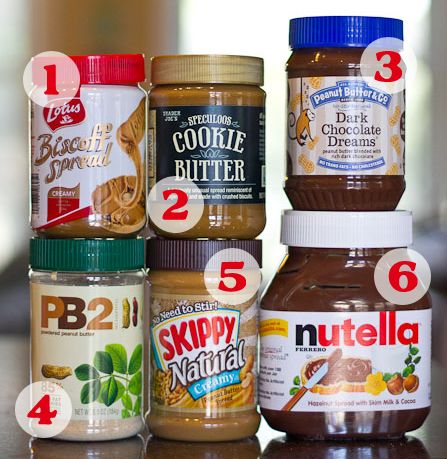 I didn't organize these in a logical order, so this list is a little strange.
5.
Skippy Natural Peanut Butter
is my go to peanut butter for sandwiches. I used to use the Smuckers Natural, but this kind the oil doesn't separate out--and you can buy it in bulk using Amazon Subscribe and Save (there's also a $1 coupon on Amazon's page right now, making this $2.55 a jar. Yum!) Because it's cool to buy your groceries online... in bulk.
3. I've been a fan of
Peanut Butter and Co.
goods since we visited their restaurant in NYC back in 2005. Sometimes you can get rad coupons and then they get doubled and it isn't $6 a jar anymore! I don't like to share this one with Finley. I just like to dip my fingers in it and dream.
6. Who doesn't love Nutella? No one, that's who. I adapted my go to PB Granola recipe to use Nutella and it was a hit. The amount of Nutella recipes I have on Pinterest is nuts. (Nuts! Get it?)
4. Um, I bought this weird powdered Peanut Butter at Whole Foods because it's like 100 times healthier than regular PB because it has no oil. You are supposed to mix it with water... which is gross. I'm still trying to find a recipe I could use it in that wouldn't make me cry from lack of real peanut butter. Let me know if you have a suggestion.
2. I bought this Cookie Butter at Trader Joe's because Vic's sis Lauren and I had been pining over the Biscoff Spread for months and could never hand over the ridiculous amount it cost... and this seemed like a good substitute. It's made from GROUND UP COOKIES. What could be better?
1. I'll tell you what could be better.
BISCOFF SPREAD
. Literally the day after I bought the TJ Cookie Spread I found the Biscoff Spread at Safeway. Safeway! Who knew. You know about Biscoff, right? It's the delicious, magical cookies they serve on airplanes. Oh it's so good. It's ground up cookies you could spread on
another
cookie. I'm not making this stuff up.
Am I missing any nut butters I should add to my rotation? I've dabbled in Sunflower Nut Butter and it's pretty tasty too. Mmmm... I'm going to go dip my fingers in all those jars right now.