It just so happened that the Las Vegas Rock and Roll Marathon was the Sunday of our big Vegas adventure. And I love me some marathons. Seriously, I can't tear myself away. I walked around all day Saturday being very jealous of the runners with their bags from the Expo, and of the people waiting to go eat their big pasta dinners.
Sol is training for the Walt Disney World Marathon in January and needed to run 17 miles this weekend--what better way to do it than with thousands of other runners down the strip? The weather was perfect for running and the course was the flattest I've seen. I've never been to a Rock and Roll marathon and it was pretty cool. There was lots of music and Elvis impersonators and bars giving our beer. Silly.
Here's Sol, from our room with the course behind him. It was early. Isn't he handsome?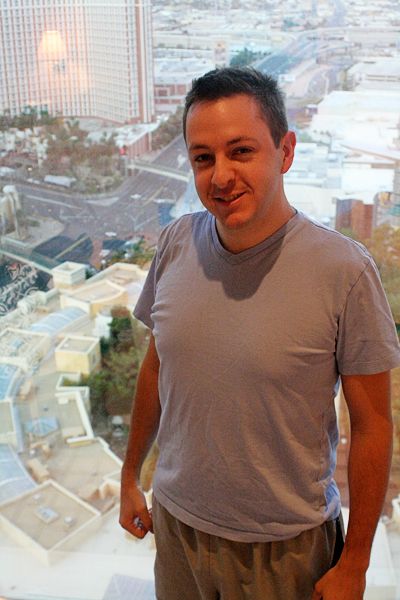 My plan was to run 7 or 8 miles and then stop... but I couldn't. I mean, the finish line was just so close and all I could think was: "If I finish, I get a MEDAL." (Say that in your best Kevin from the Office voice.) So I went ahead and ran 13.1 miles. And got a medal. And then I took an ice bath (I'm fully clothed in there.) Sol did not take an ice bath. He was a major wimp.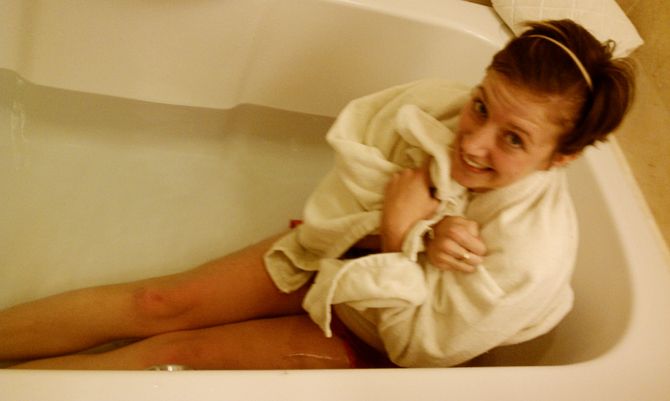 For the only time I can ever remember, I ran without a watch. I don't know my splits, I just ran at a pace that was comfortable. I think my finish time was somewhere around 2:17, which is great for a 21 week pregnant lady who decided to run the race halfway through. I love marathons. The end.