After a slightly harrowing trip over the Rockies (severe turbulence, drinks flying, people crying) we made it to Vegas.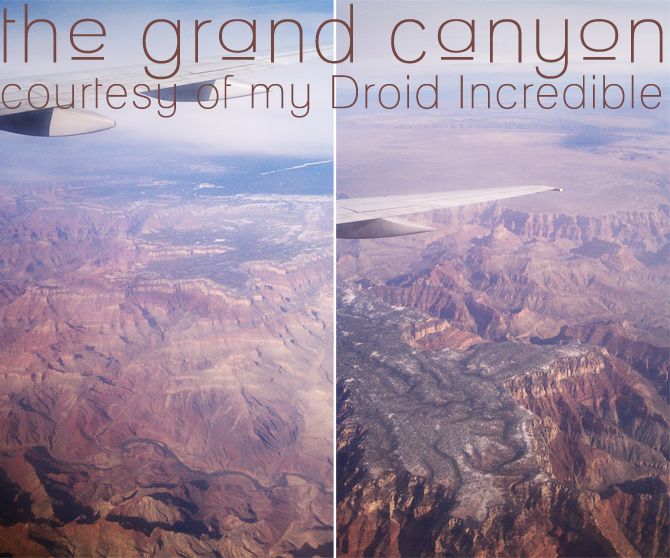 I don't normally blog while on vacation, but my husband is taking a much needed nap, so I'm sitting by a wall of windows, 34 floors up in the Wynn writing about the excitement that has happened so far.
So when Sol told me that we were going to the NASCAR Banquet in Vegas, my only thought was, "Hey! Free meal!" After googling it on the way to our hotel, I realized it was the Oscars of the NASCAR world. Performances by Cirque du Soleil, Rascal Flatts, Martina McBride, Colbie Callait and Frank Caliendo. Tuxes and evening gowns were the standard attire--we were only a little underdressed. Here we are taking our picture of the red carpet. Hilarious. They had "complimentary professional high res" pictures available... turns out they were taken by the same camera I had, with the built in flash. I could have taken a better picture. Grr.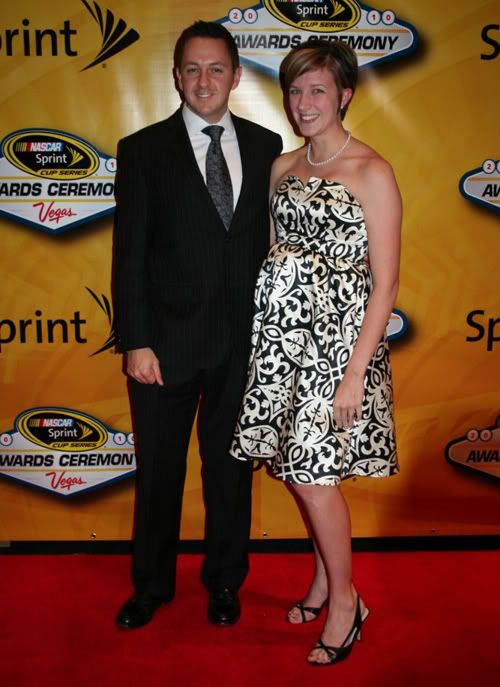 The banquet was fairly glamorous. Lots of
very
skinny girls in pretty dresses, and NASCAR folk. I literally bumped into Jeff Gordon--I had to ask the people I was with who the dude who looked like Tom Cruise was. And then Sol peed next to him in the bathroom. We got to chat with Tony Stewart for a bit and he told me he liked my dress. SCORE. I also randomly saw tiny Susan Lucci speedwalking through the casino.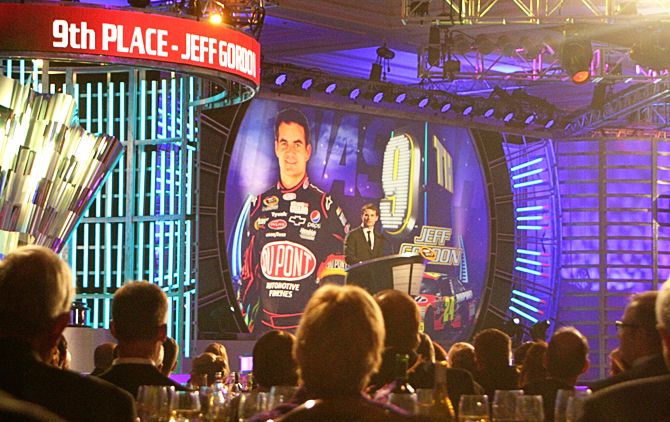 The interesting thing about NASCAR is how sponsored it is. In no other sport are advertisements for the sponsors so blatantly displayed. Every single one of the top 10 drivers listed every single one of their sponsors in their speeches. Boo-riiiiing. Another interesting thing about the awards--it was strange because everyone already knew who won. It was Jimmie Johnson. He has won the past 5 years which is (apparently) unprecedented. At other awards banquets there is some sort of anticipation because the winners aren't announced until you get there--this made the event drag on a little because the winner was the dude who won all the races. The past five years. Also the dessert was terrible and my dress stabbed me in multiple places.
Other than some EXTREME marathon envy (the Las Vegas Rock and Roll Marathon is tomorrow and I want to run so very badly), we're having a great time. We have some delicious meals planned and are enjoying our little break from our normal lives. And we also miss our mulleted Finley. And thanks for the
hair advice on the last post
. I like his curls, sorry.