Today we went to the Magic Kingdom and Finley got to meet Mickey. (Mickey and I had already met. More details on that in a bit.) Luckily, he wasn't scared of Mickey--he gave Mickey and Minnie a kiss and was happy to see them.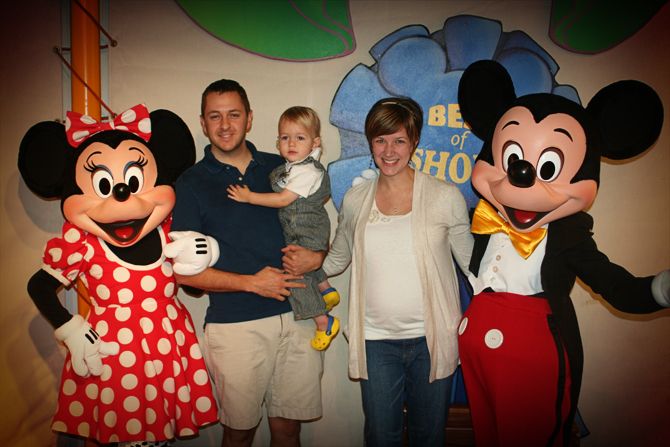 The Magic Kingdom is such a sentimental place. I spent the day with my brothers, dad, husband and son. I was the only girl. For a few fleeting moments I wished Finley was a girl so I could put him in a Princess dress--and then I saw some little boys dressed as Captain Jack Sparrow and I decided boys are ok after all.
I also happen to be a sentimental person. Watching Finley's amazement seeing the castle or Mickey and getting to take him to the happiest place on earth made me choke up several times--I refrained from crying because I was surrounded by so many tough men. And I wish I could blame it on the pregnancy hormones, but I can't. You see, the first time I met Mickey... I cried. I wish I could say it was because I was scared or that I was a toddler. But I wasn't. I was in college.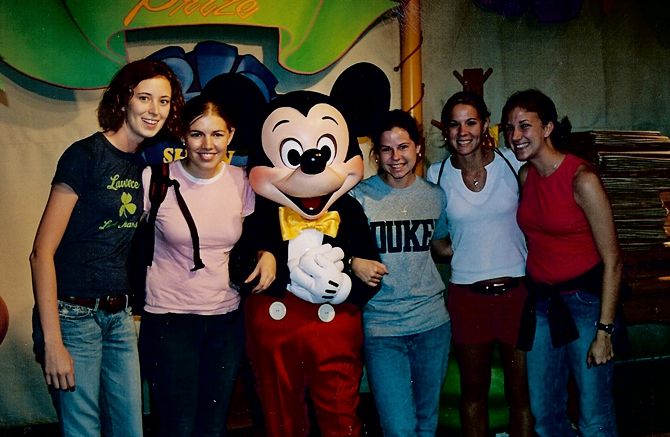 In my defense, my friends really like Disney and Megan cried too. And it was only like one tear. Disney is a sentimental place, dang it. And I'm pretty sure we cried because the kids in line in front of us were really cute and enamored with Mickey. That's how I choose to remember it. Please don't judge me.
Peace, love and Mickey.