So I've been meaning to write about baby led weaning for several months now, so I guess I should just do it. When Finley was starting solid foods, I very proudly mashed and pureed all sorts of delicious fruits, veggies, and eventually meats and legumes for him. I froze them into little cubes and spoon fed him my tasty meals. It was certainly cheaper than buying little jars all the time, but it was a lot of work.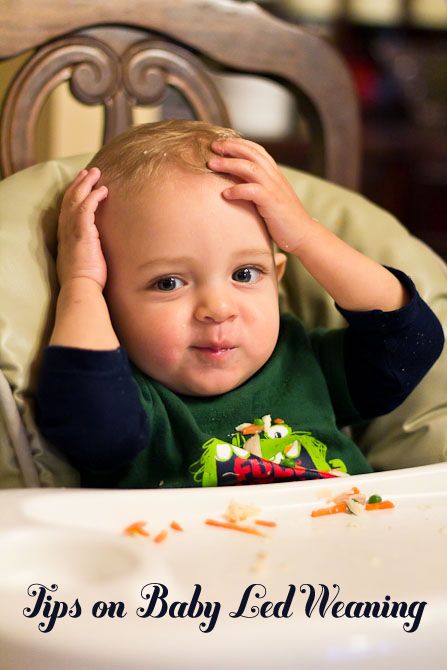 This time around, it didn't sound so fun to spend my evenings chopping, steaming, pureeing, and freezing. I'd much rather be Pinteresting, Etsying, blogging and TVing. And Scrambling! My friends over at
Young House Love
first introduced me to baby led weaning and I was sold. I used this
book
a little bit as a reference as well. It's been so much easier on me. When he was about seven months old I started giving him large soft chunks of stuff--potato, broccoli, cauliflower, banana... all the same foods you start them off with as a puree.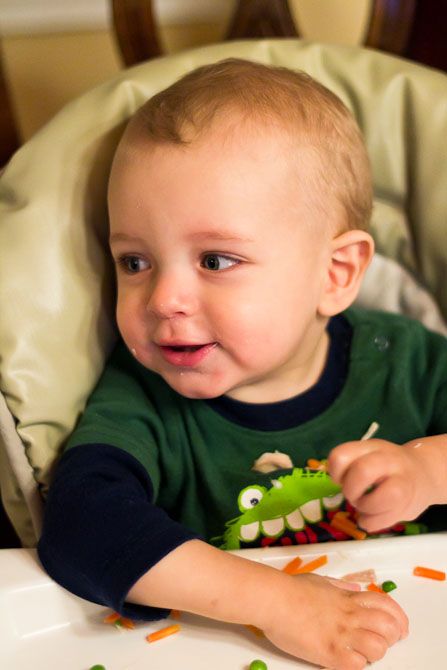 Let me tell you. It was MESS-Y. For a long time. I feel like we're just getting to the point where Braden isn't disgusting following every meal. The point of BLW is that the baby is controlling their intake instead of the parent. Apparently babies get all their nutritional needs met from breastmilk until they are one (at least that's what I'm told) so their eating adventure before their first birthday is mainly for practice. It's good to get them used to eating a variety of flavors and textures and make eating fun for them--hopefully so they'll continue to be good eaters in the future!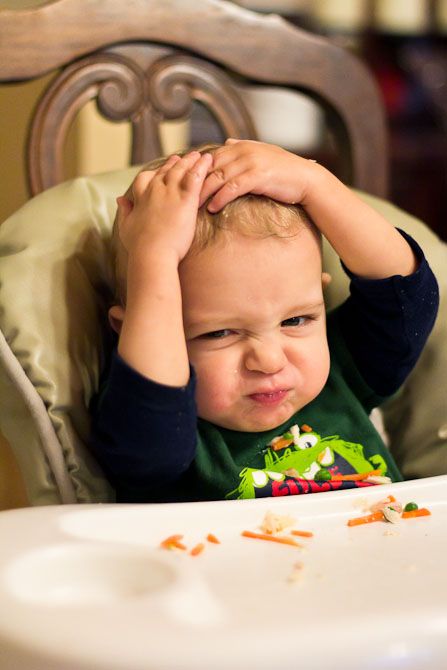 It's just worked so well for us--often Braden eats a bigger variety and more than Finley! For the most part, I'm just making one meal for dinner and giving the boys a variety of what we eat. Braden had the chicken from some enchiladas tonight along with some peas and carrots. I spoon feed him cereal for breakfast and yogurt for dinner every day--so he still gets some practice with utensils. We did check with our pediatrician before we started and she didn't know what it was, but said it sounded fine. Funny.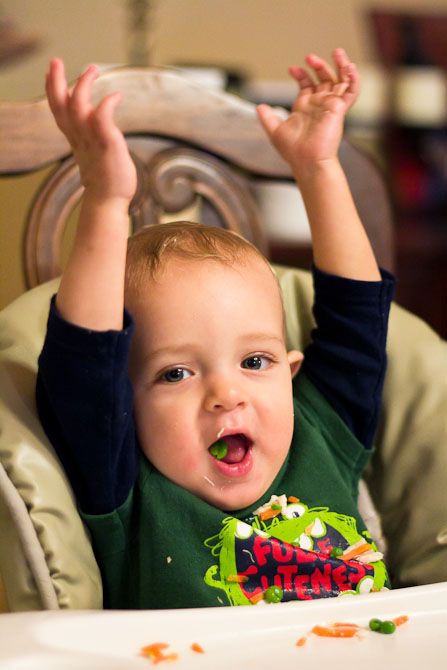 But seriously, I can't even begin to say how nice it's been for us. It seems like such an intuitive way to feed your kids--we just give him little pieces of what we are eating. It makes eating out much simpler as well--he's happy to munch on little nuggets of our meal. You should see the number he does on a meal from Chipotle. I occasionally feel like we should bring our own broom when we eat out because we are SUCH a mess. And he's a mess. I also don't think I'd recommend baby led weaning unless you have a dog. Copper is a BIG fan.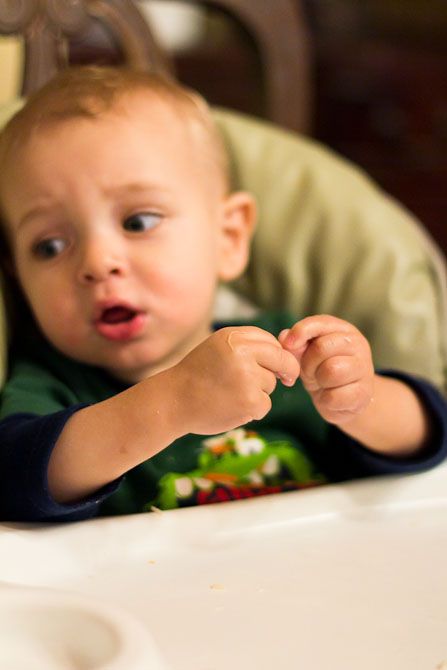 And tonight I taught him to sign "more!" He didn't actually do it at the appropriate time, but he did it when I asked him too! Sweet sweet boy.