While my family was in South Carolina, I convinced them all to run a 5K in Charleston. Even Finley! Braden was exempt because he's still working on becoming a biped. The boys got to ride in a stroller while Sol took one for the team and pushed them so I could run fast.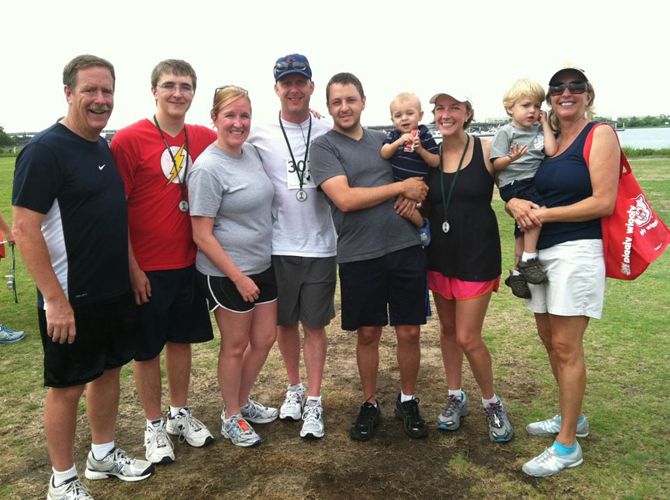 (more cell phone pictures--sorry)
I'm pretty sure this was the first 5K that I've run since high school (Rim Rock!) and was excited/anxious to see how fast I could run. Running 3.1 miles and 26.2 miles are very
very
different things! My goal was to run under 22:30--but secretly I wanted to get under 22. I knew that wasn't likely, but in the back of my head I was pretending it was an option. I had no idea how to run a 5K except try to run fast the whole time. It was hot and hard to push myself continually. But I did it--and was very tired afterwards. Not as tired as a marathon, but tired. Also, I wanted to eat all day like I had run a marathon, even though I had burned about a tenth of the calories. Fat girl.
The three victors.
In the end, I PRed--22:29. When I plug in my marathon time (3:39:02) into this
awesome calculator
it estimates my 5K time at 22:28--one second off what I ran! That's what I call awesome, folks. I mean, anything would have been a PR, but one second under my goal time was pretty exciting. Also exciting--it was a small enough race that I got second in my age group! My brother Ben and sister's boyfriend, Danny, also managed to get medals--we were so proud.
Refueling with an orange.
But probably the best part was Finley running the Toddler Trot. He wasn't too excited about it initially, but eventually we talked him into it. This video is adorable--he starts off in the top right and he's wearing a gray shirt and navy shorts.
He gets distracted by a cute girl! And then she beats him! Too cute. After the race, he was just super pumped to hug the big bird you can see at the finish line. He also got a popsicle and a medal--but the big bird was still the highlight. I'm looking forward to cheering that boy on at many more races.