First, thanks for all the loving, supportive comments about
the big race
. I'm just lucky to have so many people cheering for me. It's so helpful to have such a great team behind me--especially my lovely husband Sol. He teased me about not calling him my #1 fan--and it's because you can't call someone who is on your team, who is your coach and biggest support a fan. He's more than that, and I'm so SO grateful for all he does to let me chase my dreams over and over. Sol = awesome.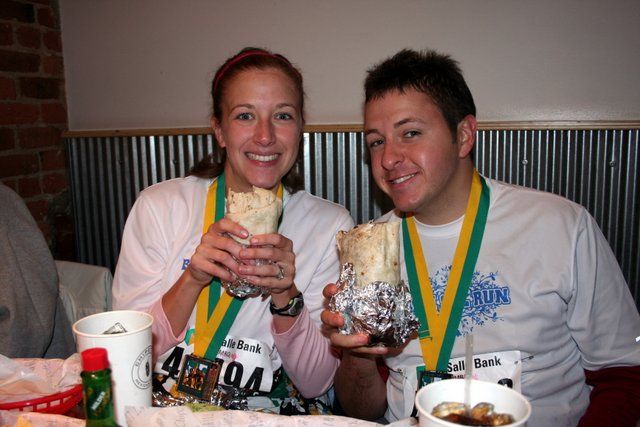 This is what Sol and I looked like after running the Chicago Marathon in 2006. Gross, half-crazed and hungry.
Second, I have to remember when I'm mad about my Achilles holding me back, that I am blessed to be able to run at all. I have 95% strong legs. And that's pretty good. I'm blessed to have two healthy boys who can run (or toddle, in Braden's case). Finley wasn't born with feet that would let him run--he was born with
clubfoot
. Clubfoot is easily treated and corrected through a series of casts and sometimes surgery--and we're delighted that Finley is a running fool today.
Sweet little baby Finley.
Clubfoot is the world's most common congenital birth defect--200,000 children are affected a year. These children grow up to live fulfilling active lives--Mia Hamm, Kristi Yamaguchi and some guy named Troy Aikman did. Unfortunately, 80% of children with clubfoot are born in developing countries with limited access to medical care. And clubfoot is so easy to fix with the right resources--all you need in many cases is some plaster casts. That's it--no fancy OR are highly trained doctor.
So to celebrate marathon #8 and strong little Finley, I'd love it if you'd join with me in helping one kid have strong healthy feet.
Cure
is an organization Sol and I like to support--we love flipping through the kids and picking ones to help. Little
Hope
is an adorable little boy who needs his clubfoot corrected. It's only $250--can you believe it? To show me that you are cheering for me on race day, I'd love it if you could
donate a little
to help Hope have the opportunity to run as much as he wants. At the very least, go look at his
sweet little face
and TRY to not donate. Just try.
Thanks--for supporting me and for helping little ones have the chance to run.