For a very long time, I've wanted to qualify for Boston. I ran my first marathon in 2004, eight and a half long years ago. My friends and I made the trek south to Oklahoma City for my first marathon. I don't know why I wanted to run one--it was my junior year of college, I was the president of my sorority and, you know, a full time student. Crazy. My time from OKC was the equivalent of my favorite grade in school--I loved to get an 89.6% (it rounds up!) and in OKC I ran 3:59:50. Just about as close as you can get to running under 4 hours.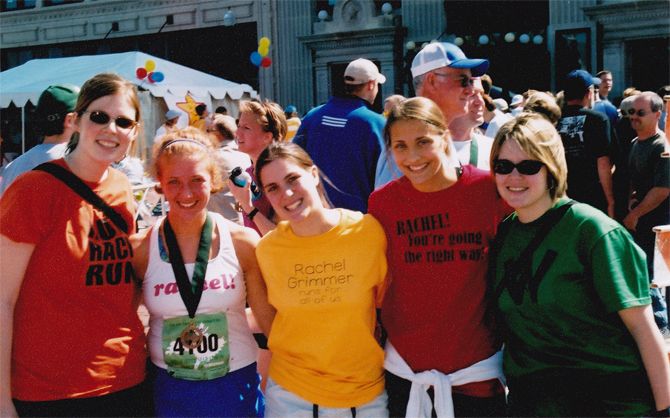 How awesome are my friends? Vic, me, Tara, Al and Kat. They made awesome shirts and were the best cheerleaders I've ever had.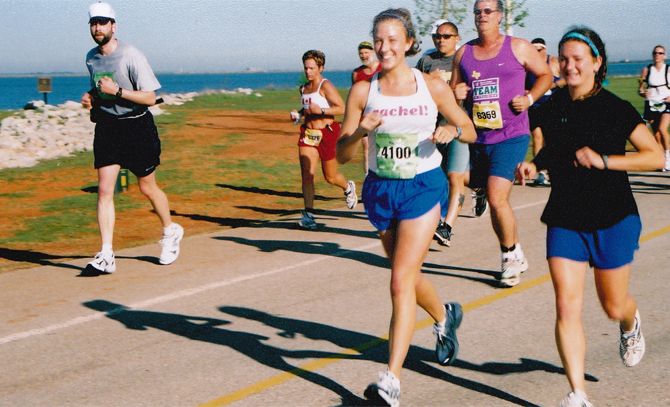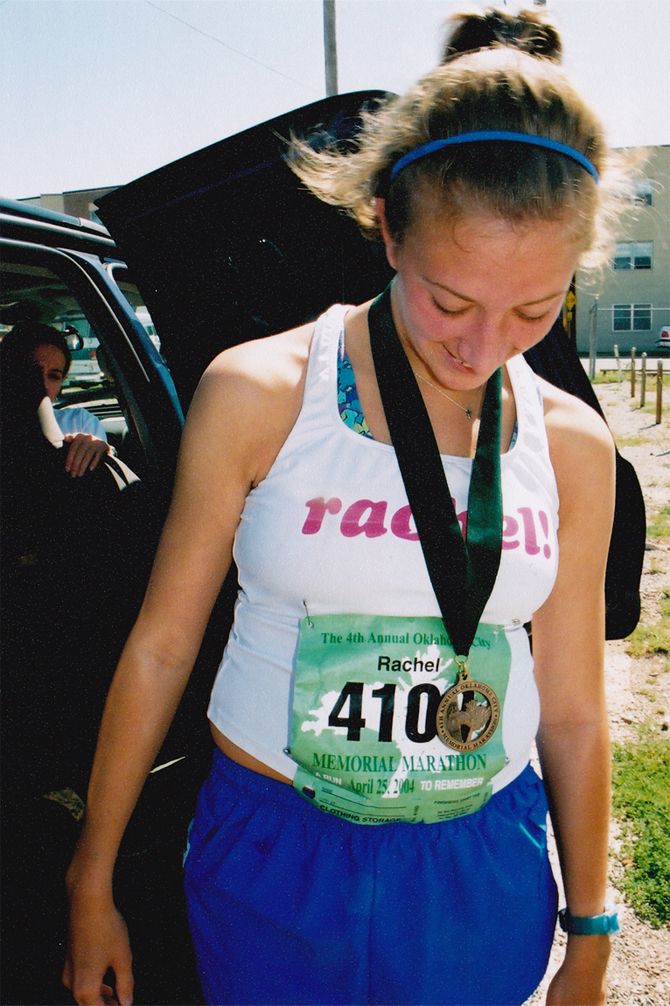 I ran two marathons while we lived in Boston--Chicago in 3:47:48, which was snowy and glorious, and the Cape Cod Marathon, which was gorgeous but insanely hilly. I ran the Cape 20 seconds faster, 3:47:24. Still not qualifying for Boston.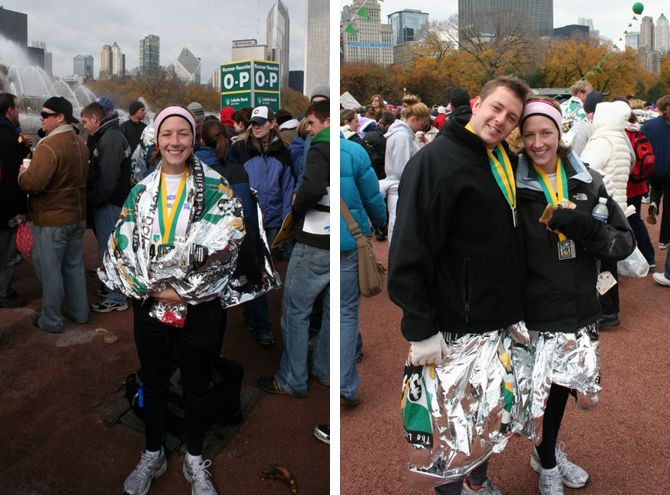 Sol ran Chicago with me! And by with me, I mean we both finished the race. And how awkward do I look in that first picture. Loser. It was so cold that day--the only race I've ever run in tights!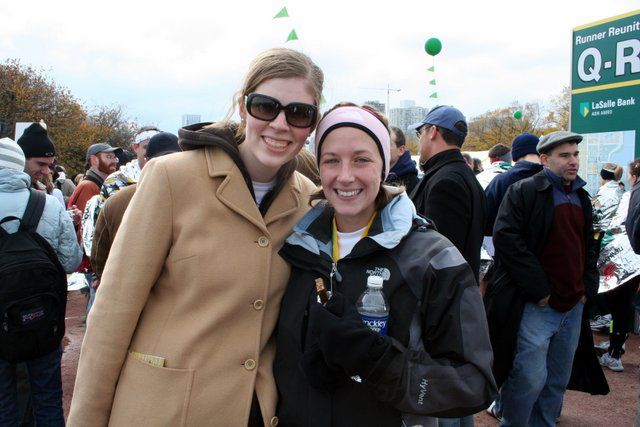 And Vic, my number one fan, cheering me on in Chicago. Somehow I didn't see her during the race, even though she was (and still is) 6 feet tall and wore bunny ears. And my sister french braided my hair for the race. Memories.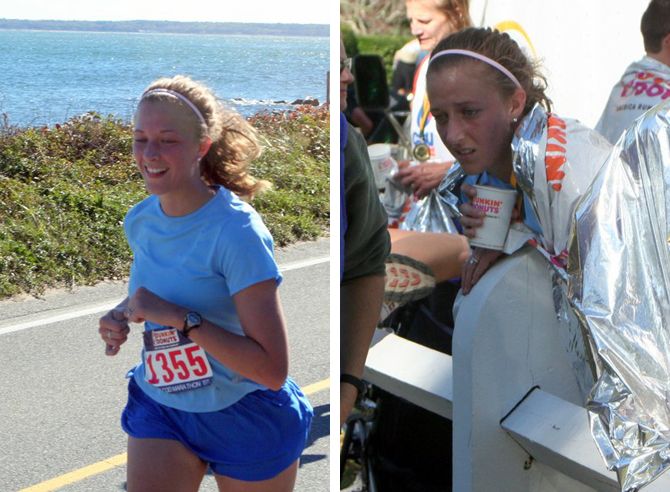 A truer picture has never been taken that the one on the right. I ran my heart out--the Cape was hilly and very tough. Sol snapped that picture before I knew he was there, otherwise I would have tried to look less dead. Can we also take a minute to appreciate the irony of Dunkin Donut sponsoring a race?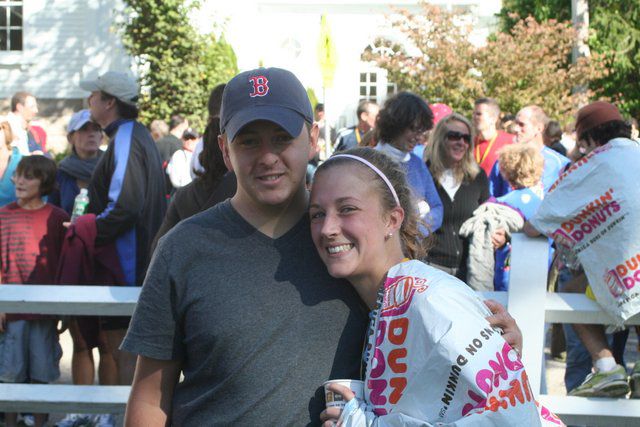 My mom and sister got to watch this one too--Laura was getting her white coat for med school the same weekend so we had a big New England party.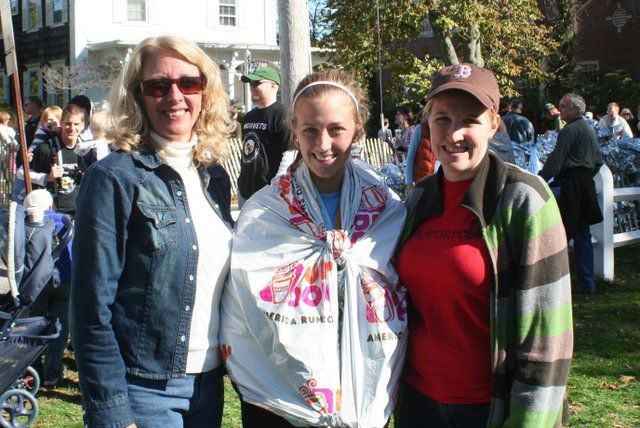 After Boston, we moved to Virginia and I started having babies. Six months after having Finley I ran the
Marine Corps Marathon
, and another six months later I ran
Pittsburgh
and got about as close as you could without qualifying--3:41:35 in the rain and over hills, 36 seconds too slow.

After the Marine Corps. I clearly didn't run fast enough.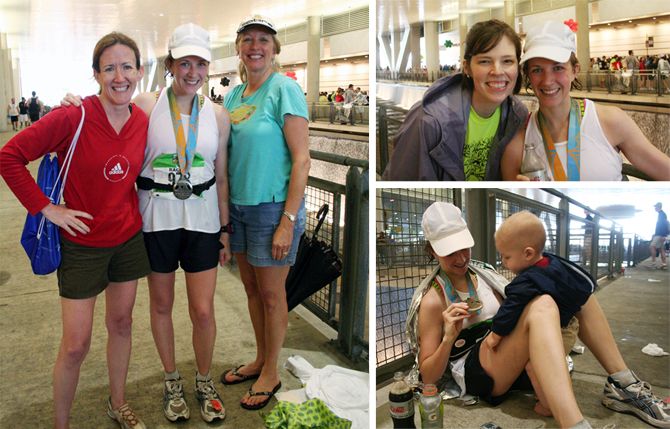 I had a huge cheering section--my mom, Vic, my Aunt Kathy, Sol and Finley. It was rainy and terrible.
And then I grew a cute Braden. I ran
Richmond
(with a time I don't even want to admit to) and then the
Potomac River Run Marathon
with my fastest time to date, 3:39:02, which qualified me for Boston, but 8 months after they changed the qualifying time. Sigh.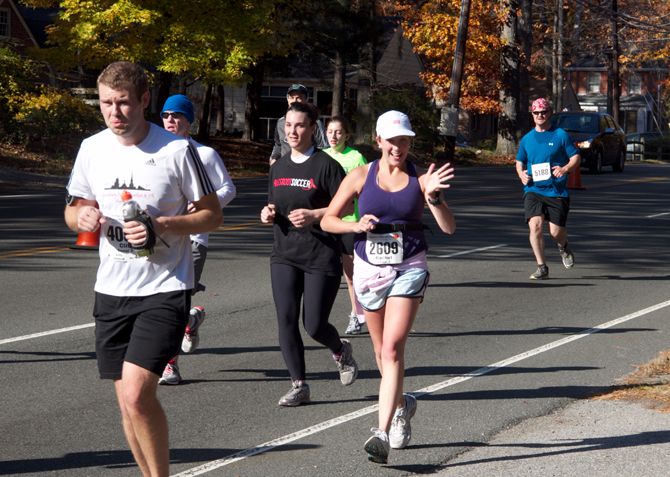 Just chugging along in Richmond.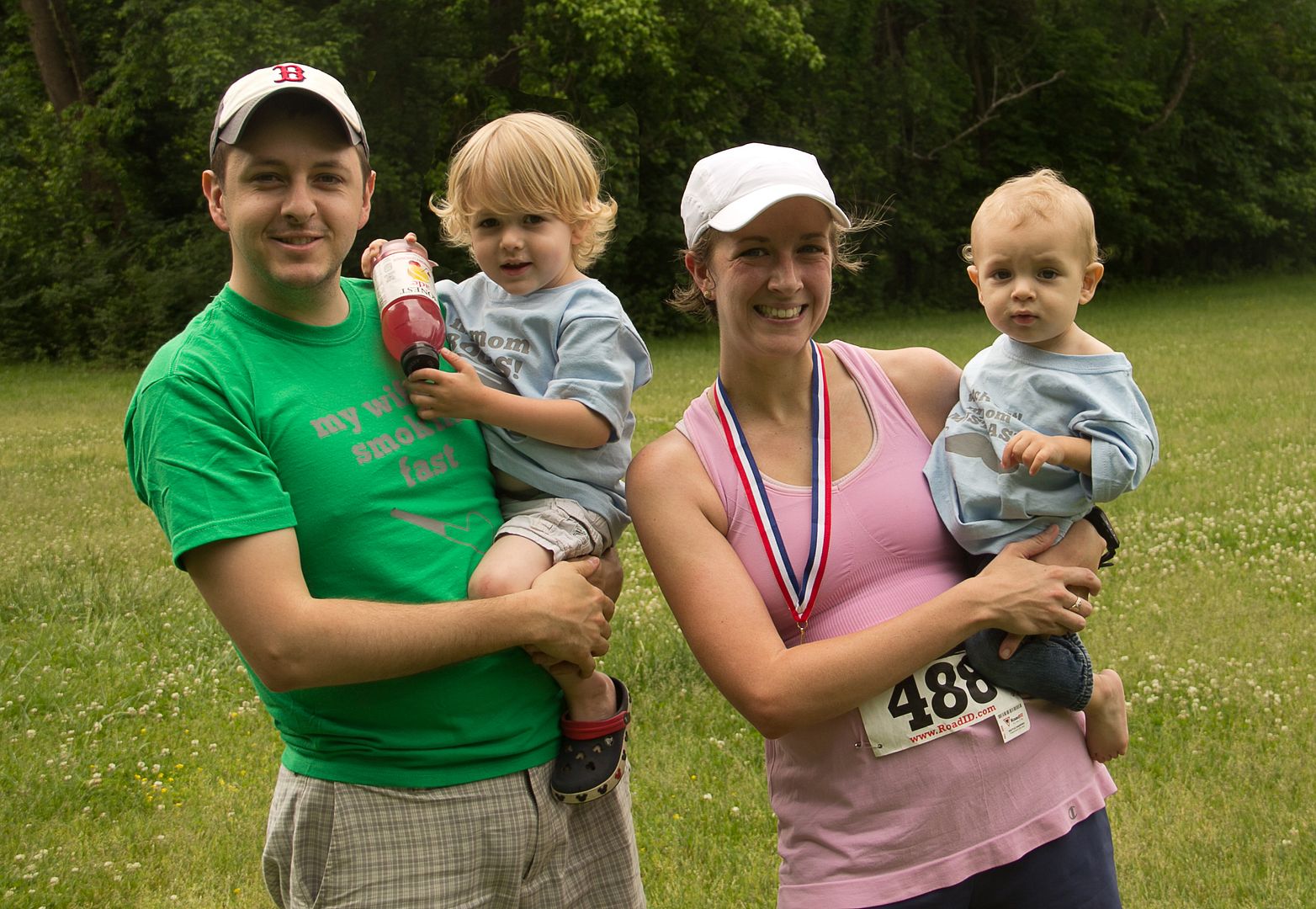 Cutest cheering section ever.
And here I am, two weeks from Chicago. The first half of my training was probably the best I've done--good long runs, speed work, lots of sacrifices to run early or after the boys go to bed. And now my achilles hurts. I ran a very fast 20 two Sundays ago and haven't run since. It still hurts a little. I've been icing and taking ibuprofen and resting. I've been going to the gym to do the elliptical just about every night, and I'm hoping I can still get in a few runs before the race.
I'm trying to be gracious about this setback--I may not be able to run at all, I may start and not finish, I may run slowly or I may run great. I go through these phases where I think I'm going to do awesome because I'll be really well rested... then I think I'm going to fall apart since I haven't been running. I get panicky and anxious very easily. Blech. And on top of all that, with Boston's new registration process, there are still spots open for next year. It's doubtful there will be any by the time I run Chicago just in case I qualify, but it makes me have hope that I would be able to get in next year before it closes. And part of me just wishes it closed really early and filled up with super fast people first so I could just let this dream die. Isn't that sad? But I'm let with this small glimmer of hope...
I'm really ready just to do it. Chicago is a great race and my WHOLE family will be there to cheer me on, the first time that's ever happened. So who knows what will happen race day. Not me. Not at all. All I know is that I'll be there, on the starting line. And we'll see what happens.