Here's the breakdown, by the numbers:
5:
the number of marathons I have now run.
3:41:35
my official time.
36:
the number of seconds I missed qualifying for Boston by.
0:
the number of tears I cried because of it.
1000:
the number of tears I cried because of LOST.
2:
the number of disgusting feet that I had after the race--seriously, they were shriveled, pruny, white, peel-y globs of flesh. Repulsive. Vic accidentally saw them and I think it temporarily blinded her.
376:
the number of days since I had given birth at race day.
84:
the place I got out of the women (thank you, middle schoolers, for asking me if I won. Your faith in me is inspiring.)

6:
the number of supporters who motivated me to not give up (yay for mom, Vic, Sol, Finley, Aunt Kathy and Hilary!)
2:
number of items I requested along the way--I wanted a Vera umbrella if I qualified and a Diet Coke at the finish. Priorities, friends.
1400:
the number of feet I ran up.
2:
the number of injuries I sustained--sore IT band and weird pain in foot.
8:25
my mile pace
26.2:
miles that I ran in the rain
50mm:
the lens that met its demise on our driveway after we got home. Sad, poor, broken lens.
And in case you like data as much as me... here is a graph of the elevation and of my splits. I think it is riveting.

As you can see, it was hilly.

And I did a good job maintaining my pace until the end. I wanted to run faster the whole first half but kept telling myself to wait. I am glad I didn't go out faster, because I probably would have been even deader at the end. It is so hard to mentally stay in the race--every second I have to make sure I am running the right speed and not letting myself cruise or go too fast. It is hard. And all those stinking hills did not help. I tend to ALWAYS underestimate how hard a course is and those hills did me in. Several times I wanted to give up, but conveniently that is where my cheering section showed up and helped me believe that I could do it. And I could have done it. They were right. If it hadn't been rainy, if it had been a few degrees cooler, if there had been less hills, I could have done it. And that's the hard thing about racing--there are so many factors out of your control. I trained my very best, and ran my very best race and came up a little short. And that's ok. Sad, but ok.
I know I've said this several times, but thanks so much to everyone who supported me. I kept thinking during the race, that I had to qualify because I didn't want to have to tell all the people following along that I didn't make it. I can't even remember how many messages I got from friends--I am a lucky girl. Thanks to everyone who cheered me on, either physically or mentally.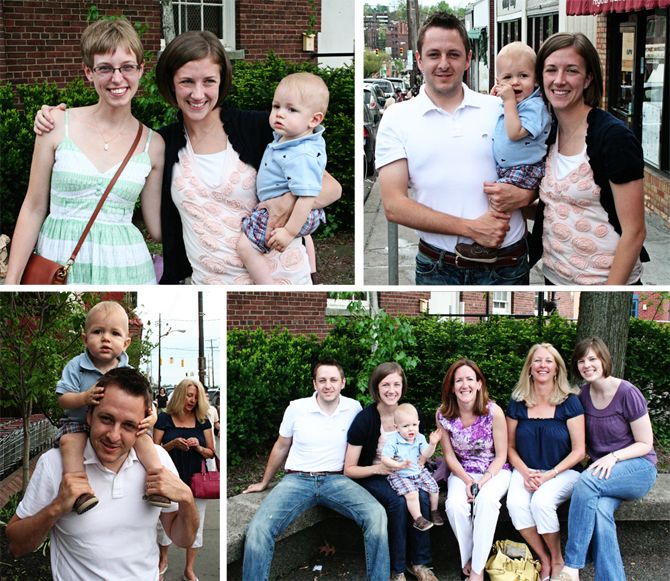 (See Hilary? I have a hard time looking at my camera sometimes too. Also, can I please have your haircut?)
And looking forward... I'm considering running the Poconos Marathon next weekend. Normally, I would not race 2 weeks after another race but this one is so tempting. It's only 4 hours away, I'm already in shape, and the best part? It's entirely downhill. Go check out
the elevation
. If my body feels recovered, I think I am going to give it another try now. Running another 600 miles to train for one in the fall just sounds exhausting. I don't know if my body will be up for another race so soon, but I'm hoping. I am crazy. Clearly.