Marathon 6, done. It ended up being my slowest time--4:10--but I ran 2:05 for both halves which makes me very happy. It was a great race. Perfect weather, a really nice course and an outstanding downhill finish. Like outstanding. I felt really good the whole way--except some knee pain starting around mile 18. It got better and is still bothering me a bit today. I think I could have run a good deal faster if I wanted to, but I was so happy just to get out there and run and not try to kill myself.
It was billed as the friendliest marathon in America and I think it was--I've never had so many people cheer for me by name. There were a lot of spectators the whole way and most of them were cheering--rather than waiting for the one person they knew to come by. The race also gave out wet washcloths and junk food. Washcloths are my new favorite race item--I felt like a new lady after I wiped off my salty face! One of my favorite things about races is the signs--here are some of my favorites:
Chuck Norris never ran a marathon. (I saw about 5 of these, but one of the girls was telling everyone "I googled it!" which made it funnier.)
May the odds be ever in your favor. (Hunger Games!!!)
Worst Parade Ever.
And my favorite person was a cute old man who was asking everyone how many marathons they'd run. Cute.
Sol trucked the boys to seven (SEVEN!) different spots to see me and only missed me twice. I'm super fast. I was so so grateful that he took care of them for so long and kept them so happy. That was the longest I'd spent away from Braden! And he didn't even want to eat while I was gone. Finley told me the best part of his day was "seeing Mama run" even though his day included Chipotle, Chick-fil-a and watching Cars 2. I was pretty thrilled to be the highlight. And it's pretty cute to here his sweet little voice say, "Mama run a marafon." Swoon.
It's super hard to photograph while you are trying to take care of two boys, so here's the best picture of me running. I think Sol did a great job.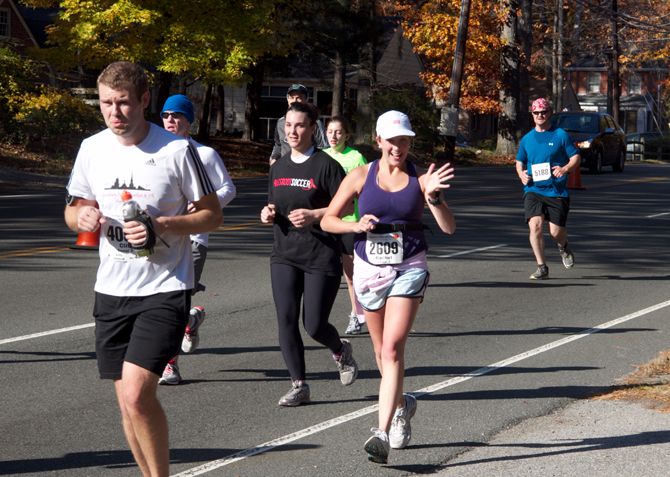 I was going to have Sol take a picture of me with the boys after the marathon, but I laughed out loud when I saw myself in the mirror. My hair did not hold up well and I looked ridiculous. I'd rather not share that with the whole internet.

And because I have a hard time running if I'm not training for something, Sol and I BOTH registered for the Rock and Roll Half Marathon in DC on March 17. Anyone want to come run it with us? Or watch our kids while we run?