It's been about 11 days and I feel about as recovered as I think I will--except the old Achilles. I'm guessing I have a few months before that's back to normal. I've gone to the gym a few times and done the Elliptical... but I'm hoping I can get back to doing some short runs soon. Running Chicago was extra special this year--I got to start with my Uncle Tom! He has the distinction of being the fastest Grimmer... and I don't think I'll ever catch him. He ran a 3:20:02--it was amazing. It was so fun getting to drive in and line up with him--and then immediately being left in his dust.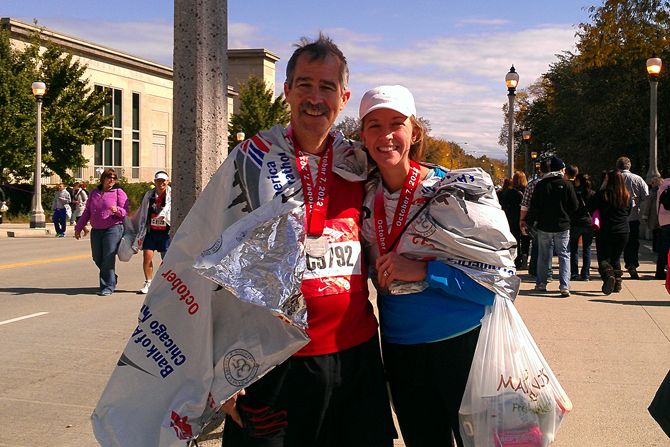 Well, here's me at mile 23. I'm glad that sign is in the background to remind me. Smiling at mile 23--couldn't be that bad. I crossed mile 23 on IIT's campus--and crossed at 3:14--PI!!! I got really excited and though other people would too... but I was the only one. Even though I was at an ENGINEERING SCHOOL. Come on people. My family made it to at least 3 spots to watch me run--and I saw Vic's friend Jennie too! What a great surprise.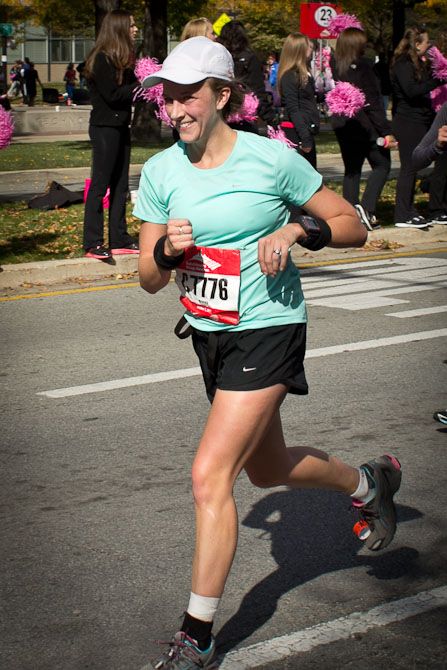 I'm beginning to get a bit fuzzy on the details of the race, but I wanted to write as much as I could remember now before I totally forget. My Achilles hurt from the very beginning, but by mile 8 it had kind of gone numb... so at least it wasn't bothering me anymore. I held a sub-8 minute pace for about the first 14 miles--I needed to run an 8:12 to qualify with an overall time of 3:35:00. Some... uh... digestive issues called for a bathroom break at mile 14--and I lost about a minute and a half running to and from the... um... facilities. At that point, I was pretty sure I was a little bit in front of my pace, so I had the time to spare. I figured I was either going to keep running the same pace until the end, or I was going to crash big time, so it didn't matter if I stopped or not. And I was right--I missed by more than a minute. :)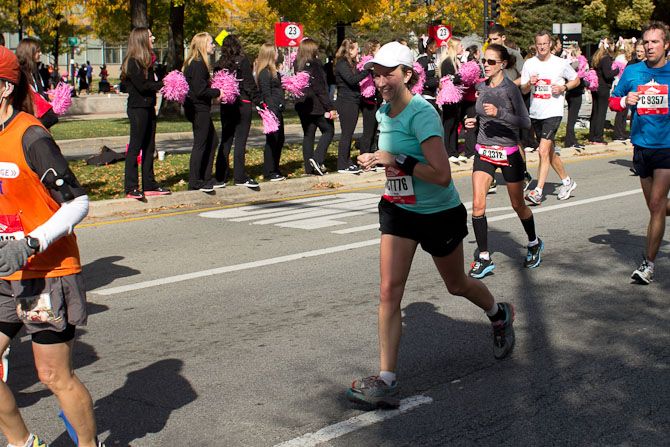 After my little break I came back running about 8:12 and gradually slowed down to about 8:25s--I only had two miles that were slower than 8:30. My overall time was 3:38:29 which is an 8:20 pace. Honestly, I was thrilled with that. Normally when I hit "the wall" after mile 20 I slow down MUCH more than that, and I felt like I was still fighting all the way through the finish line. I really was happy with how I did! I think the three weeks with virtually no running were what did me in at the end--I still felt great, but my legs were pretty dead from doing no impact activity leading up to the race. I think all the hours on the Elliptical were crucial in keeping me fit and getting me a PR--but still couldn't substitute real running. Next time--more strength stuff, more speedwork, more cross training and maybe minimal shoes and a forefoot strike? And a little less actual running.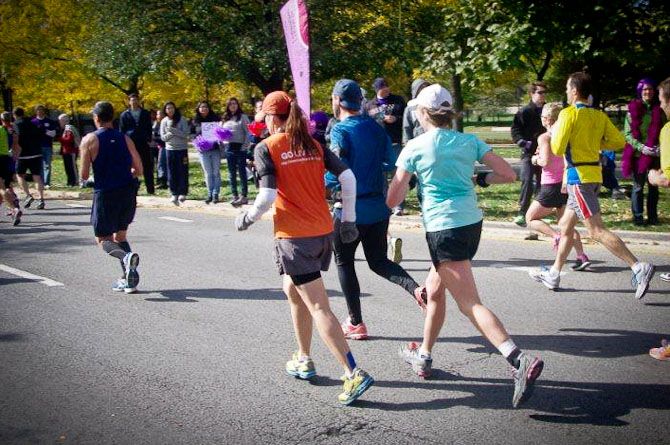 The MOST surprising part of the marathon was Laura's boyfriend Dan. For some reason, he only completed three days of the training plan and hadn't run AT ALL in the month leading up to the marathon. He asked Laura a few days before the race how mad I would be if he beat me. I literally LOLed. There was no way he could possibly beat me after that little running. But as you can see--he's wearing a finishers medal. He managed to run the ENTIRE marathon. An hour slower than me, but he finished. I was amazed. Seriously. And now he wants to do another one--I'm trying to talk my fam into doing either the Houston or Disney marathon in January 2014. Nice cool training weather and they both have an accompanying half marathon--perfect.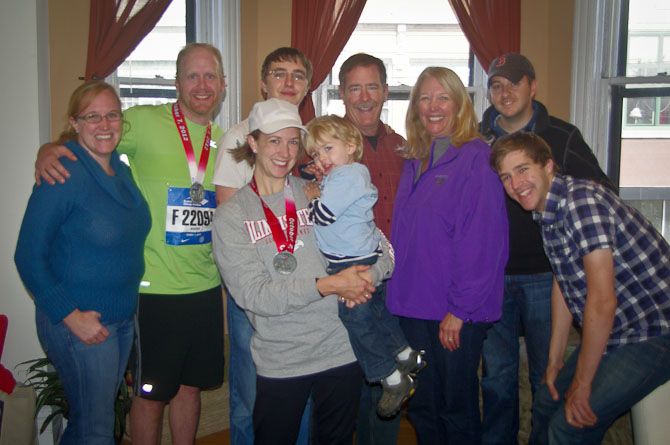 And again--major thanks to Sol for making it possible for me to train, listening to ma ramble about various ailments and sleeping on the floor the night before the race so you wouldn't wake me up. You are the best cheerleader ever. (And I mean that in a manly cool way, like how Phil Dunphy was a cheerleader.) And thanks to my sis for helping coordinate Chicago travels and my mom for cooking me whole wheat pasta and making signs... and my brothers and Dad for cheering me on. And also the internet for cheering me on. Thanks for continuing to support me through all these marathons. Everyone is the best!