Happy November friends! You know what November means, right? It means it's officially the Holiday season--I mean, at least according to Target. We have a couple holiday goodies that make great gifts for sale in
the Etsy shop
--and we're giving away two today!
I may be a bit biased (or a lot biased) but I really love these melamine plates as gifts. We've pretty much moved to these plates being the only ones we eat off of--they hold up well, can go in the dishwasher and don't seem to ever break. They are great gifts for kids--parents will appreciate that you didn't give them more toys to clean up and step on in the middle of the night. And kids love things with their name on it! I bought my parents a set of all the states they've lived in (it was a lot!) last year for Christmas and they loved it. Or at least they pretended to.
And Vic's special holiday offering--
these darling enclosure cards
. She makes custom or generic ones in a bunch of different colors. Today we're giving away a set of 10--you pick the colors!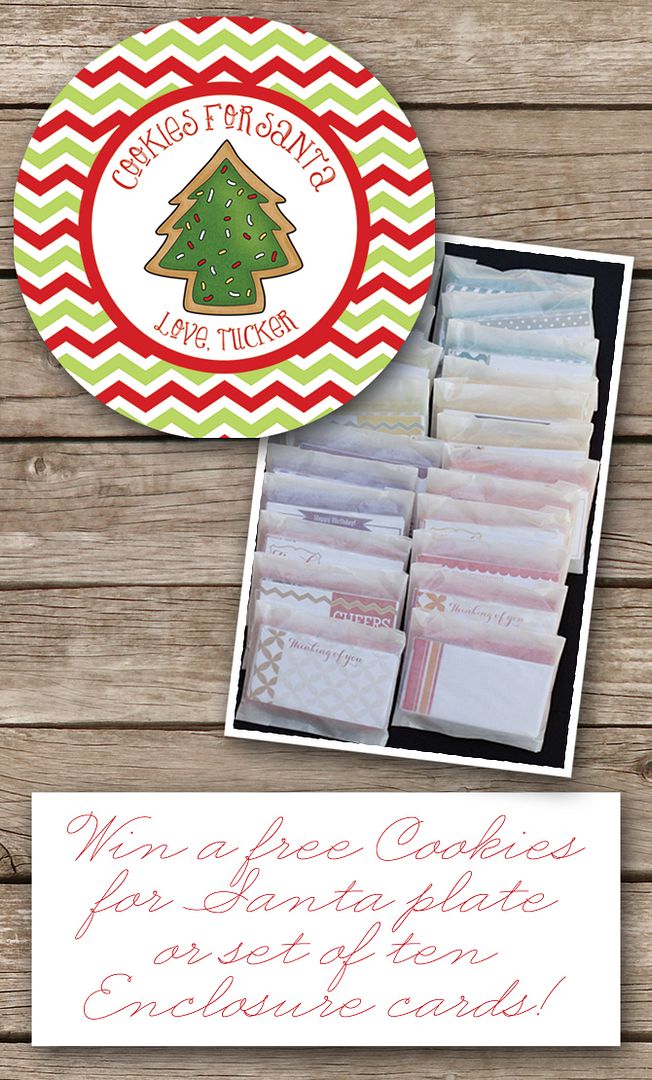 So to kick off the holiday season here, we're giving away a
set of enclosure cards
and one of the
"Cookies for Santa" plates
. (Or if you win and don't like Santa, you can pick any plate you want. I don't mind.) The giveaway will be open for a week--you have until midnight next Monday to enter. I'm trying out Rafflecopter for the first time--it's super easy to enter. There's several different ways to earn entries and to give you an even better chance of winning! Click the link below to enter:
And if you just can't wait to see if you won--go on over and
start buying plates
! For this week, you can use the code PLATE20 to get 20% off your order!