Finley hasn't been napping for awhile now. And by not napping, I mean he is NOT ALLOWED TO NAP UNDER ANY CIRCUMSTANCES. A five minute doze in the car could keep him up an extra hour at night. In Virginia, he shared a room with Braden. I tried to make him have a "rest time" for awhile--either in my room or the office... but it didn't go well. Now that we are (mostly) settled here and approaching the arrival of baby #3, I decided it was time to institute a rest time. I need a little time in the afternoon to regain my sanity--by catching up on Etsy work, napping, or cleaning the house. And I'm well aware it's going to be even busier in a month!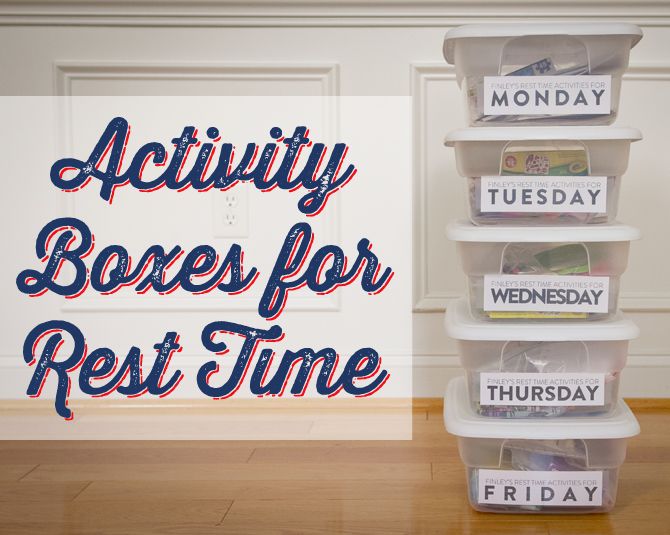 I was pretty sure locking him in his room for an hour and a half wasn't going to fly--so I put together rest time boxes for the week. (Much inspiration from my friend Jenae,
here
.) After posting a picture of them on Instagram, I had a few requests for more details... so here it is. I picked up 5 boxes at Walmart and filled them with some goodies at the Dollar Store, activities we had laying around the house and a few new items. My goal was to find non-consumable activities and to NOT spend a ton of money--although it's sometimes easier to justify buying stuff for Finley knowing that at least two more little boys will use it when he's done. So I like to divide the cost by three when I buy stuff! Everything is 66% off!
Here's what's in each box:
Coloring book with baggie of crayons (each book was $1 at DS and I used spare crayons we had laying around)
Puzzle ($1 from DS)
Audio Book (purchased from Amazon... Curious George, Frances (didn't come with books), Little Bear, Frog and Toad, Cars, Planes, Peter Pan)
Letter Activity (either tracing letters or identifying sounds)
Math Activity (counting or tracing numbers, making patterns)
Color or Shape Activity (matching colors, tangrams and matching shapes)
Fine Motor Skill Activity (lacing, stringing beads, clothes pins, scooping beads)
Something fun (army men, felt cupcakes to decorate)
A lot of the activities are things that I either made as part of our alphabet preschool curriculum or activities that I got as part of a
busy bag swap
I did last year. So luckily, I didn't have to make any new activities--I had enough laying around to fill the boxes. Watch the Target dollar spot and clearance racks at places like Michaels--you can start to accumulate a lot of little goodies if you spread it out!
This week we are going through a box a day to make sure he knows how to do everything--and that he understands how to get everything out and put everything away.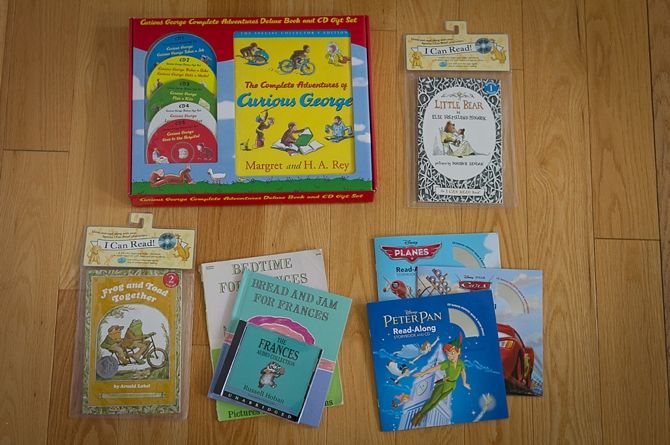 A bit more about the audio books... Curious George, Frances, Little Bear and Frog and Toad are all 4 or 5 story sets and some were a pretty good deal. Curious George was expensive, but Finley LOVES George. And it was seven stories in a really nice hardcover book. (It would make a great gift!) The three Disney books are fun ones for the Friday box... because I couldn't find any other "classic" book sets on Amazon. We also checked out our library and got a few, but I decided my time is worth something. The effort to reserve audio books every week and get three kids to the library seemed a little more than I want to take on. I think he'll be pretty happy listening to the books in there for awhile. I hope.
And how I'm planning on doing the audio books... I ripped all the CDs on to my laptop and planned on having him play them off the iPod in his room. Unfortunately, he can't read. And the mp3s didn't come with album artwork... so I went through and manually uploaded a picture of each cover to iTunes so he could pick out what he is reading. I know. Crazy. My other option was to burn them on to one CD so he would never have to change the CD, just go to the right track as the book he is reading that day. I would have put a little sticker with the track number on the cover so he could match them up. To a lady who is 36 weeks pregnant, that sounded like more work than searching Google for book covers...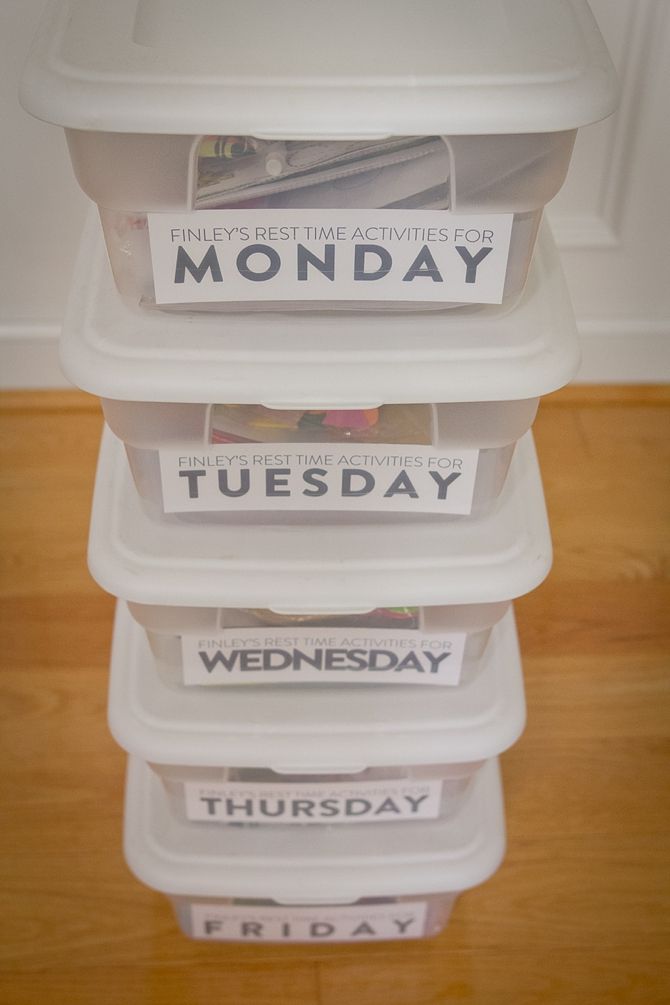 Eventually, I'll end up switching out things. I assume he is going to get smarter and some of the educational things will get boring for him. (Fingers crossed.) I have my eye on a few manipulatives on Amazon and set up CamelCamelCamel alerts for them so I can snag them when they are a bit cheaper. This would be a great thing to do with a group of friends with similar aged kids--each mama can choose a few activities and make multiple copies of them to swap with other mamas.
My basic motivation is to give him activities that he'll enjoy, learn a little bit from and that he can do independently. I'll come back and update after we've been doing it awhile to either encourage other mom's to join in or not waste their time... Let's hope it's the former!