Tell me the truth--is there anything cuter than Preschool Thanksgiving Feasts? I don't think there is. And let me tell you, a 2 year old class and 4 year old class are very different. Let's start with Braden.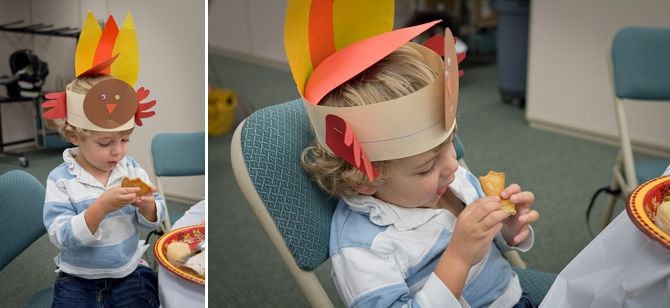 Well, he basically had no idea what was going on. I let him eat five cookies and then he refused to nap for the first time ever. He willingly wore his turkey hat... and kiiiind of participated in their song. Kind of is probably being generous. This is video is terrible for quite a few reasons: it's long, Keaton is crying during it, I'm bouncing up and down to keep him happy which may make you nauseous, and it's two year olds "singing". That was your warning.
Yes, that's him wrestling one of his friends and literally running circles around the two year olds standing in line and participating. I don't even know.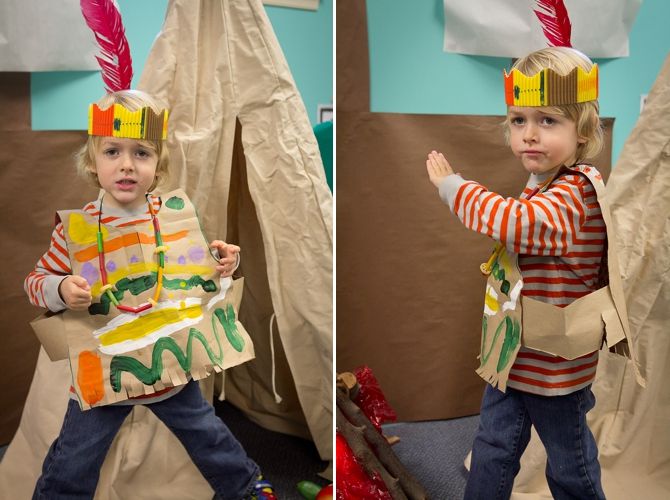 Finley's was a bit more of a production--he had a much more elaborate costume. I think this is him defending the teepee in his class. He's a "native anerican" in case you can't tell.
I was a little surprised how quiet and reserved he was during the song since he tends to overshare in class and he loved singing the songs at home. It was still very sweet. It was so fun to get to see both kids in their element. We're looking forward to conferences next week and hearing a little more about how school is going from their teachers!