Not to be outdone by his brothers, Keaton has a broken femur and an awesome cast. I fell down a few stairs while carrying him on my hip and his little leg got crunched behind me. It's an incomplete break, luckily, so he'll only be in (an adorable) baby cast for another two weeks. But in case you weren't sure, it's heartbreaking to have broken your child. Like so sad.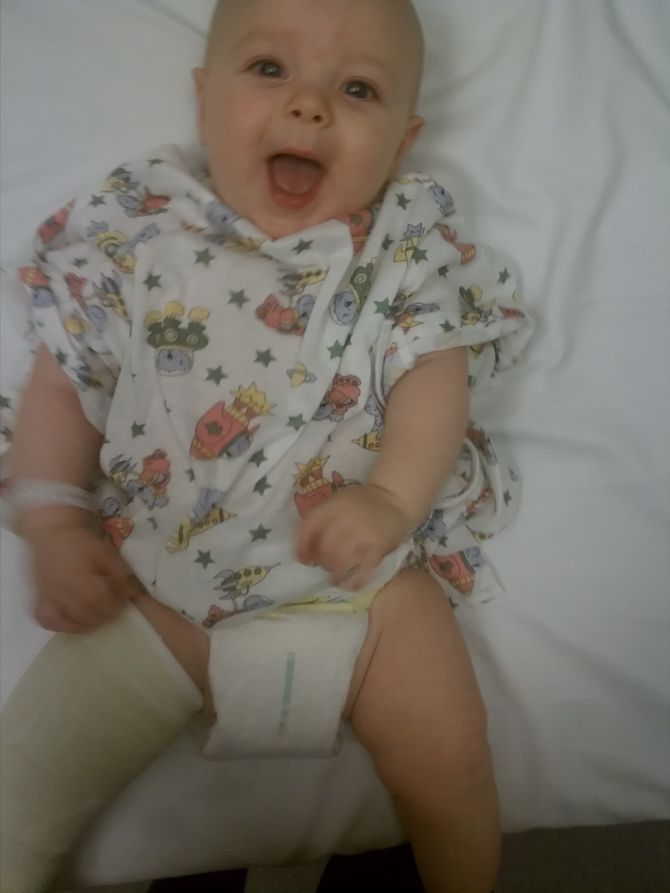 But how cute are little baby hospital gowns?? Much like when
Braden fractured his leg
on the slide--it didn't take long to figure out that something was really wrong with my baby. He cried for about 20 minutes (sad, panicky cries) and then was ok as long as I was holding him. But if I tried to set him down--oh, the look of betrayal on his face and the heartbreaking cries. I eventually figured out it was just the right leg that was bothering him--I couldn't get him to nurse all day because it hurt for him to be on his side. So we went to the ER, where he proceeded to charm and grin at all the staff.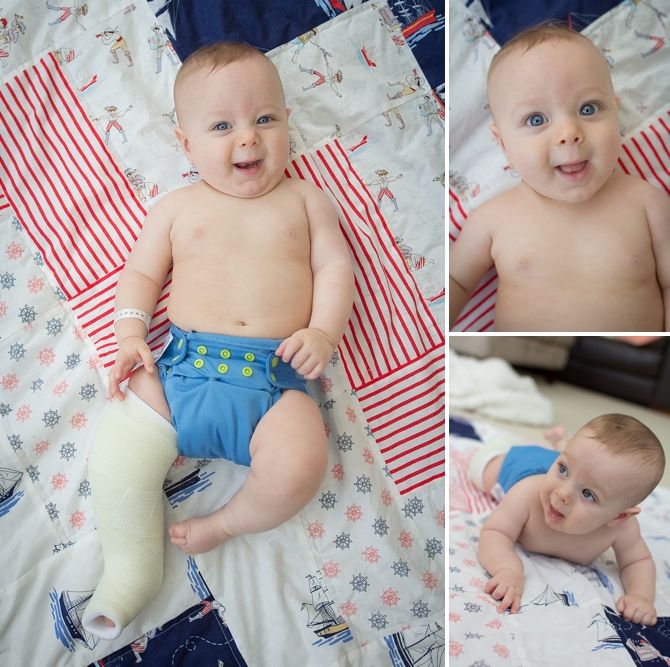 Also I started cloth diapering again because I could not handle how much poop was exploding out of his diaper. Come on, baby! The x-ray showed a break in his femur--and so he got a baby cast. Which was not as traumatic as it would be for the average mother since
Finley had a dozen casts
in the first few months of his life, thanks to the clubfoot. I didn't take many pictures of Finley's casts, so we had to have a little photoshoot with K's to remember it. He's now been upgraded to a softer red cast that he'll have for the next two weeks. Everyone keeps telling me how fast babies heal, and I'm grateful God made them that way. And how quickly they forgive--he loves me as much as ever. (I am worried he'll hold this over me in his teens--that his mama broke his leg...)
But all in all, he's doing well. He's pretty much back to his regular self--he's rolling around on the floor and being a champ. He hasn't been sleeping well (and he wasn't in the first place, if you scroll down a post) and I can't bring myself to think of sleep training a kid in a cast. So he gets another two weeks of hanging out with mom all night. I'm not sure how the cast has this power over him, but for some reason he just wakes up in the middle of the night and is ready to play, rather than eating and quickly going back to sleep. I keep reminding myself: this too shall pass.