Ready for a very picture heavy post? I barely want to type words to go with it... but I will. Because our ski trip was so.fun.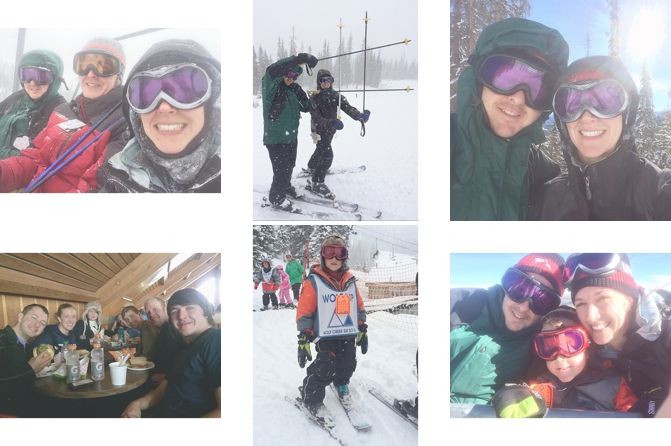 Sol and I hadn't been to Wolf Creek in seven years--traveling to Colorado from the east coast was a bigger trip than we can manage. And skiing with small children? Tricky. We ended up skiing two days--the first day my mom kept Keaton and Braden at our condo, and the second day Keaton and Braden hung out in the lodge with a rotating cast of caregivers.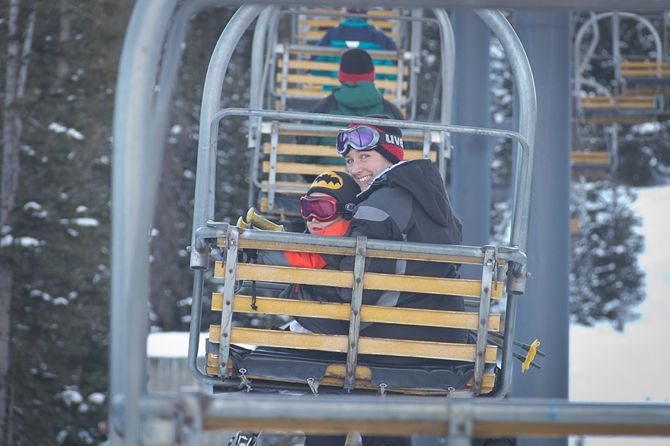 We put Finley in ski school both days. The first day he was still a little worn out from all the travel and possibly a little overdressed. He came in after about an hour of skiing and ended up taking a nap... and then was back to it after lunch. He went down the little lift once the first day and thought it was so cool. And we were so proud.
The second day he did great--we took him down one of the big lifts and he did great. Everytime he fell or did anything he'd yell THIS IS AWESOME!!! or BEST DAY EVER!!! Gotta love his enthusiasm.
After ski school wrapped up for the second day, my whole family went down the little slope with him. It was so fun and special--I love these pictures with everyone in the shots!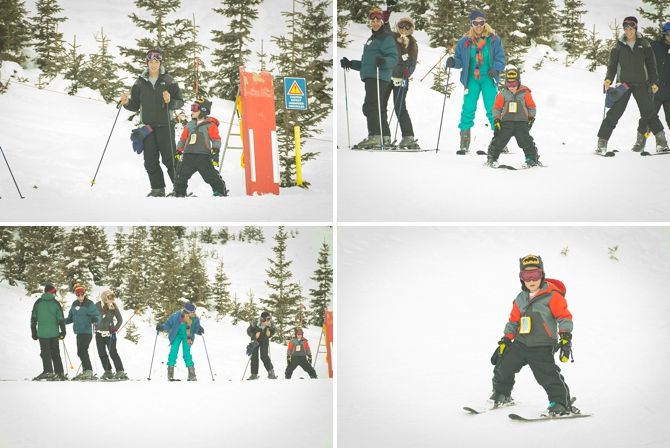 My dad has taught many small children to ski--and I loved seeing him break out his tricks with Finley! And also, the light was gorgeous.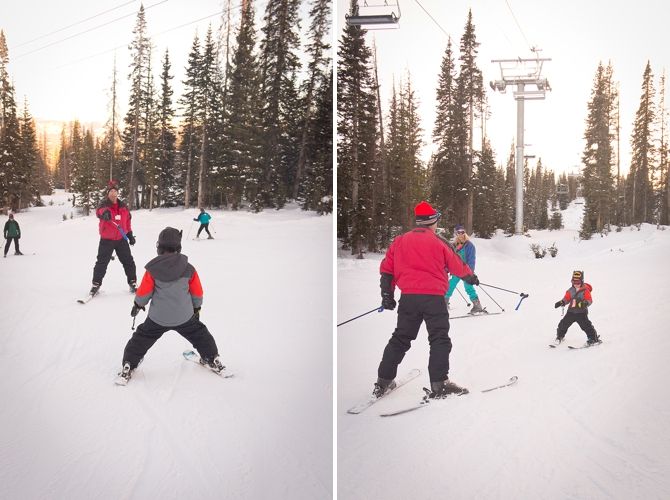 We were so proud of Finley--he worked so hard to figure it all out, and of course, loved to recite all that he'd learned to us. About how to ride the ski lift, what to do with his skiis... all the rules.
Braden was too little for ski school, but once he figured out everyone else was skiing, he wanted to as well. We stuck him in Finley's boots and coat (major tantrum, he wanted to wear his snow boots and ski) and stuck him on the lift (major tantrum, he didn't understand how to get off and thought we'd have to jump.) But once we got him down--so happy.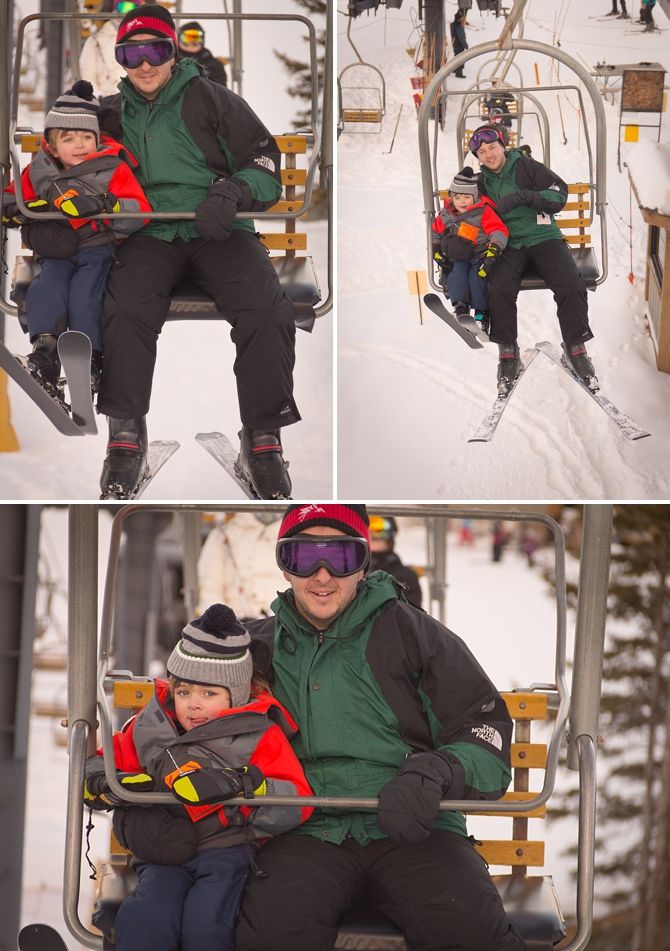 He obviously had no idea what he was doing, Sol basically carried him down the mountain. Which was adorable.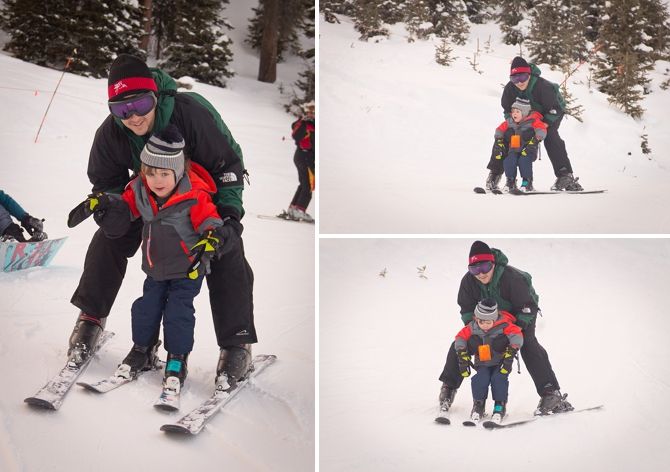 At first, Sol took Braden down cautiously and slowly... and then they went FAST. Which B-town loved.
While everyone was skiing... B and K were in the lodge playing. Braden pretty much played the iPad the whole time. And Keaton did whatever he wanted. Pushed chairs around. Tried to eat fries off the floor. Took a nap on a smelly sweatshirt.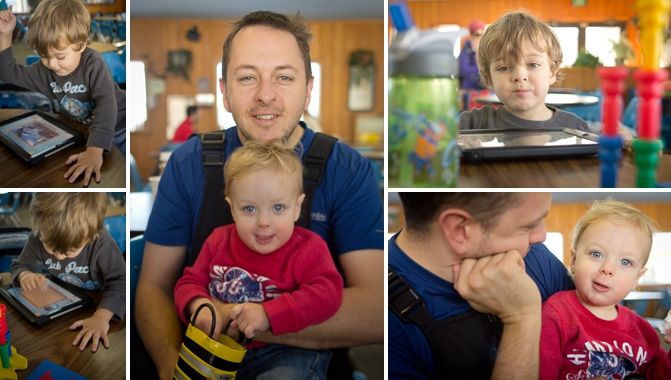 We skiied Christmas Eve--and Santa stopped by all the lodges to pass out candy canes to the kids. (Keaton is still skeptical of Santa.)
We had so much fun and I want to figure out a way to come back... every year. I loved that we grew up skiing together and hope my boys can do the same. Sol and I love skiing together--I always claim that running and skiing are the two sports that I can beat him at... and he pretends that it's true. Either way, we love it.