In early July, we went with a few other local families to the Young Life Family Camp in Buena Vista, CO--Trail West. We had so much fun! We drove, like we typically do because, hey! it was only 17 hours. We stopped for lunch in Salida, CO which I deemed the Austin of the middle of Colorado and we loved it. It's on the river and had tons of cute restaurants... and a train. It was a great stop before we arrived at camp.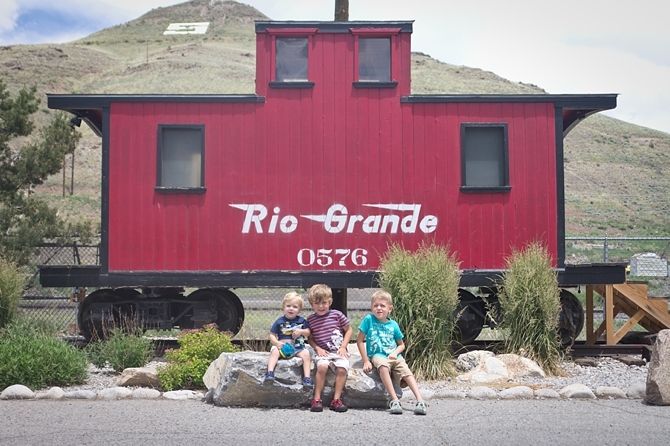 We did lots of stuff at Trail West. These pictures aren't in any certain order--so I'll just comment on each activity. The camp was great at having a mix of scheduled and unscheduled time. There was time for family activities, kids activities and adult activities--and relaxing. We really could be as busy or relaxed as we wanted. I wasn't able to participate in many of the big activities... river rafting, ropes courses and horseback riding aren't great for pregnant ladies.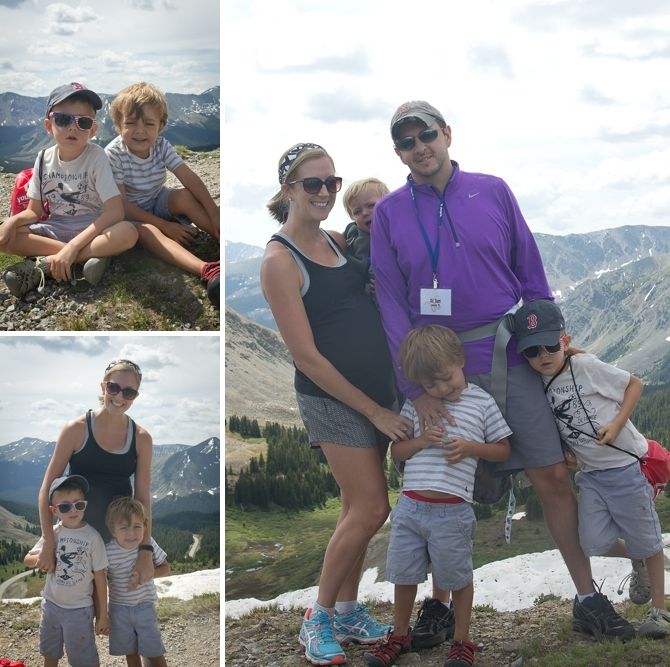 We'll start with what Keaton hated the most--a small hike to the top of the mountain! This was towards the end of the week and all the boys were a bit rundown from the lack of sleep (sharing a small room with three small kids means... no one sleeps well) and Keaton rolled with it most of the time--except the hike. He literally cried the whole time, which is very much unlike him! Some of the kids' staff carried the kids up and down when they got too tired which was awesome. The view was awesome and the boys loved that there was still snow at the top!
There were a few cowboy themed events--which was fun because we live in Texas and needed a chance to wear all our new western duds. Keaton got to wear Finley's outfit from his
first birthday
--glad the pearl snap onesie and boots could be reused!
Finley took his role as a self-appointed bandit very seriously. He pretended to shoot basically everyone. He's actually wearing his belt from his first birthday in these pictures. Yes, he's a skinny fellow. The boys participated in a little rodeo and a western dance--they all loved dancing so much!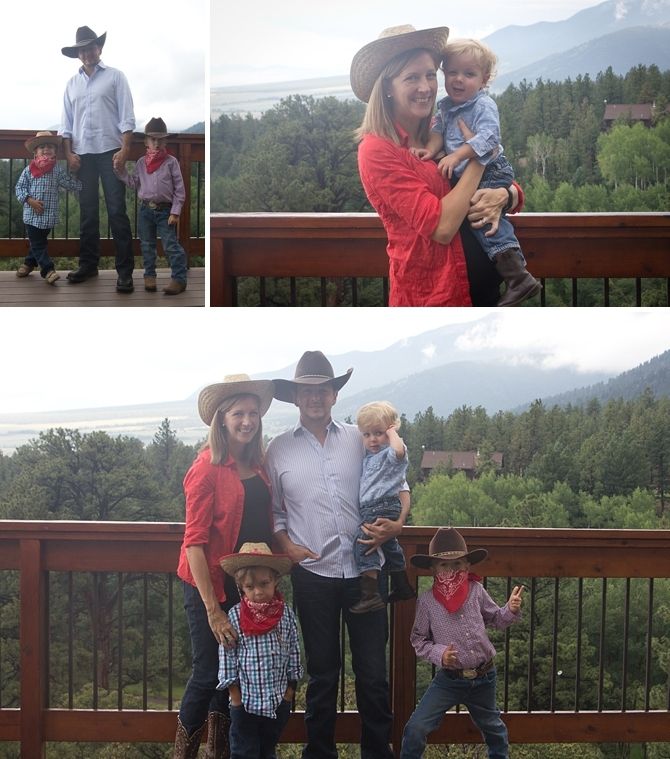 This is a random assortment of pictures. There was a Christmas party. We trekked over to another Young Life property--Frontier Ranch--and got to use their pool and water slide. (It was too cold to swim but we did anyways.) And there was a family challenge where you had to do lots of activities and Sol was basically the only one of us with enough spunk to participate. Mama was tired.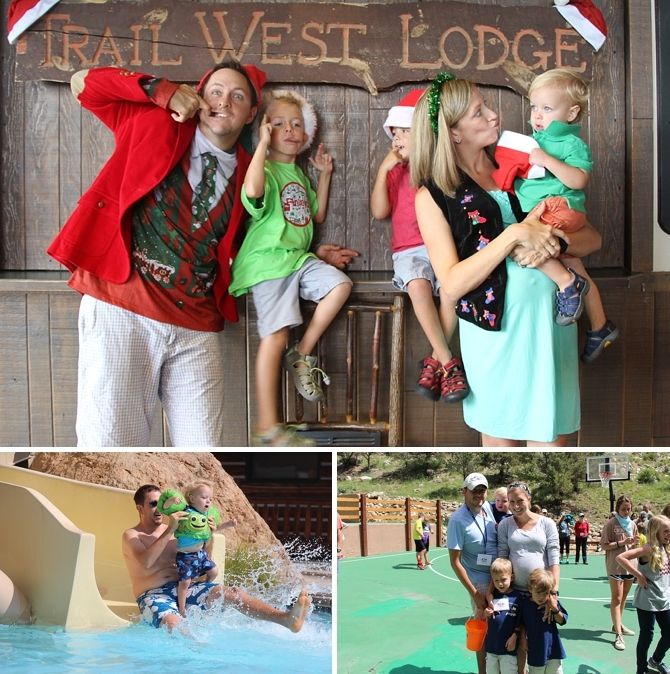 One morning we took a wagon ride out to the wrangler breakfast--which was just gorgeous! The boys did their best to catch french toast that was flung at them.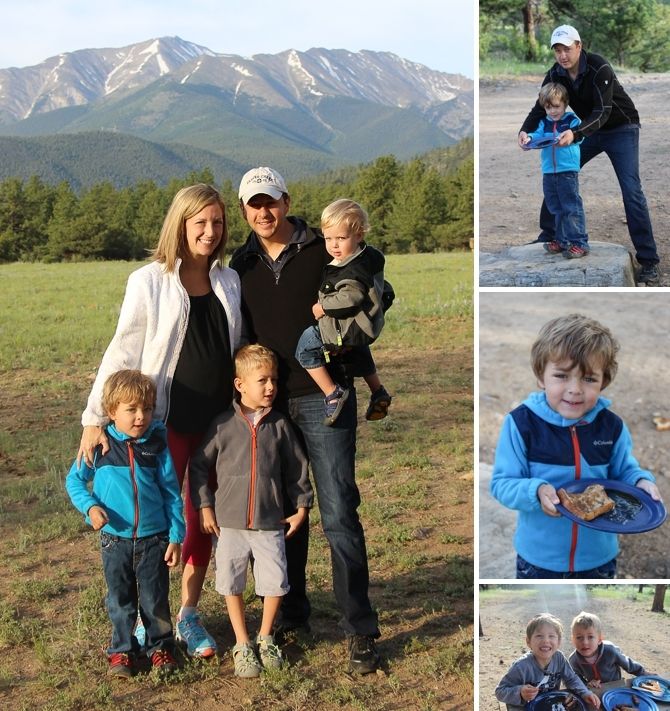 We had a solid group from Beaumont on the trip--and got to dress up in nice clothes one night for a fancy grown up dinner with no kids!

Look at that handsome man! I sure can pick them.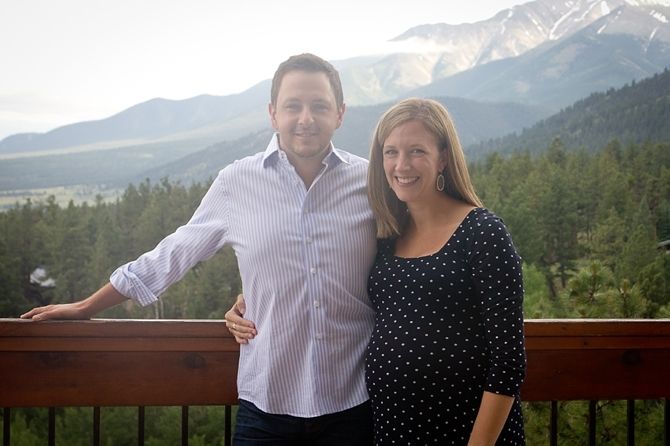 I think the highlight for Sol was getting to go on a jeep tour of the area! He wants a jeep more than just about anything--so I think this was able to scratch that itch for awhile.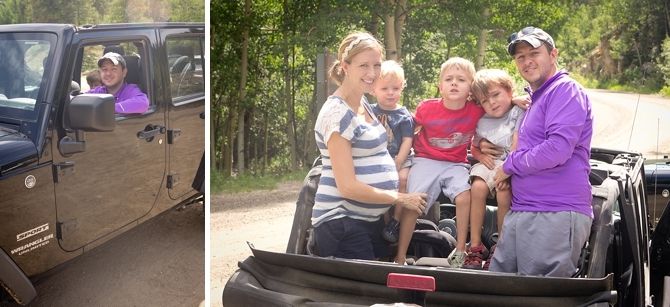 Our destination in the jeeps was a ghost town--the main attraction was a bunch of chipmunks that the kids got to feed!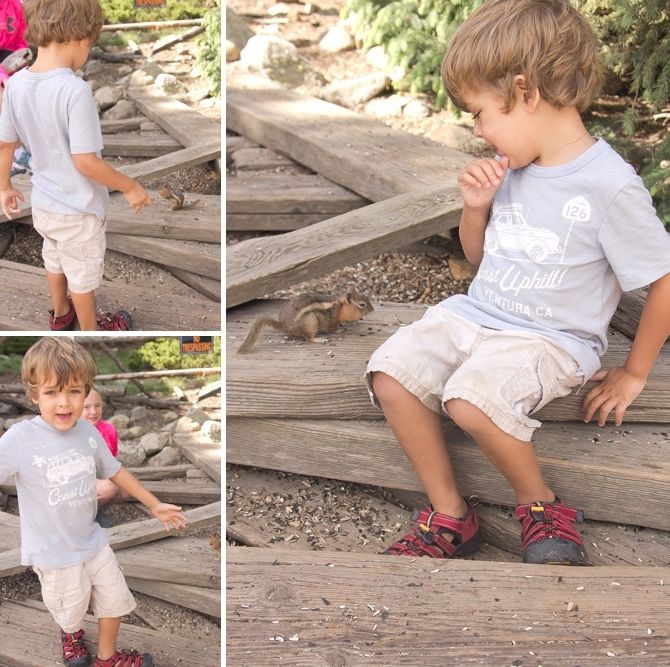 I love this picture of Emily Claire and Braden--I told them to hug each other and this is what they did. Sweet kids. Finley desperately wanted the chipmunks to eat the seeds off his belly. I don't think he was successful.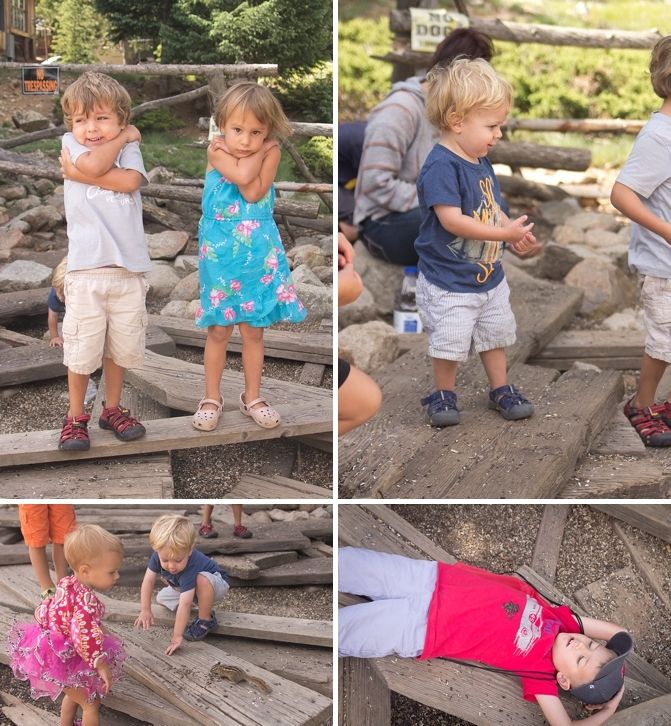 This family picture was taken right before Sol ruined Finley's life by accidentally dumping out all the sunflower seeds that he had smuggled in his hat. Whoops.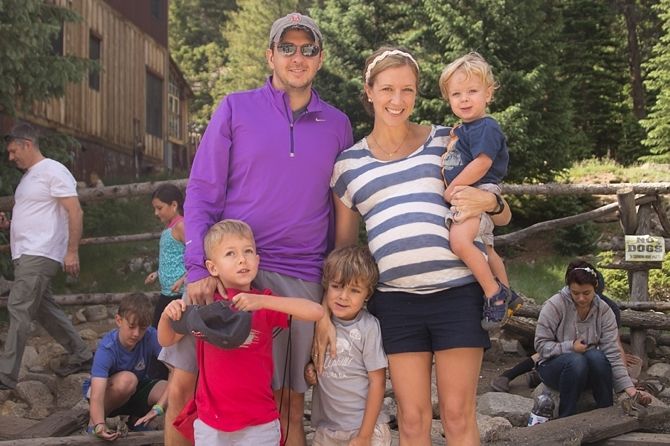 Another activity I couldn't do--the ropes course! Sol was a huge trooper and carried Braden most of the way across. Braden did not understand the concept of holding on to Sol and made it very difficult to keep him safe!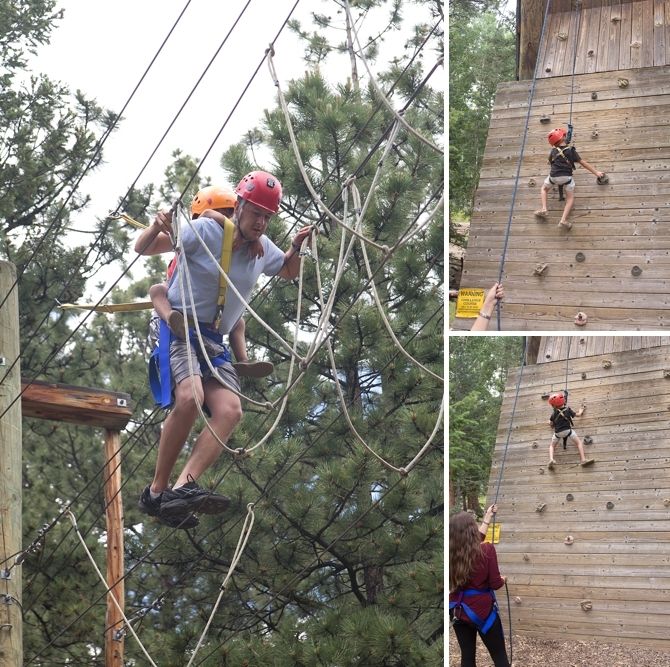 Because Sol got Braden to the other side, they got to do the zip line, which Braden LOVED. I think Sol's favorite thing in the world is ziplines so I'm glad he got to share that special moment with Braden.
Finley gave the ropes course his best effort--he was really nervous about it and did a really great job! When he fell off midway through he held on for a really long time before he finally dropped the line and let his rope catch him. Sperrys might not have been the best choice in footwear. Finley did a pretty good job climbing the climbing wall--he enjoyed that a little more.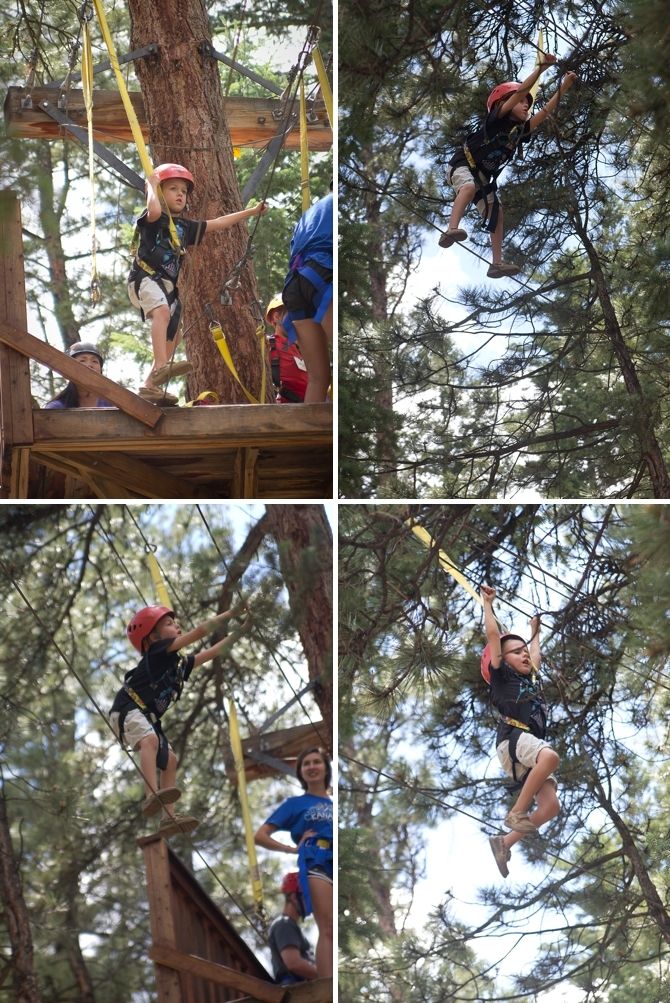 Camp ended on the Fourth of July--which meant we had a really great drive home, watching lots and lots of fireworks through the Panhandle of Texas.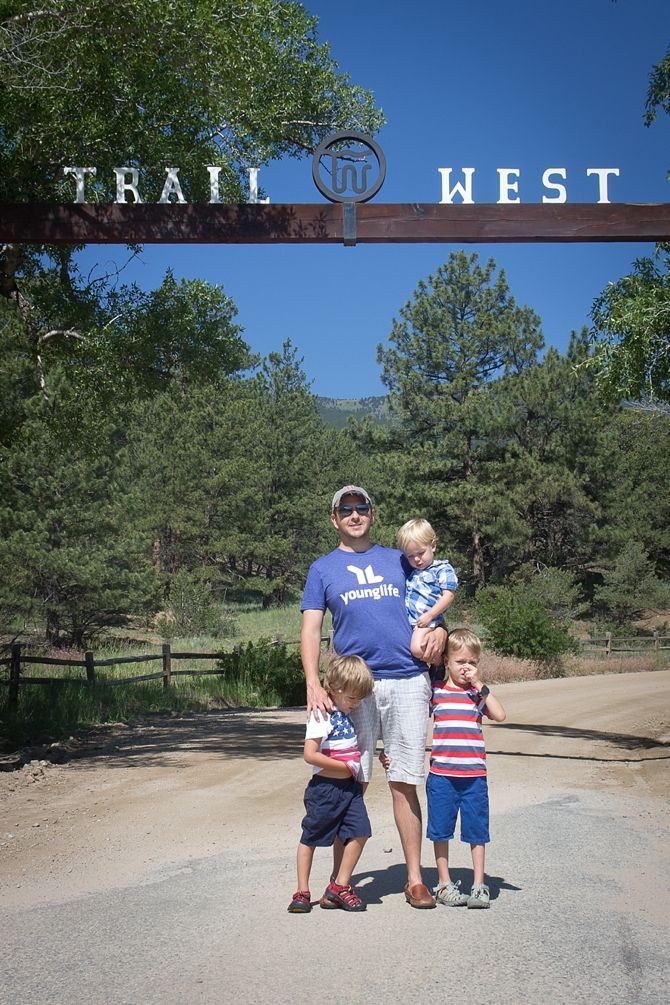 We had such a great time--relaxing with friends, playing with our boys, and catching up on sleep when we could. And the icing on the cake--we all got to hear great messages about Jesus. It was great to know that our kids were being prayed for and were in great care of leaders who love Jesus!