Hello fellow Sock Monkey adorers! Welcome to my tour of Finley's nursery. I'm no longer focusing my creative energies on decorating Finley's nursery--I do
design blogs
and sell
cute stuff on etsy
. You can buy our
sock monkey prints here.
Go take a look!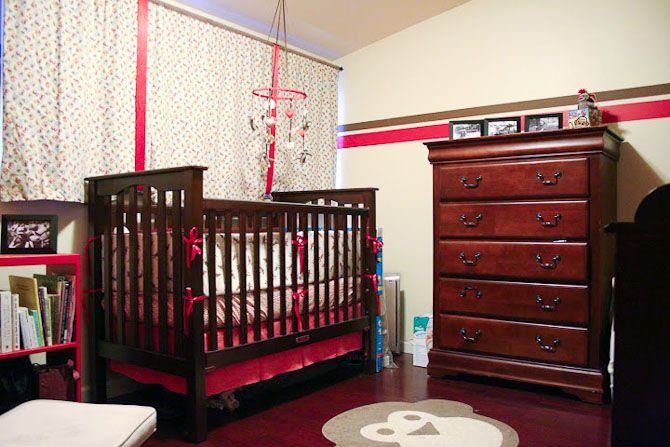 Interesting things about the nursery:
I made all the bedding and curtains and pretty much anything made of fabric. I found the cutest sock monkey fabric and ended up ordering it from several different websites. My crowning achievement was sewing piping on to the bumper. It took some skill. I made the mobile too--out of tiny little sock monkeys I ordered on Amazon.
When I was about 5 weeks pregnant, Courtney and I took two sock monkeys (Curt and Warner) to the park for a photo shoot. We were extremely embarrassed to be toting around sock monkeys but the pictures turned out so great! They are the cutest nursery decorations.
Victoria helped me paint the nursery white. Sol and 8 month pregnant Rachel painstakingly painted the straightest stripes you'll ever find on that wall. I love the paint colors!
We got the crib and changing table from craigslist (of course). They're originally from Pottery Barn, and the changing table is my favorite. I love the pictures and the strip running through the cutout.
Behind the red curtain on the left is our washer and dryer. Man, having it in Finley's room makes washing cloth diapers a breeze. Later on it may cause noise issues, but it sure is nice now.
Enjoy!
**This post has been getting a lot of google hits from people searching for sock monkey nurseries. Please let me know if you need any pointers, or feel free to post a link to your sock monkey nursery below! I'd love to see it. **