I think I watch too much TV.
And because of this basketball thing that people keep filling out brackets for, I thought I would make a bracket to help me scale back my TV time. Because, let's face it, I watch enough TV to equal a part time job. And if TV watching was my part time job, I would get FIRED because I am so far behind.
I'm currently (and conveniently) watching 16 shows. If my poor heart can take it, I'm going to kick four shows out of my schedule. So instead of winners advancing like in that basketball thing, in my bracket the losers will advance.
On Friday, I'm going to review the shows throughout the week. And it's going to be sad. I'll keep you posted about who advances to their DEATH.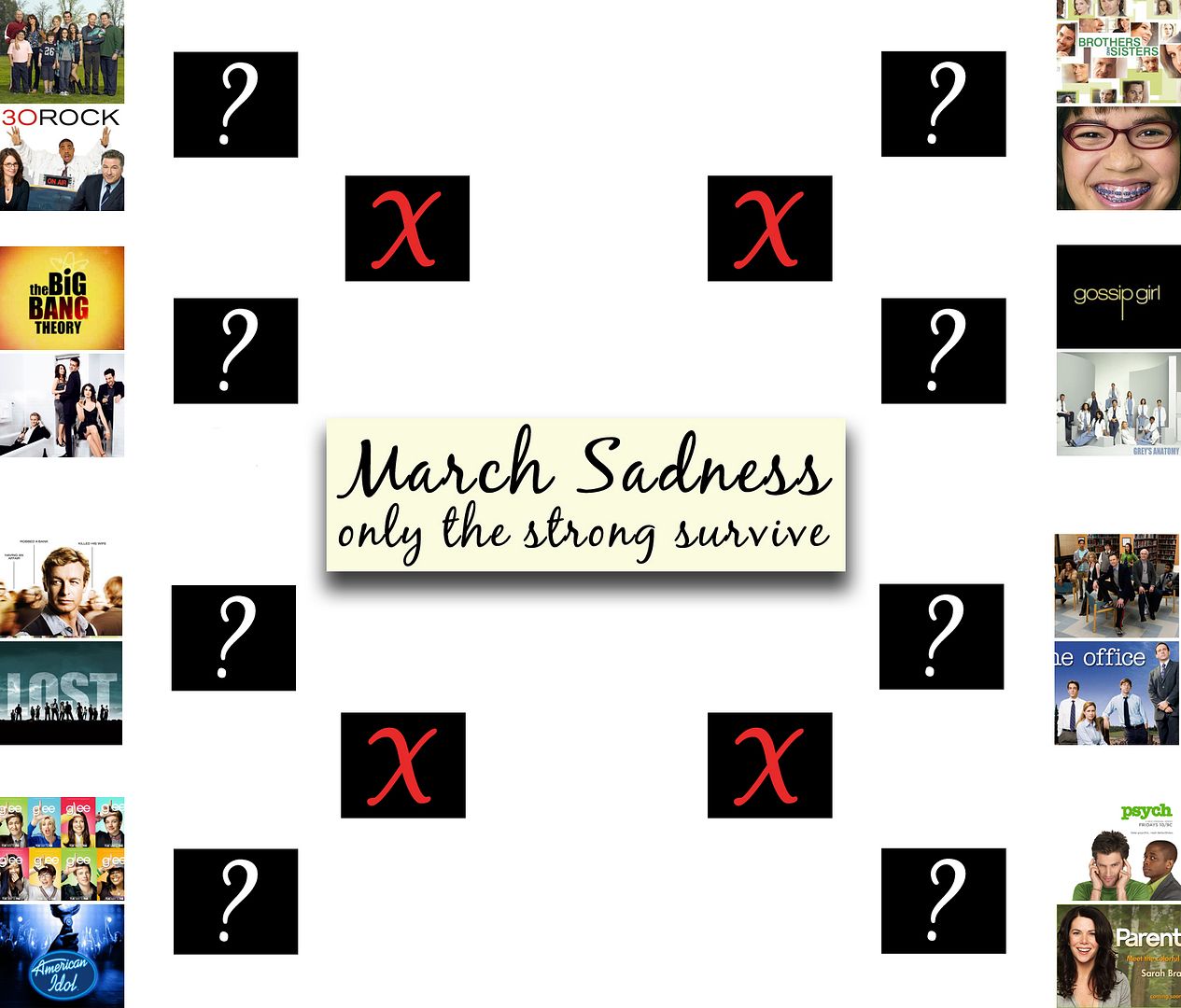 Here are the contenders:
Modern Family vs 30 Rock

These are both 30 minute comedies, and they both routinely make me laugh a lot. 30 Rock has Tina Fey, Alec Baldwin and Tracy Morgan and they are delightful. However, sometimes 30 Rock is a little tooo ridiculous. Modern Family has a whole slew of very,
very
funny people: Gloria and Phil are my favorites. And Manny. Oh, Manny.
HIMYM vs Big Bang Theory

Two more 30 minute comedies. I have a feeling that HIMYM is going to be the champion in this particular match-up. I just started watching Big Bang Theory and I really like it, but I'm not as committed to it as I am to HIMYM. However, BBT appeals to my inner-nerd and that makes me smile.
Mentalist vs LOST

This is a pretty unfair match-up. I love Simon Baker's hair, but I love every inch of LOST. How can you not?
Glee vs American Idol

I love singing and dancing. A lot. Lucky for Glee, I have been way
waaay
behind in my Idol viewing. And how can I not love a show who has characters named Finn and Rachel? But how can I turn away from Ryan Seacrest? And Ellen? What's a girl to do?
Brothers and Sisters vs Ugly Betty

I'm not sure how this one is going to turn out... It's Ugly Betty's last season and I'm a couple seasons behind in B&S. But I love them both--full of characters I love and much drama. And comedy.
Gossip Girl vs Grey's Anatomy

One might argue that these shows are essentially the same--only one is set in a Seattle hospital and the other in is a NYC prep school. They both are very intense drama and have a lot of... um, romance... and I probably only need one of them in my life. Grey's has been a part of my life for a long time, but I like to look at Blair's headbands. This one will be a nail biter.
Community vs The Office

Two more silly 30 minute comedies. The Office has been my old friend for so long, but I am so tired of Michael Scott's antics. And now that Jim and Pam are married I don't have much reason to keep watching. Community, however, is fresh and full of Joel McHale, and hilarious Troy and Abed.
Psych vs Parenthood

These shows are an unlikely pairing. Psych is ridiculous and Parenthood stresses me out with its family drama. And I adore/love/want to be best friends with Lauren Graham. But Psych is full of fun 80s pop culture references. Parenthood is new to the scene, but I think it might be able to pull off a win.
Stay tuned for my heartbreaking choices...