I had intended to blog about the "crimes committed against young Rachel".
Unfortunately, that blog will have to wait until my next post.
The pictures are in Owasso and I am in
Little Rock
and I don't have time to do justice to that post.
As a teaser, the crimes can be summed up as blue dresses, car stereos, Velcro walls and pinatas.
You will have to wait for the details and pictures.
Actually, I have more blog material than I can use. It has been a busy couple of weeks. Here is a random sampling of the crazy stuff that I have endured/cherished in the past three weeks.
MOBO's: There is a club for "Mom's of Boys Only". I met some members on my last flight. They take trips together and share the common bond of Moms whose sons get married and become hostage of their wives families. Their motto: "a daughter is a daughter for the rest of her life, but a son is son until he takes a wife". They weren't whiny… just realists and I loved chatting with them. It made me realize how lucky I am to have daughters and sons. I have wonderful daughters, sons and a dandy son-in-law. My MOBO comments are an excuse to post this great picture: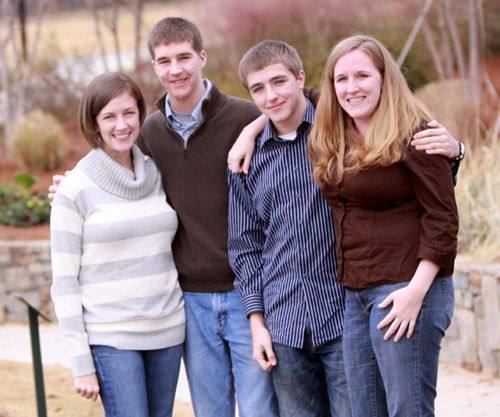 Wet Paint Trucks: I have been living in a hotel in Little Rock for the past three weeks. I ran into a group of hilarious guys that drove Wet Paint trucks. They spend 85% of their time on the road painting stripes down the interstate and putting down "shiny buttons" to warn drivers when they cross the center stripe. They were a HOOT. They bring their grills and meat as they travel around the country. I walked up one night when they were grilling and they told me that dinner was tri tip steaks and ribs. I asked what their side dishes would be and they said… BEER. They reminded me that life in a hotel is exactly as good as your attitude.

Race Recovery: nothing speeds along the recovery from a marathon better than diet coke and an admiring son.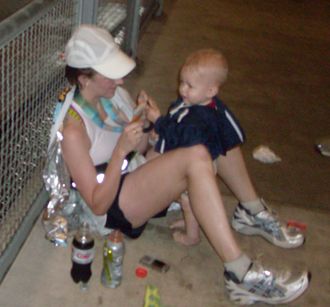 Pedicures: Rachel ran 3 hours, 41 minutes and 35 seconds in wet shoes. When she took off her wet shoes, her feet were... gross. If there was ever a solid reason for a pedicure, Rachel owns it. Honey, get the deluxe pedi. It is on me. (My mom wanted me to take a picture of my feet and I refuse. No one would ever come back to my blog. So I drew this picture. My toenails are actually that tiny.)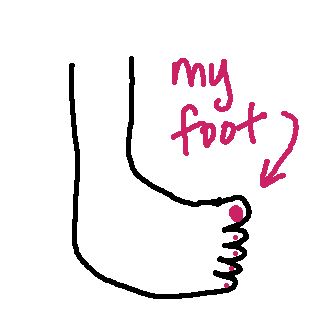 To all who read/lurk/comment – Have a wonderful month of May!