At least once a year, it comes up in conversation: Rachel and her list For the most part, Rachel had a happy childhood but four items made "the list".
The communion dress…
1) All the other girls were in beautiful white first communion dresses. Sorry, Rach… I didn't know! But at least you had lovely flowers for your hair.
(Editor's Note: there is a much funnier picture that we are searching for that is of me and all of the other little girls--they all look like mini-brides and I do NOT. And I am angry about it. I kept the picture in my bible for a long time to remind me that to not be petty about things, but I decided to put it somewhere "safe". Which means it is temporarily lost.)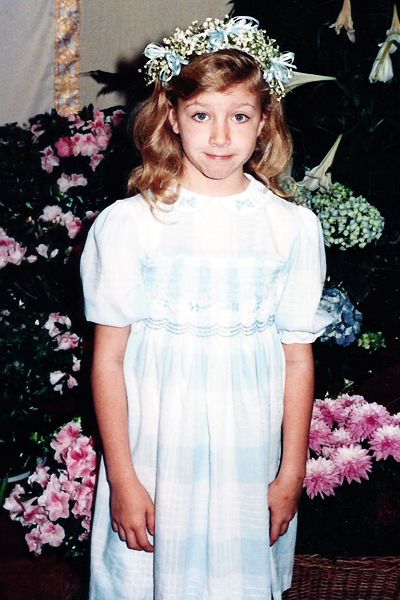 The Bruno incidents…..
2) Gatlinburg, Tennessee at the Velcro spider wall. Rachel was so excited to see the Velcro wall. She couldn't wait to do it But, the dads thought that Laura and Michelle Bruno should go first. They put on Velcro suits and were launched against the Velcro wall. Great fun!!! When it was Rachel's turn – they closed the wall. She was so very sad. (Editor's Note: while there were no pictures of the initial incident, I do have a picture from 2004 when I finally got to go on the Velcro wall at Up 'til Dawn. It was not as fun as it would have been if I weighed 50 less pounds and my dad was there to throw me. So I'm still mad about this.)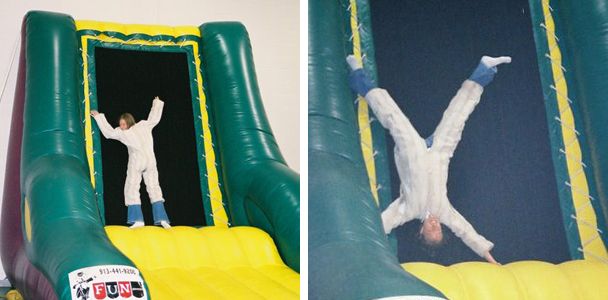 3) Centerville, Ohio at Rachel's birthday party. Rachel desperately wanted to hit the piñata, after all is was HER birthday party. The kids were all swinging badly and Dave was in charge of raising and lowering the piñata (as need be). We felt confident that no one would break it before Rachel had her turn. But then... super slugger Erica Bruno and her deadly swing shattered the piñata in front of the devastated birthday girl. Again… sadly, no picture is available.

The car stereo… as told by Laura


4) The stereo was initially in Jessi Wilson's car. Jessi wrecked her car and the stereo wouldn't fit in her new car. Rachel "bought" it from her for $50 (the money really came from mom). At the time, Rach and I were sharing the Mercury Capri. So, I installed it in the car. A few months later, Rachel got the Chrysler LeBaron and I took the Capri. She insisted that we should move the stereo to her new car. Her argument was that Jessi had sold it to her, not to me (even though mom paid for it), and that it should follow her to her new car. My argument was that Rachel never paid for the radio, and I was the one who installed in into the car that was currently mine, so I thought she had no claim to it. I ended up 'winning' mostly because Rachel didn't know how to uninstall it, I wasn't going to tell her how to, and she wasn't willing to spend the money to pay someone else to do it. The end. (Ben loves to bring this one up…. if there is a lull in the conversation, he will say..."remember the stereo, Rachel?")


Since I am missing a few pictures – here is a bonus picture for your viewing pleasure. One snowy Halloween, the girls were forced to abandon their original costumes and go as the Jamaican Bobsled Team.