I've mentioned before how much
I love Amazon
. Craigslist and Amazon are probably the leading places where we get stuff. And J. Crew--(oh and PS they have their Factory store online until tomorrow! Go shop!)
The last things I bought on Amazon were:
Our two favorite things about Amazon are Prime Shipping and Subscribe and Save. Prime is a service you that gives you free 2-day shipping for a year for only $79--and you can share it with four friends. That is a HUGE bargain. It saves you so much time and money. Subscribe and Save is what Sol uses to buy these
ridiculous
items
. It schedules deliveries for items you go through often and you save 15% on them. So we get more flax seed every other month. Awesome.
I learned about something today that combines these things into the coolest thing in the world.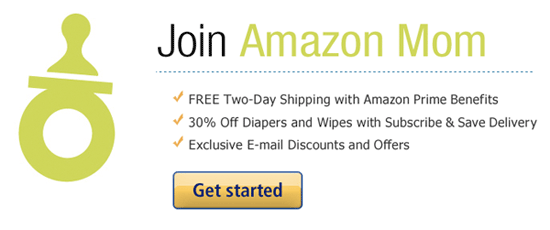 Joining (which is free) gives you a free 3 month Prime Membership, which is extended by a month every time you spend $25 on baby stuff. And you can share it with one friend! Also, instead of saving 15% on baby goods, you save 30%!!! Last week, I bought a box of diapers for $40 (which is already a great deal) and could get the same box shipped to my door in two days for $28. Seriously, that's a great deal. We only buy diapers every few months since Finley only wears a couple disposable ones every week, but for those of you not using
cloth
, this is a HUGE money saver!
If you have children, or know someone about children, pass this on! Cheap diapers! Free shipping! Hooray!