I have a mostly love, but sometimes hate relationship with Pinterest. Mostly I love all the super creative, delicious, adorable ideas that come my way. But sometimes it's a vehicle for making me feel lazy and not creative--I pin a lot of things that never see the light of day. But man, have I got my Pinterest on for Christmas! I've made quite a few Christmas crafts (mostly out of felt, strangely) that I'm excited to share. Also, because I think HTML is so nifty sometimes, I think I may have created little buttons that make little unique pins for each craft, if you are so inclined to pin it. Fancy, right?
Craft #1: Scalloped Christmas Tree Skirt
This was
so
easy. I bought 1.5 yards of gray wool felt with a 50% off coupon from Joanns's--making this project cost me about $6. I followed
Martha's directions
and had the pieces cut out and sewn together in under an hour. Hints: use a rotary cutter to cut the straight edges. I'm in love with the contrasting white zig zig stitching holding the pieces together. It's a bit smaller than I should have made it, but I still love it.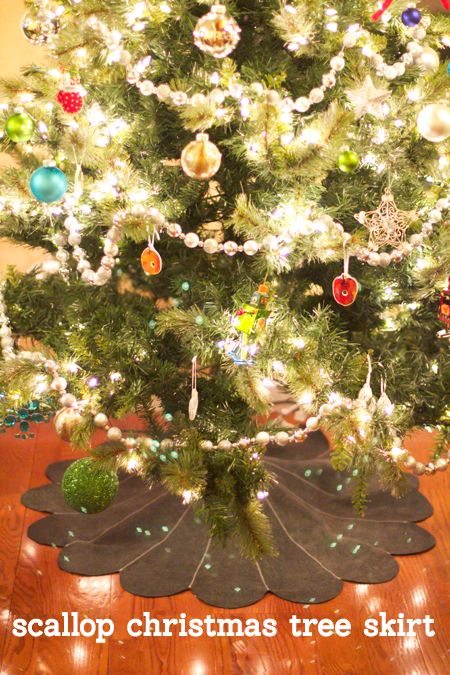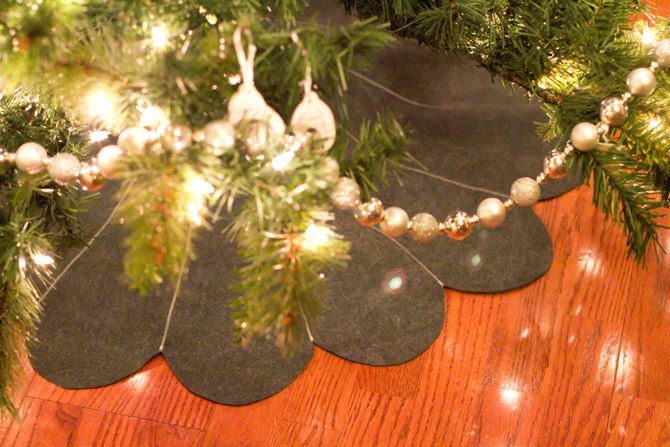 Craft #2: Advent Calendar
Welllll... this one was not so easy. It was time consuming. And made my hands cramp up. And still is not finished. But I beyond love it. I still need to make eight more ornaments, but I love love the ones I have so far. I'm surprised I actually made it--from stitching all the number to cutting out the tree and making all the little ornaments--I don't think I would have made it if I realized how big of a project it would be. But I'm glad I did. Here's
my inspiration
. I'm a little depressed after I look back at how much awesomer hers is than mine. I kind of envision switching out a few ornaments every year as the boys get bigger and understand more about Christ's birth. Now that I look at this picture, it's glaringly obvious that my white backing is not at all rectangular. Yikes. I'll do a better post on this once I'm actually done (which may be never.)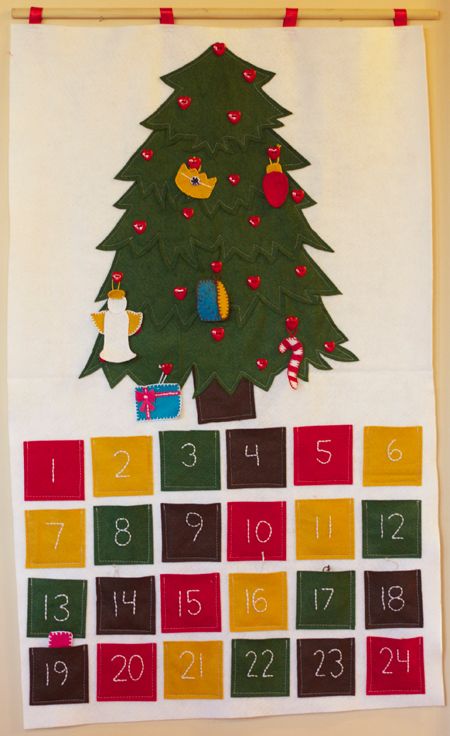 Craft #3: Play Christmas Tree
This one took a grand total of about 30 minutes. My pal
Jenae posted about it
on her fabulous kid's blog and I thought Finley would love it. He kind of does--he loves taking the ornaments off, "wrapping" them and saying, "Here you go, Mama!" But it's cute and will last us for awhile. And hopefully it will encourage him to keep his paws off my tree. And for those of you interested--it stayed up nicely using some 3m tape--the white sticky strips you'd use to hang up posters!
And one more note about Pinterest. As much as I love it, I've occasionally wished that there was a way to post "private" pins--so when the guests arrive for
Finley's mustache bash
they haven't already seen all the decorations. Or when I bake something for a friend they won't smile at me knowingly and say, "Pinterest, huh?" The gig is up--all my followers officially know that I don't have many creative ideas all on my own. And I'm ok with that.