Well, we spent the week in New Hampshire. And after I got over wanting to say New Hampshire like Bob Wiley, we had a great time.
We stayed at the boarding school Sol's sister Maya teaches at--and once it cooled down it was lovely. The first few days were pretty steamy in a house with no AC!
I was a somewhat lousy picture taker, but I'll share what I have. I didn't get a single picture of the boys with their aunts, which is a terrible crime. I think we need to redo the whole trip.
One of our first outings was to the "
Castle in the Clouds
"--an old mansion up in the mountains of New Hampshire with gorgeous views. I didn't take any pictures of the actual house, because that would have made too much sense. We really liked the drive up because it got us out of doing any hiking--we got to stop and take a short walk to a waterfall, which Finley obviously thought was Paradise Falls from Up.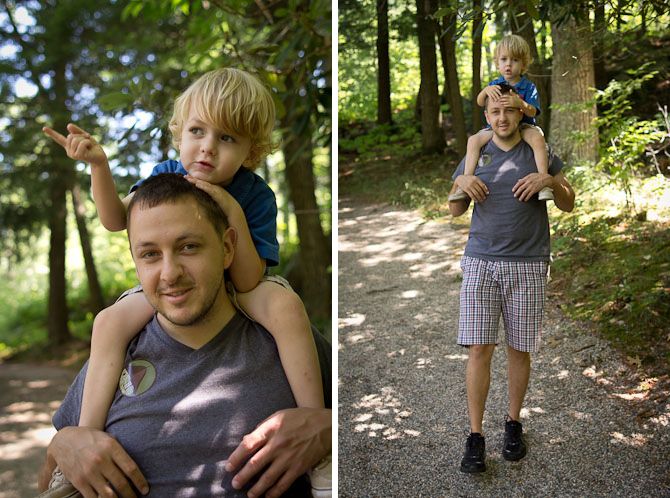 Finley was strangely cooperative at taking pictures on this venture, so there's quite a few of him and Sol. Um, look at that second face. What a ham.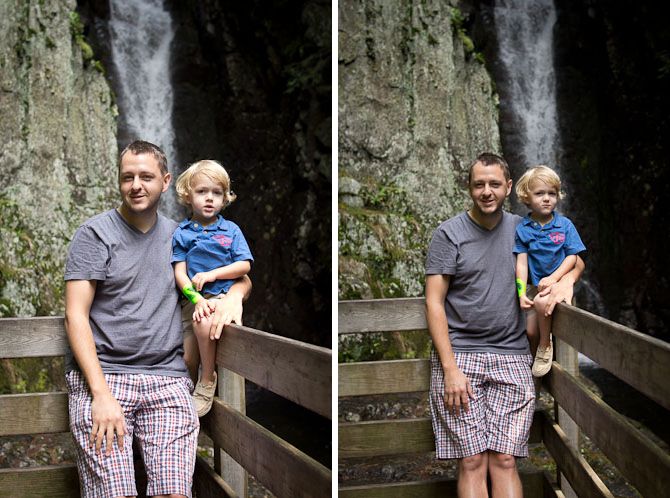 Photography was a bit challenging because the sun was bright--we forgot Finley's sunglasses so he was hiding his face in Sol's head. This is the view from the back of the house. Seriously gorgeous!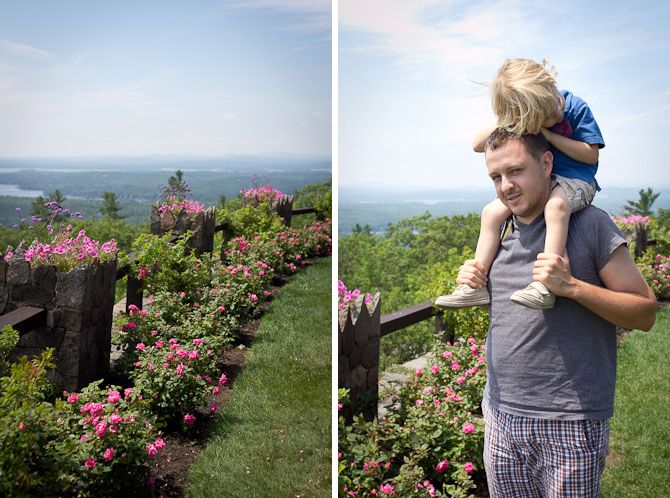 And this family photo (sans Braden) isn't half bad if you ignore my hair! We left Braden with the fam and he only hated it half the time. Stinker.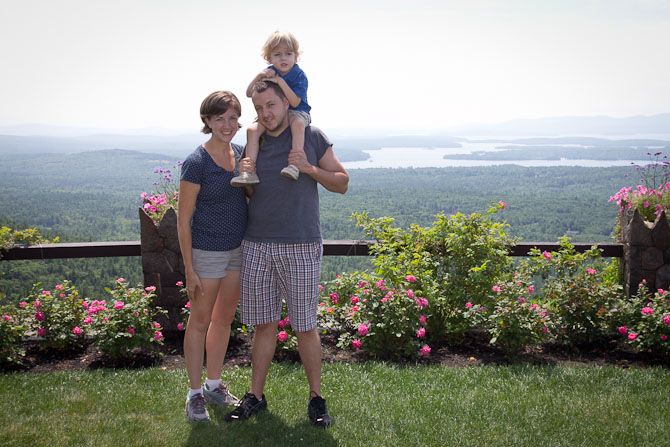 We had a lobster feast one night--and it was delicious. Lobster is always best when eaten out of the trunk of a car. :) There was an apple tree on campus that the boys LOVED stealing apples from and chomping on. We were well fed by Sol's family--they all love to cook!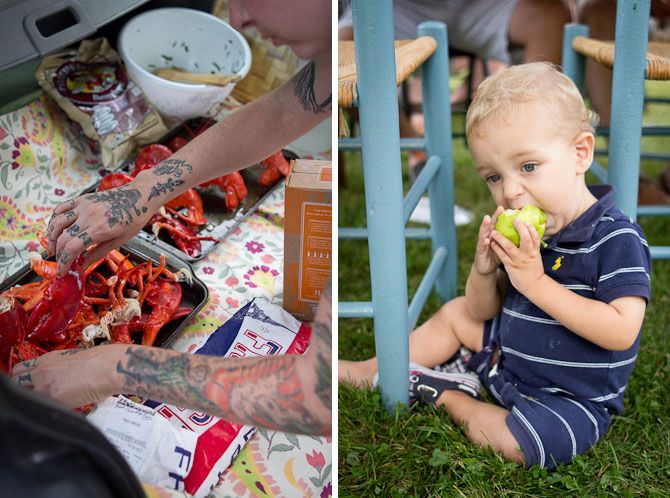 Our other big outing was renting a boat for the day. We had a blast tubing and exploring Lake Winnipesaukee--although I managed to skin both my elbows trying not to get thrown off the tube.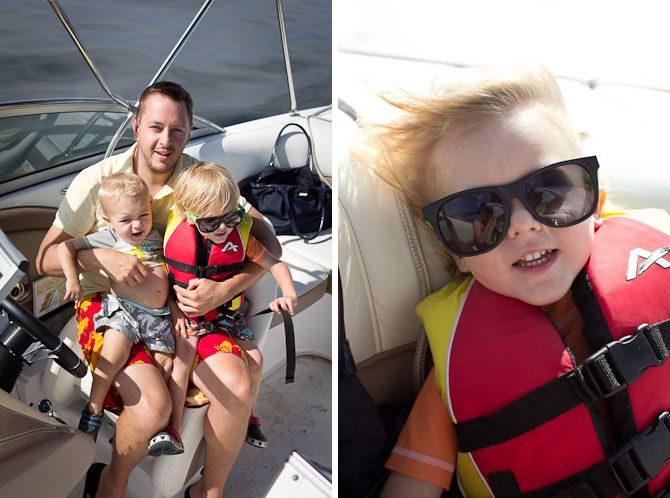 Finley and Braden both tolerated being out pretty well. Finley insisted on being wrapped up in a towel for the first thirty minutes because it was windy and cold. If you follow me on Instagram you saw a picture of it--he wanted to be entirely covered with "no holes" and laid still in the boat for a long time. It was cute. And Braden was happy as long as we were moving. This was the best family picture we got all trip--I'm pretty thrilled with it!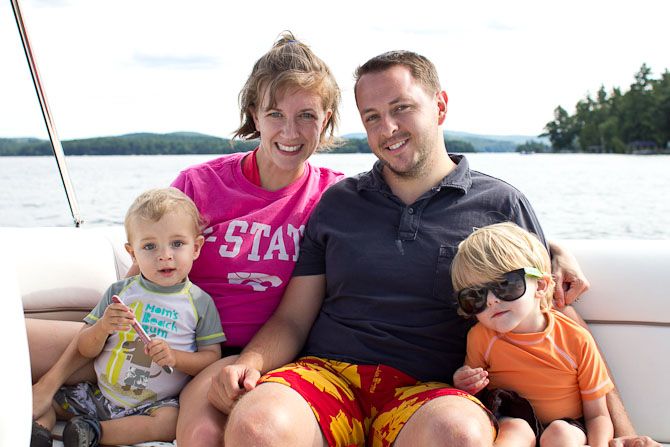 And of course, I had to include another "What About Bob?" clip, since Sol was quoting it as he Captained the boat around. "I sail! I sailed on my first try!"
We also ate ice cream. Several times. I wondered how I managed to gain a few pounds when I ran 51 miles over the course of the vacation (it was AWESOME), but as I look back, I had a LOT of chips and ice cream. But it was worth it.
Also it was messy.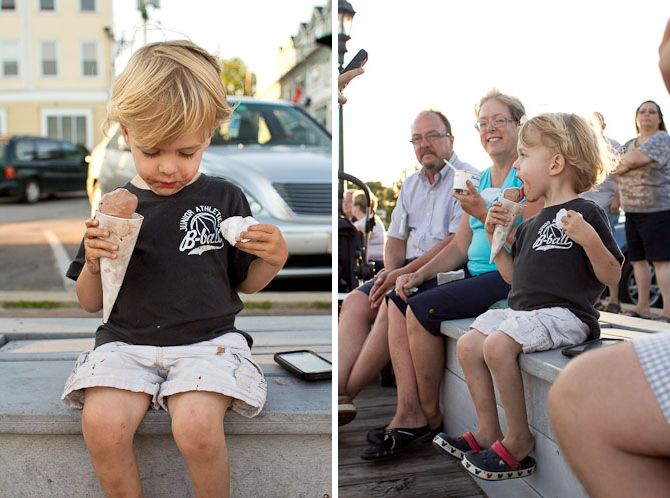 We had such a nice time--and we were so grateful for Maya's hospitality! Thanks Maya!