I had been avoiding this in hopes that would make it go away and it wouldn't be an issue--but that's not the case. Braden and I bravely went to a pediatric opthamologist early Monday morning to have his peepers checked. Sol and I had noticed one of his eyes intermittently turning out over the past few months and finally got in to see a doctor--they had a very long wait! As we suspected, he does have a little lazy eye. What that means is that the muscles for that eye are a little weaker and don't control the eye as well as he good eye. As a result he has poorer vision in that eye too. The solution? An eye patch! ARGH!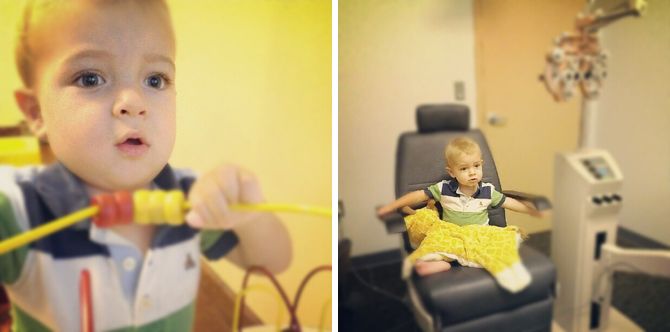 I was impressed with their skills at working with babies--lots of cool tricks to make them look where they needed to. They did dilate his eyes which he wasn't particularly fond of. The picture above and on the left shows off his huge pupils. I thought they were going to recommend a patch on him based on my extensive Googling (I'm pretty much an expert on any topic on the internet) and didn't think it would be a big deal. After all, we've dealt with correcting
Finley's clubfoot
for a long time--going through casts, surgery and braces. This seemed like a painless and easy fix. I was already dreaming up awesome pirate Halloween costumes for the boys...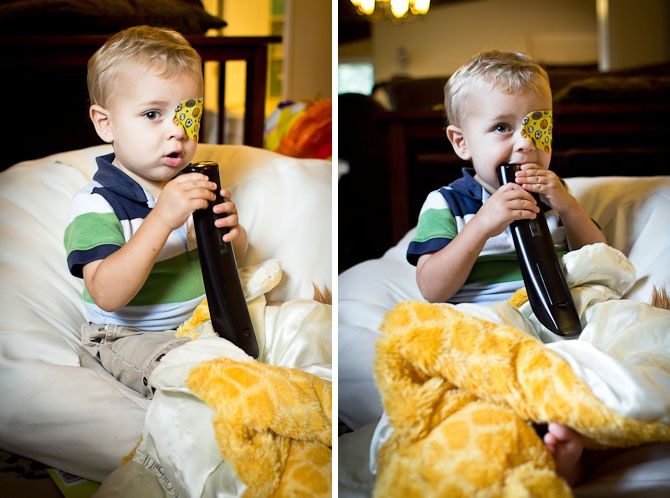 Uh, wrong. Our goal is three hours of patch a day and the doctor sent us home with 6 patches until our shipment comes in. We went through four patches in about 20 minutes. Surprise--Braden doesn't like having his eye covered up! And more surprises--sixteen month old knuckleheads are a little difficult to reason with! SHOCK!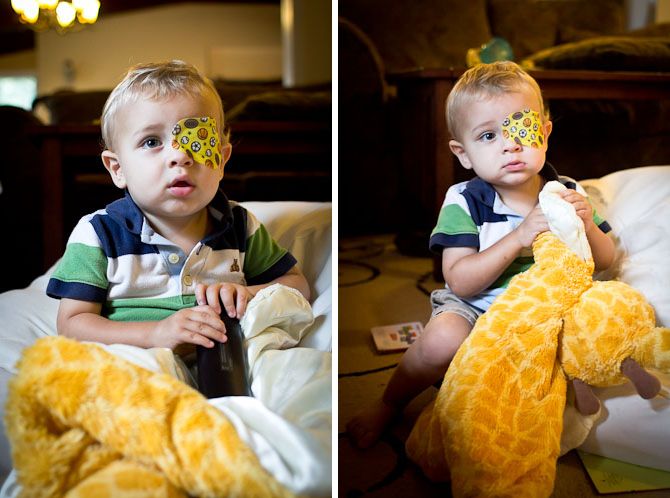 My plan was to let him watch TV when the patch is on--although not a great activity for his brain, it's good exercise for his weak eye and keeps him distracted so he won't touch it. Kind of. Normally if the TV is on it's so I can clean/cook/Etsy--but he seriously has to be watched like a hawk or he'll tear it off. So TV is now time where I sit next to him and wait for him to move his hand to his eye and I tackle him. Also did I mention I was only successful for 20 minutes and the goal is THREE HOURS???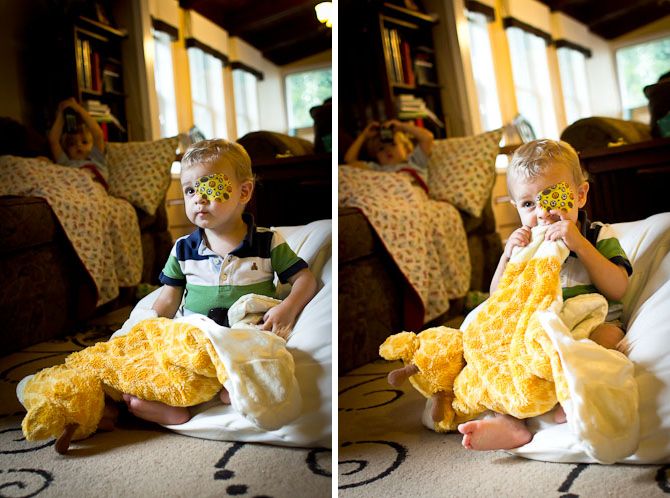 Suggestions for how to occupy a 16 month old? In the pictures above he was watching TV, holding his favorite giraffe and playing with a remote. He still grabbed at the patch about every minute. I think I might try to get out special toys or safe kitchen things for him to hold so he'll be distracted. And he has a few books he's obsessed with that we can read. It's just a much more hands-completely-on parenting style than I'm used to--I tend to be a little more laissez-faire in my approach. You know, so I can make sure I get plenty of time laying on the couch and eating chips.
Also I got some patches with flames on them. I didn't want you to worry. If anything Braden is going to look super tough, right? When
Finley was in his cast as a two month old
I liked to say things like, "You should see the other baby!" or tell people he got hurt saving other babies from a burning building... although I don't think we'll actually leave the house with the patch on unless he turns into a super-chill kid. Or forget how to use his hands--which would be a totally different problem.