If there's one thing Braden loves, it's trains. I mean, he loves trains. There was no other option for his second birthday party! Unfortunately, we moved out of our house two days before I had planned the party... so it was a bit thrown together. I did my best to keep out things for the party and only had to run out and buy a few things the morning of. We were able to have the party in the backyard, which was fantastic because in addition to having none of our personal belongings in the house, we also didn't have a floor. But don't worry--we made sure to keep the bounce house out of the grasps of the movers.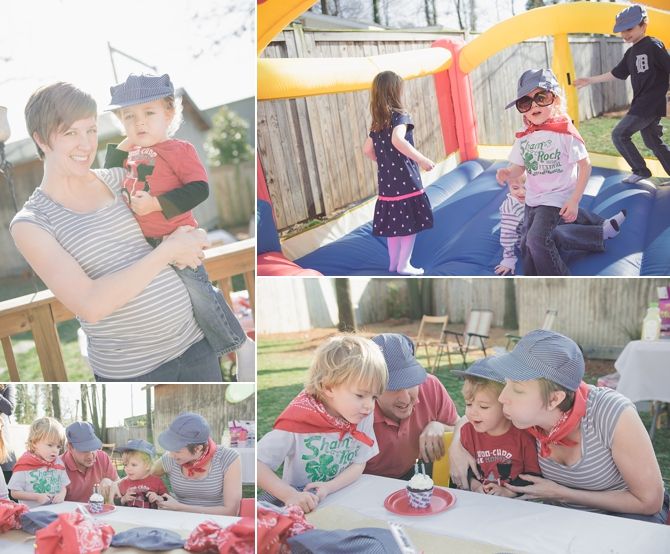 The party was featured on
Hostess with the Mostess
on Monday--there's a more detailed description there if you are interested. I focused all the decor on the dessert table and setting a table for the kids. It turned out rather patriotic--lots of red, white and blue. I reused burlap from Finley's party and brought in lots of red bandannas for more color. I tried my hand at sewing crepe paper... it was about as fun as it looks.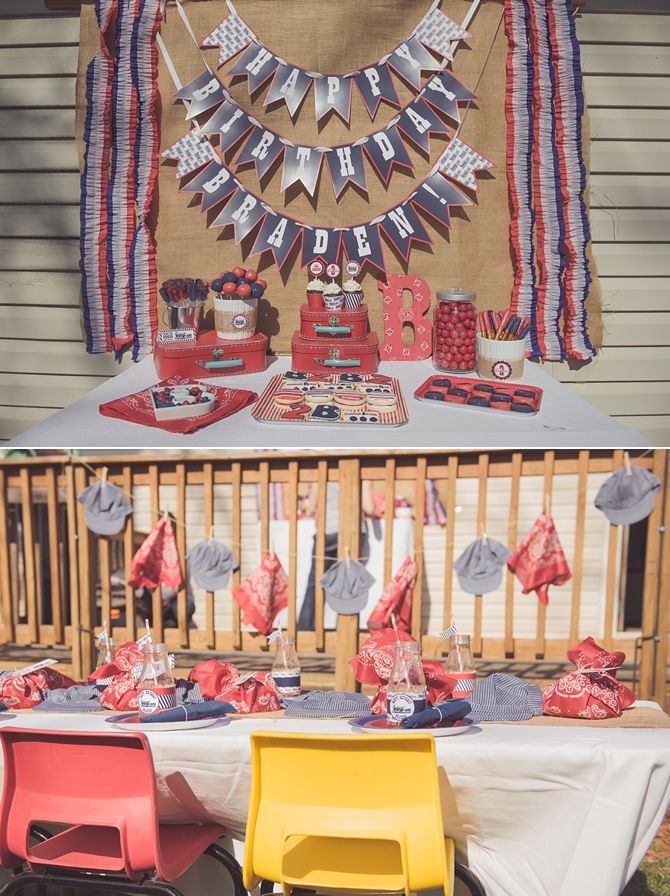 The party was a lot lower key than the Peter Pan party--which was a lot of fun. Train lollipops, cupcakes, Vic's famous sugar cookies, cake pops and chocolate dipped pretzels and oreos--nothing too fancy. But everything was delicious. I can not say enough great things about
Miss Lulu's Sweet Treats
--everything she makes is delicious! I stretched myself and used a lot of our printables in creative ways--extra cupcake toppers got glued to burlap ribbon and the treat bag toppers served as a little sign for the favors.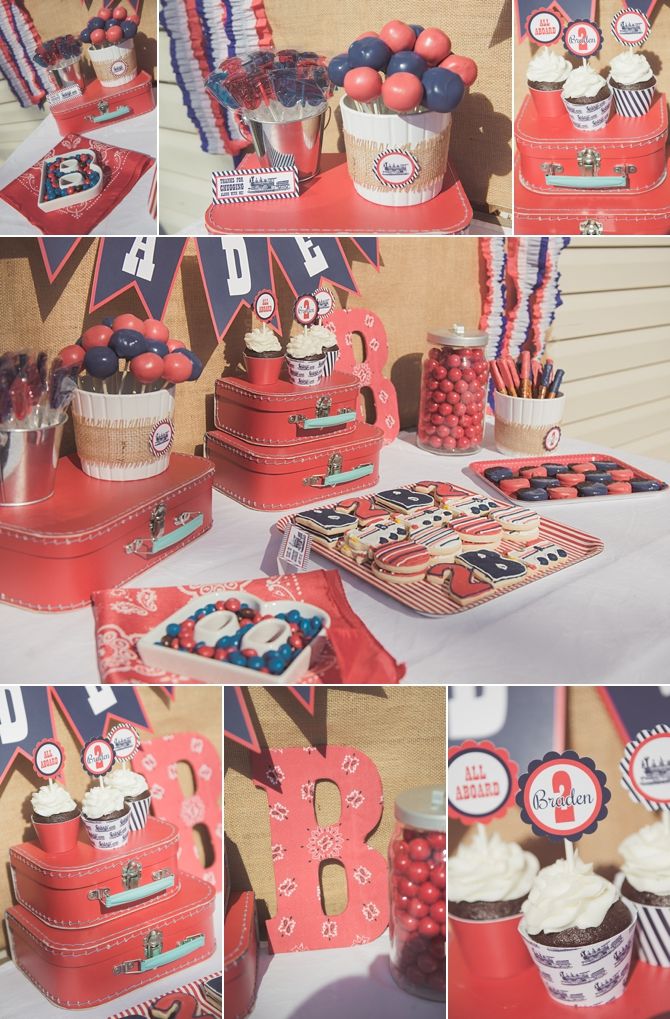 It's easy to set a super cute table with items you can get at any party store. Plates, napkins and flatware in matching colors can be easily coordinated in place settings. I wrapped the flatware and tied it with some twine. The glass Frappucino bottles get used at every single party--treat yourself to a few and save the bottles! My favorite part of the table was the table runner--the party favors were a last minute addition to the table and really brought it all together. All the kiddos got a little bandanna full of train goodies and an engineer hat! I used the extra bandannas and hats as a bunting behind the table--another last minute idea that I loved.
The bottom line is--parties are fun. And this one was a blast because it was spent in our vacant home with people we love. It doesn't really matter what you serve or how you decorate the table--it matters that you are able to celebrate with friends. Throw parties--even if you don't have a creative bone in your body. That's not a very great sales pitch for my business, but I do feel strongly that life is worth celebrating all the time--and you should do it even if you hate sugar and matching decorations. But if you do want some matching decorations,
I think you know where to go
.