The curse of the third child. As much as I really try to make sure Keaton gets all the things his brothers got... we're already falling a little short. First example: his "nursery." I'm using the word "nursery" loosely, because the truth is, this is actually the sitting room off of our bedroom. And once you've seen this picture, you've seen the whole room.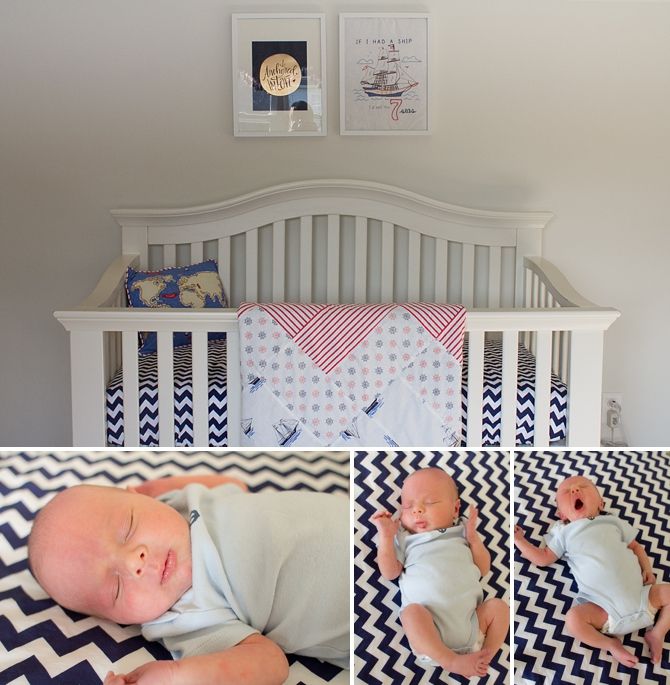 Instead of handmade fitted sheets, I bought two from Pottery Barn. Here's a helpful hint: buying sheets from Pottery Barn is cheaper, faster and easier than making your own. Sad, but true. At this point, you have also witnessed the only time Keaton has actually been in his crib--for a photo op. He's been sleeping in the bassinet beside the bed or snuggled beside me. I can't help myself.
Two little pieces of art--a print from
Lindsay Letters
and an amazing embroidered piece of art, designed by
Sarah Jane
and embroidered by my talented mother in law. I love them. The embroidery matches the fabric in Keaton's quilt (and Finley's big boy room, post pending.)
I'm in love with all the fabrics in this line (Out to Sea by Sarah Jane). My mom and I put together this quilt when I was staying with her in Arkansas. Keaton really loves it too.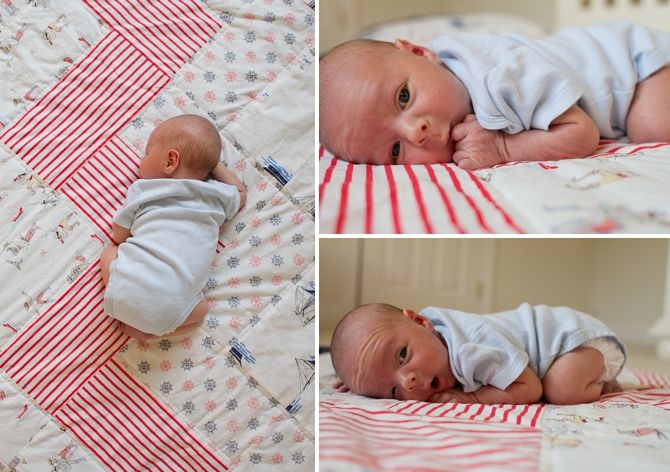 Newborns, right? So little. So snuggly. So awake every three hours in the middle of the night. (Confession: I don't mind waking up a million times at night to feed a newborn. This is partially because I love snuggly babies, partially because I love the quiet of our house when everyone is sleeping, and partially because I love Doctor Who. With a capital LOVE.)