I had been looking forward to going to the pool with Vic since Keaton was born. Labor Day conveniently fell six weeks after he was born and I was allowed back in the water. All the things I had wanted to do all summer--go off the high dive, go down the slide--I could finally do. And I could do them with my (braver) pal Vic.
THE SLIDE IS FUN. THE HIGH DIVE WAS SCARY. I was shocked that Victoria climbed up and went off so bravely. I did not. I screamed. Like a little girl. Eh.
One of the Labor Day festivities was a pie eating contest. After my initial disappointment that it was a slice of a pie and not an entire pie has subsided, we were ready to dig in. Although apparently, a pie eating contest is a face only thing. Which we did not realize. It was hilarious.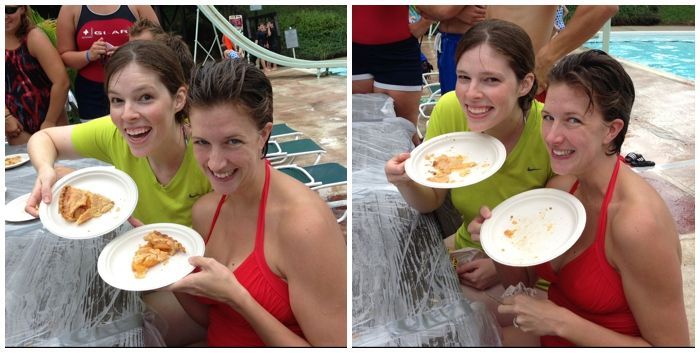 I had lots of peaches in my nose, but I beat Vic and the nice lady gave us both coupons for $.50 off the snack bar because... well I think she felt sorry for us. That's fine. We bough CHIPS.
Finley was considerably cuter at eating pie. Such a neat little fellow. He was definitely the youngest kid up there and did not get the racing aspect of it. Still adorable though.