If you are new around here, last year I hit my peak in being an awesome mom and made
THESE
costumes. Spoiler alert for this Halloween: if you are a boy and in my family you are going to be Peter Pan. Creativity out. The boys HAD to be Russell and Mr. Frederickson--they were both in love with UP. I had forgotten about
this video
--Finley used to make me act out scenes from UP with him. His sweet three year old voice is killing me. Go listen to a few seconds of the video. You'll die.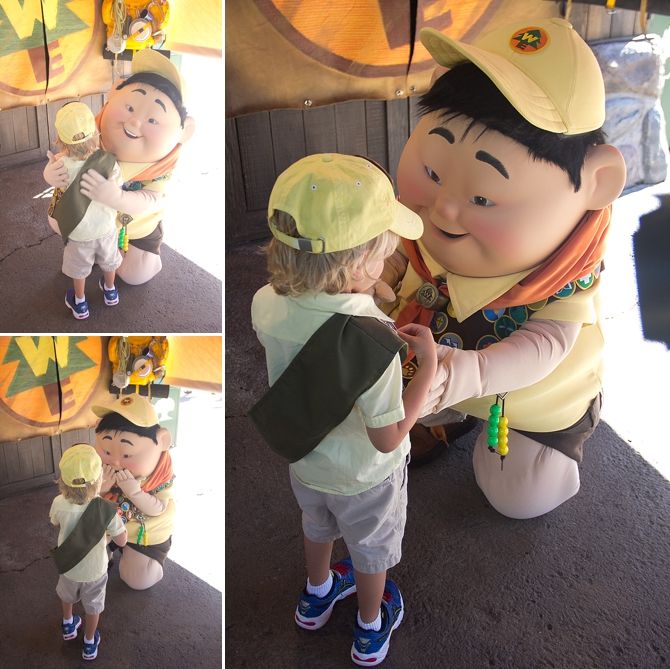 Last Disney trip I was an inept planner and we missed meeting Russell. Oh, not this time. We were the second people in line dang it. And I brought Finley's costume so he got fussed over big time by his fellow Wilderness Explorers.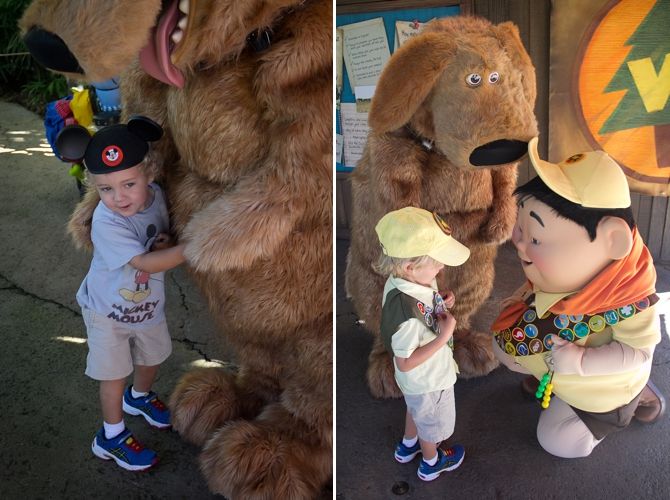 Braden was excited to meet Dug the Dog for some reason--and only a little disappointed Kevin the Snipe wasn't there. Really--he kept asking for Kevin. Braden was hilarious around the characters--he treated them very reverently, waiting his turn and then being very cautious and shy around them. But not afraid, if we'd walk him over he was all about getting a hug from them. Our Christmas card this year will likely feature a picture of us with random Disney characters. That's classy right? Nothing says Christmas like Disney characters?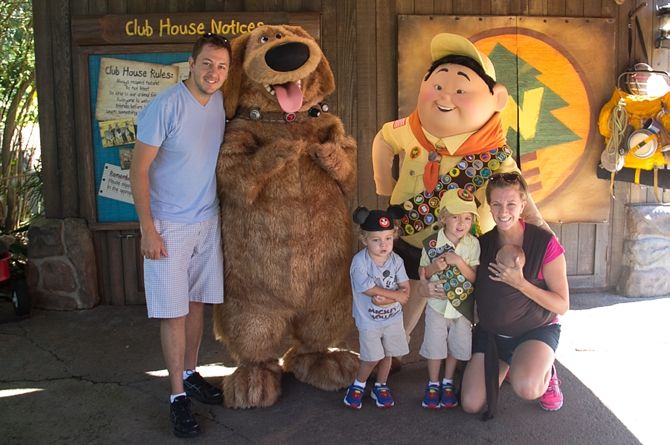 The absolute best part of our Animal Kingdom day was the Wilderness Explorer Handbook. This was new since our last trip and SO fun. It has 30 locations around the park where you do an activity or learn something wilderness-y and then the "troop leader" there will give you a sticker for that page in your book. This particular activity was about flamingos or something. I wasn't paying attention. This was one of the things I appreciated about Disney--aside from being fun and exciting, they also sometimes trick you into learning stuff. (I'm looking at you, Epcot.)
Truth be told, I enjoyed the day mostly because everyone was agape over Finley's outfit. Fun fact: Russell is not as popular as the Disney princesses. Just about everyone we crossed paths with asked where his outfit was from--and we didn't even have the super impressive backpack or bandana. I was proud.