Thanksgiving is a trick of a holiday--it just goes by too fast. My family came to celebrate in Pennsylvania with us this year. That's the benefit of having a newborn. We told them we weren't leaving, so they came to us. The silliest thing we did was go to a Trampoline park--where we made up 8 of the 9 oldest people there. #toocoolforschool
And in case you forgot, I know how to make gifs now. So watch out. This top one is a series of photos where we all were supposed to be doing synchronized flips. Sometimes we joke about my brothers being raised by a different set of parents--and here's some evidence. Laura and I (green and gray shirt) grew up honing our trampoline skills in the backyard--my brothers had no idea what to do. They are the two knuckle heads in the background. Luckily, Laura and I married men with some sort of trampoline sense. Equally impressive are our synchronized toe touches.
There you go. If my mom can figure out how to send a gif as a Christmas card, I'm pretty sure this is what she should be sending out.
I wanted to try to do four front handsprings in a row, but the best I could get up to was three. And only two were actually recorded.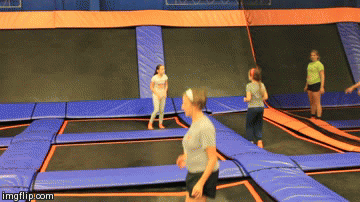 I was really proud of my ability to land on my feet after doing a front flip! And so I'm immortalizing it here so I can show anyone who ever doubts my
skills
skillz.
And Sol gets a solid A for effort. He didn't hold back.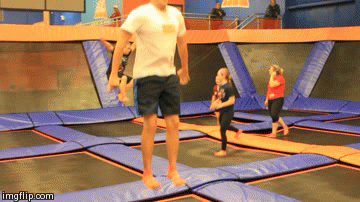 We were all pretty sore the next day. Thirty year old bodies were not meant for lots of jumping. They were meant for lots of chip eating.