We had another baby!!! Merritt Elizabeth was born on September 10, 2015 at 12:36 pm. 8 pounds and 6 ounces and 21 inches long. Third in line for height and weight. First in line for most pink.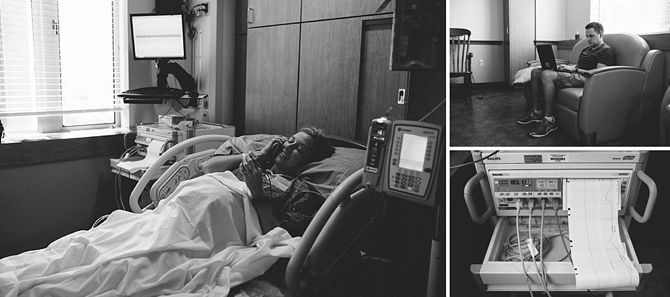 She was due on Monday the 14th. My doctor was willing to induce me the Wednesday before--but alas, it was the Taylor Swift concert, so we decided to wait one more day so we could go
Shake It Off
together. I think I was having some super mild contractions during the concert--and I actually felt a few before they hooked me up to the Pitocin. I was SO GRATEFUL to have Jenn there--not only did she take gorgeous photos of everything, she also entertained me while Sol got a little bit of work done.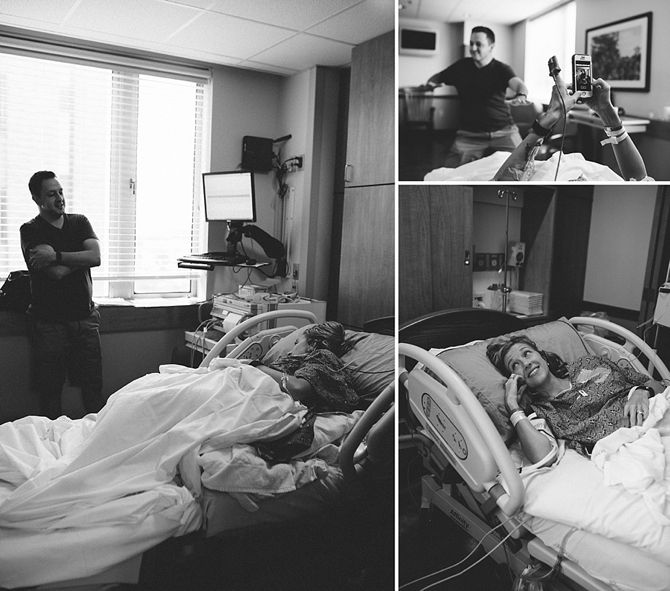 We checked in at 6:30, and by 9 I had successfully convinced the nurse to get me an Epidural like, immediately. They started the Pitocin and broke my water (which is UNCOMFORTABLE without an epidural). I only had a few semi-painful contractions before the anesthesiologist came in and made my world rainbow colored and full of joy. Seriously, after two lousy epidurals and then not getting one at all... I was a happy girl. We entertained ourselves by making Dubsmash videos and texting and emailing.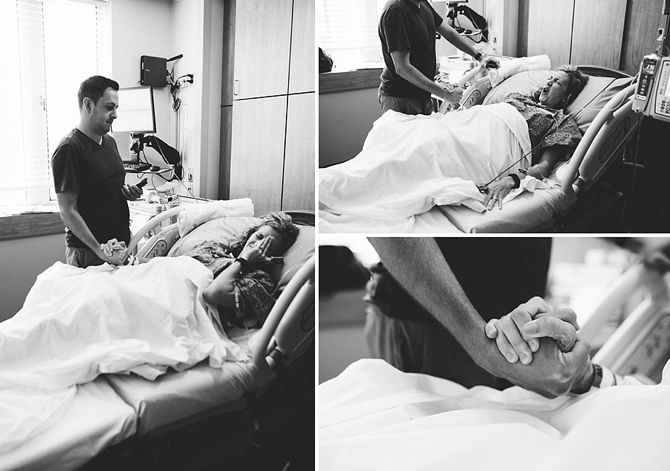 I had told everyone I was going to have the baby by noon--my labor is always quick and I perform well under deadlines. A little after 12 I started getting really uncomfortable (I really like my painful face above!) and told the nurse it was time to have the baby. The doctor made it in a little before 12:30 and two contractions later, there was Merritt.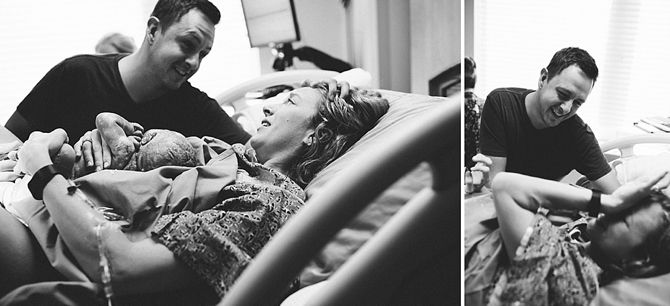 Sol's job was to tell me if it was a boy or a girl--and after he announced IT'S A BOY! I said, Good! And then the doctors and nurses corrected him. They handed me my sweet girl and I kept saying, "No, no, I'm supposed to have a boy!" I was really really surprised and really unsure about how I felt about the whole thing. (I've since come around--I was just really really shocked.)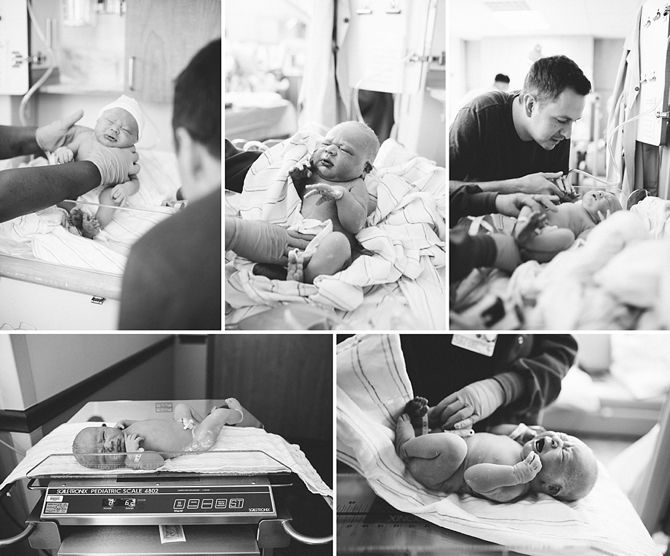 She didn't cry much after she was born--so they had to keep suctioning her and trying to clear out mucus so that she'd be ready to come see me. And she hasn't cried much since. We keep not wanting to jinx ourselves by saying how easy she is--but I think she might be a really easy baby. As all fourth babies should be.
My parents brought the boys by a few hours after she was born--and they were all excited! Jenn had brought them all matching shirts--did I mention she's the best?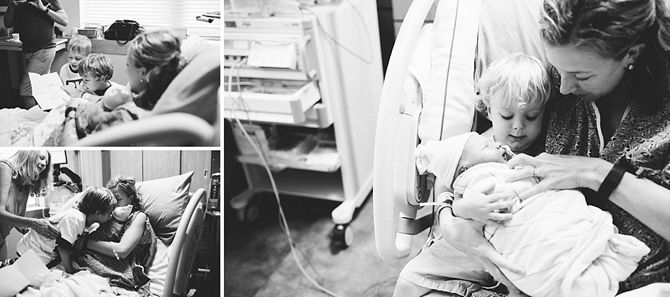 Merritt had gotten them all books and they enjoyed opening them and reading them in between turns of snuggling Merritt.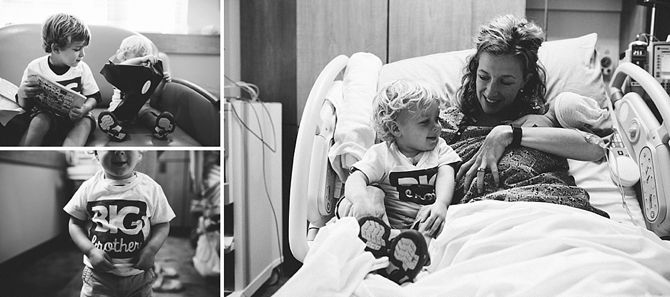 I think Keaton was the most smitten with her. He was so happy to sit beside me and look at her. He'd occasionally give her kisses and just chuckle--like he was just so pleased.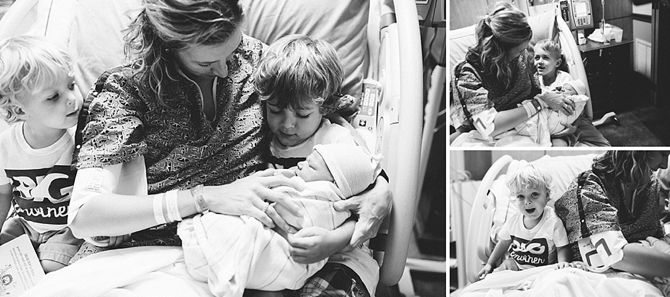 I've since come around and am really excited to have a girl--I was telling Sol last night that there was going to be some sense of mourning whether it was a boy or girl. It would have been so fun to have four boys and letting go of my all boy mentality is hard. But having a girl--that's something else entirely. My mom and I went to Target to buy a few things for her--and after a few minutes in the girl section I really needed to go surround myself with Star Wars things to not go get too overwhelmed!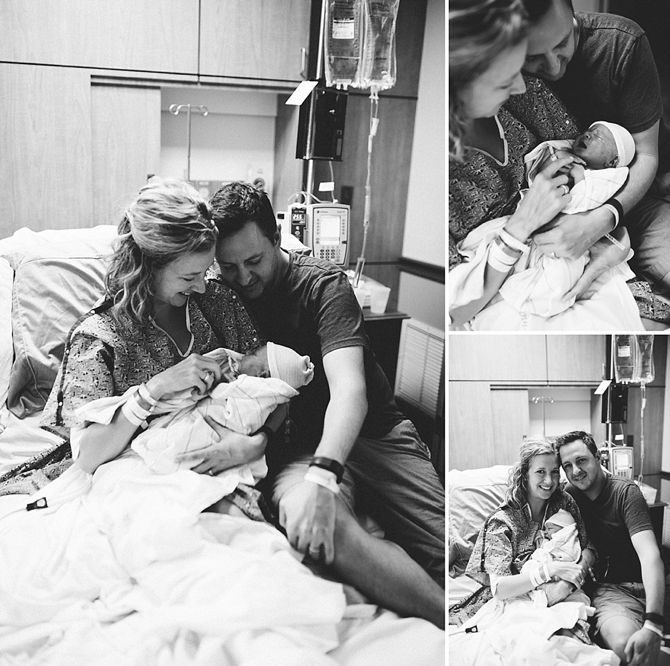 She's such a good baby--and everyone is pretty over the moon about her. It's so crazy that a few weeks ago, we didn't have her!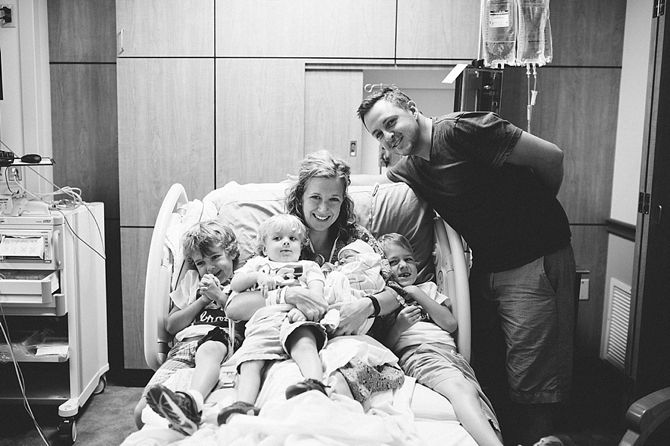 And now there's six of us. I have to figure out all sorts of things about bows, and how to buckle in all those children into carseats and how to make sure that she doesn't end up dating all her brothers' friends. God help us.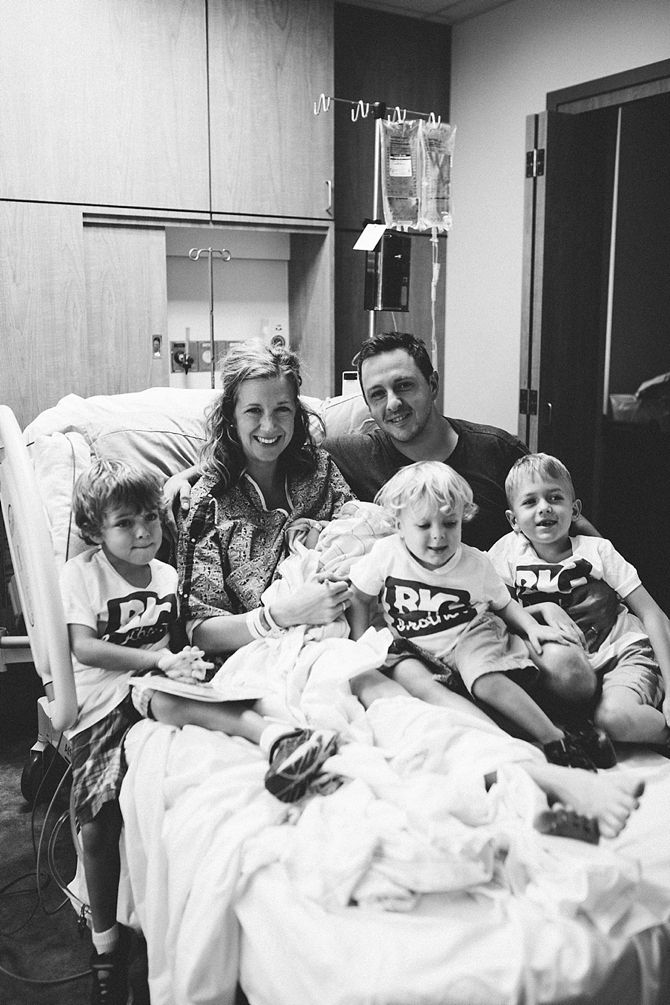 Instagram is the place to go for more frequent pictures and updates... so go
follow me there
. I'm going to try to be slightly diligent in posting things, but you know... fourth child. And again--thanks to Jenn for all the photos!