I'm beginning to realize I need to adapt--the style of blogging and photographing that served me well for many years isn't working quite as well now. More pictures are taken on my phone and I seem to have less big events that I'm whipping out the Canon for. Also, my arms are generally full of kids and said kids tend to be less cooperative. I generally don't post phone photos here but you know what? Sometimes thats what I have. So here's a hodge podge recap of Christmas related events, and the semi-resolution to try to be a better family archiver next year. I miss writing and I don't want my children to not have these precious memories to look through when they are older! Today is January 1, and Finley has already asked me where our "family year book" is from 2015. Give me a break, kid. But for posterity's sake... here's the 2015 Christmas card. First time in many years I didn't design it!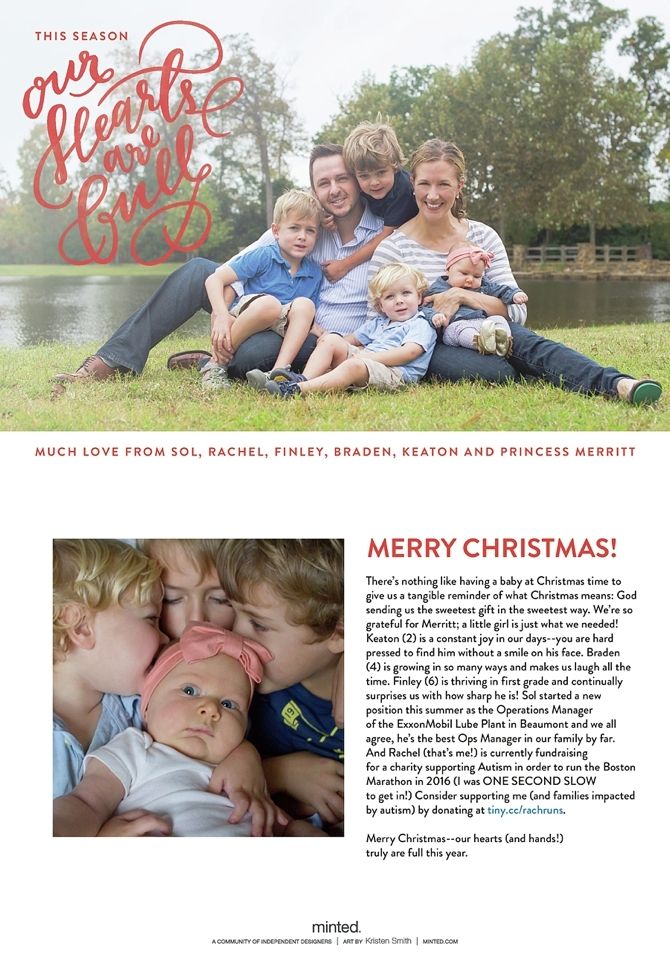 All the boys had Christmas events--Braden's was the kind where the kids have a treat and the parents stand and watch... so no pictures. Keaton's was a darling little sing a long that was several kinds of cute. He and Elisabeth are in class together for the second year, and still going strong as a duo of silent, bossy, tiny children.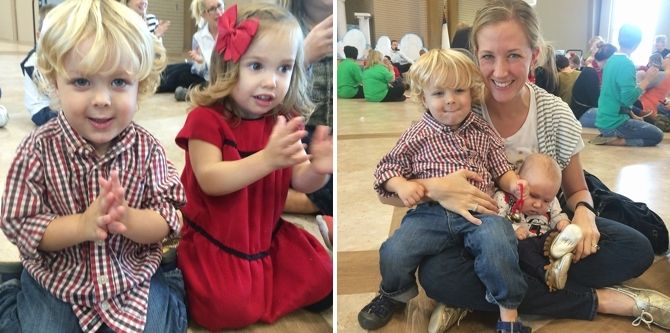 Finley's school had a pretty legit Christmas program. He knows all sorts of Christmas hymns now--including Silent Night in German!
Both of our families came to visit for Christmas. I was so excited to meet my sister's baby girl, Elliot. She's eight weeks younger than Merritt and still was a squishy newborn. Ahh, they grow so fast. It's exciting to have a cousin on the Grimmer side of the family--and one so close in age to Merritt! If she's going to be the only girl, I'm glad she's got a girly cousin in her corner!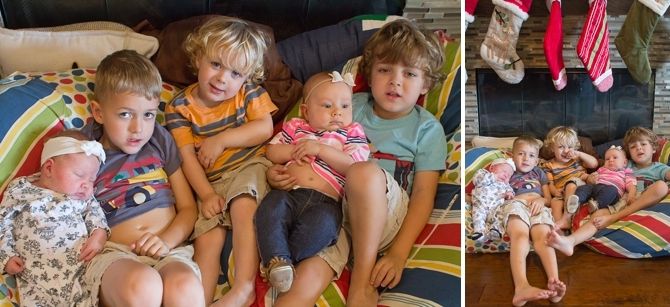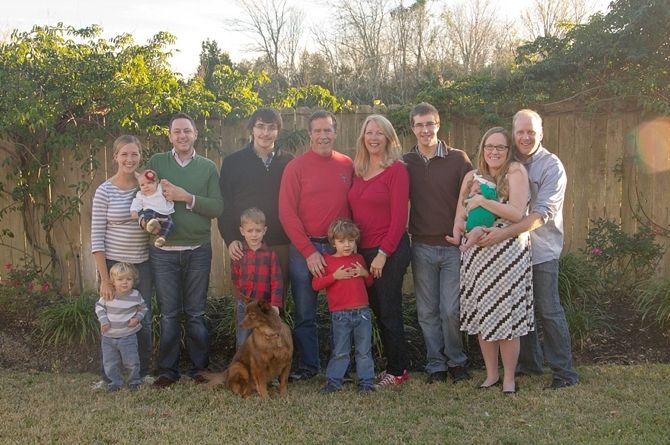 And I couldn't pass up the opportunity to put the girls in matching Christmas outfits. I think Laura and I should probably recreate this pose ever year we can manage to hold them up! We also saw Star Wars (spoiler alert: the stars win) and it was a big hit with everyone. The boys wore their Halloween costumes and everyone was remarkably well behaved in the theater.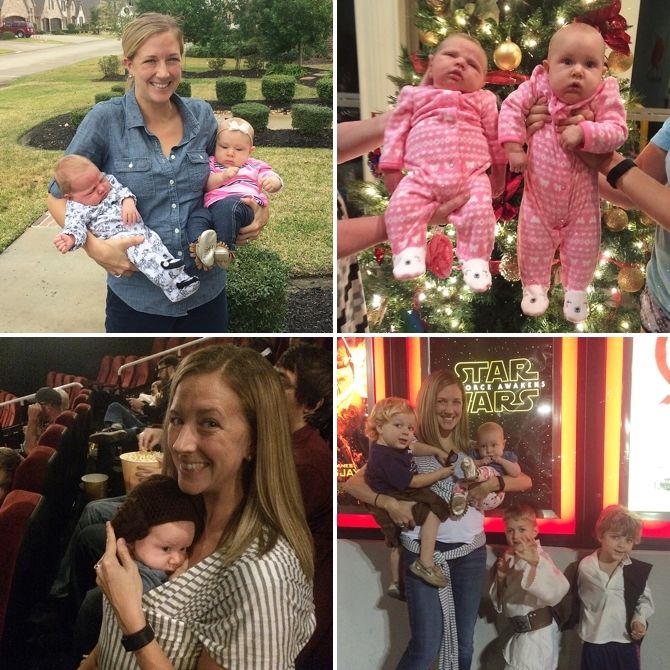 We spent actual Christmas with Sol's family--and I managed to get everyone in footie pajamas!!!! Well, except Merritt because they didn't make them that small. And we had to cut the feet off Finley's in the morning because they were giving him a blister. But they all matched and were super cute.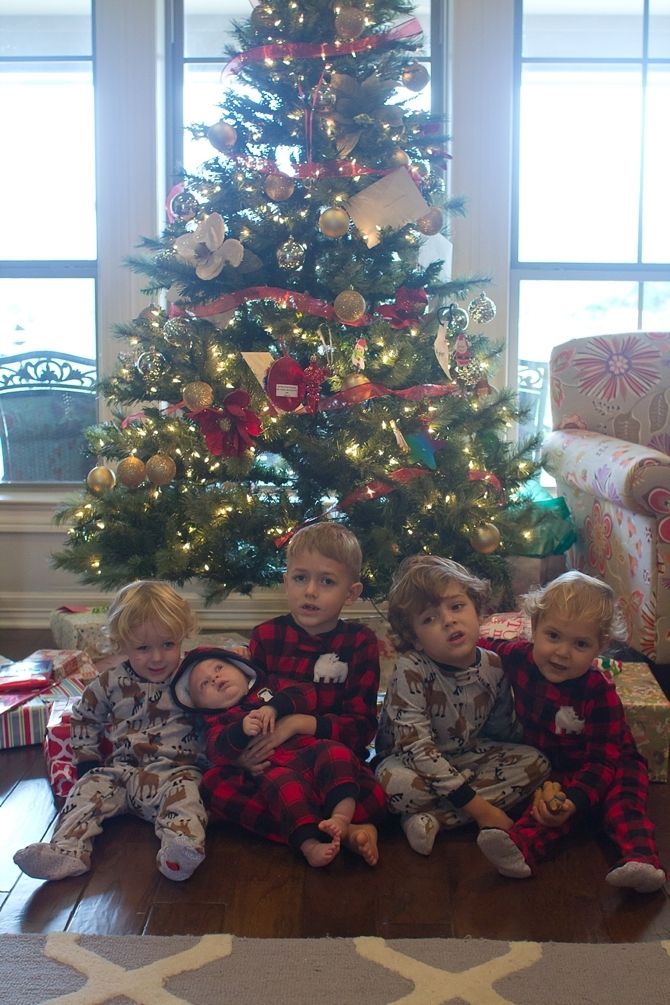 Santa was good to the boys--Finley was thrilled to get the Lego Millenium Falcon, which has managed to stay intact so far. And I also got him the Doctor Who Lego set which he was so surprised and excited by! Here's two time lapse videos of him building...
We got a semi-decent family picture in front of the tree!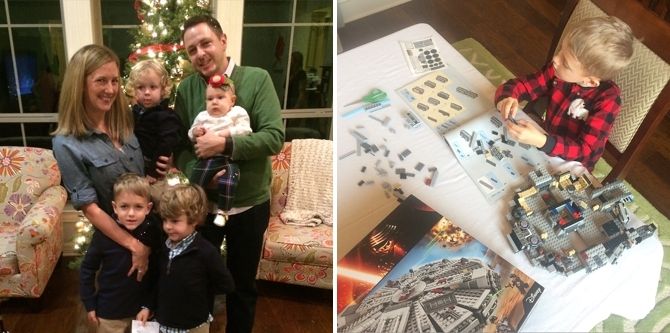 The rest of break was filled with playing with new toys, quick trip(s) to Houston to see friends and eat Tacos and trying to knock things off our to do list and keep our kids alive.

We were so blessed in 2015--and can't wait to see what 2016 holds!