I feel like I've already forgotten a lot of our Disney adventures, since the trip was three months ago... but before I forget any more, I'm writing them down. I'm already to the point where I want to go back--so this probably won't help.
These children really were a delight. I think we kept being surprised how easy it was take four of them. I was a bit sentimental about it being my last trip with a nursing baby--but I'm sentimental about everything. Merritt was beginning to be very easily distracted while nursing, so feeding her really was a challenge.
Storytime with Belle is always one of our favorites. Finley got to be the Beast (again) and Braden and Keaton were salt and pepper shakers. Everyone was excited to get a picture with Belle!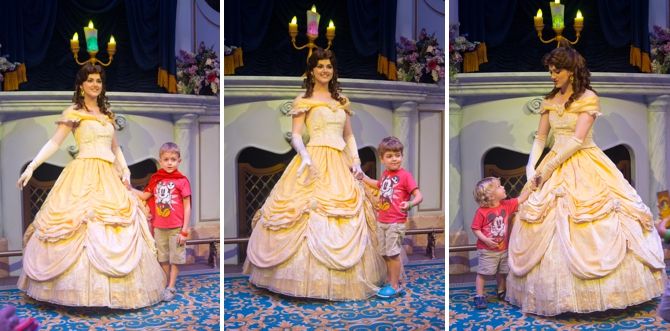 We had to meet Anna and Elsa--it was so exciting to bring my little girl to meet princesses! Next time we'll get her an Anna dress. Probably the one with sunflowers.
Skipping to a new day at Hollywood Studios. The boys really love the maps and like to think they are in charge. Ha.
I got a big kick out of taking Merritt-dressed-as-Rey to meet her friend Chewie.
Next day! Back to Magic Kingdom. In case you haven't noticed, Merritt was basically my impetus for everything. This day she switched between Wendy and Ariel outfits. And of course, she slept through all of meeting Ariel.
It's super cool that I made us matching leggings right? My mom was worried Merritt would overheat in them, so I made myself a pair so I'd know if she was getting hot. Although to tell you the truth--I'm basically winging it for everything. The pants did not fit well and I had to hike them up all day... but they were fun and we got tons of compliments on them. #thereasonIdoanything
The first two pictures were taken earlier in the day... I made everyone hike back over so I could get some pictures of M when the sun was lower and the light was a little softer. This day was chilly--her little cheeks and nose are red!
I really have no idea what I did before I had her. I'm just kind of crazy about her. You can't see them super well--but I bought some suck pads for the Ergo that look like Ariel too. We were basically killing it.
When we got home, I sold the whole outfit and and suck pads and made all my money back. Yay! Isn't she the cutest everrrrrr???
And my ornery little Smee. I love him in all his gap toothed glory.
Meeting Peter Pan is probably the highlight for me... its becoming less of a big deal for the boys as they become bigger Star Wars fans. Hopefully I still have another year or two of them wearing matching Peter Pan outfits since we finally have a Wendy Bird!
Merritt's Wendy outfit was a blue dress I found at Old Navy and a navy bow I whipped up (and lost pretty early in the day). Braden's Captain Hook is the original one I made for Finley's third birthday!
They take their swashbuckling duties very seriously.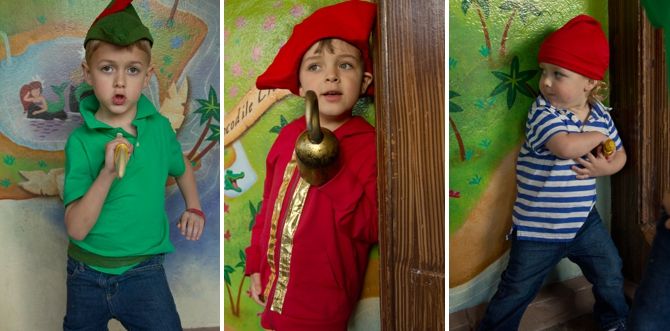 The people waiting in line to meet Peter were fairly entertained by our little troop. I ordered the little wooden daggers on Etsy and I'm pretty sure we came home with all three. Miracle!
Although this time, meeting Tinkerbell was probably more fun than meeting Peter. She was so animated and sweet with the boys.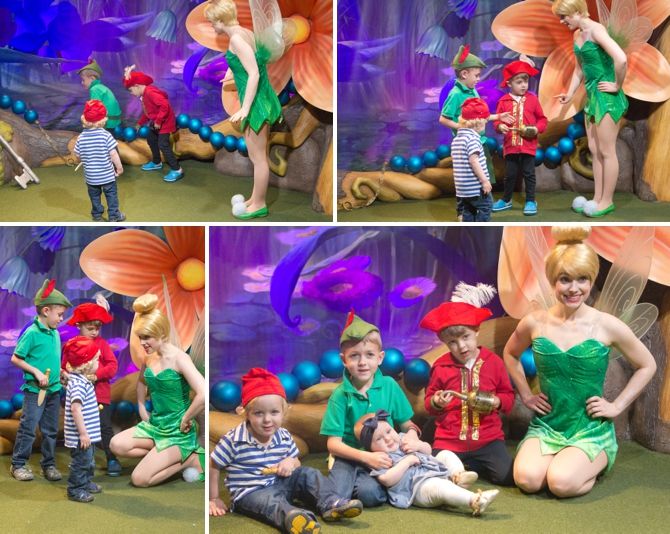 And the requisite picture with our favorite Mouse. This was one of the talking Mickeys--we're always so impressed.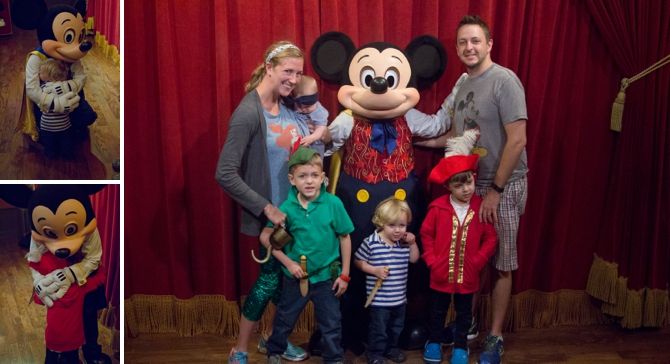 I've mentioned many times how much we love the People Mover--it's SUCH a great place to take a break for a snack and let everyone relax a little. There's generally no line and you can ride a few times in a row if you aren't ready to get off.
Sol on the carousel cracked me up--I was hoping to get a picture of all three boys riding, but Sol was always in the way taking his own pictures, which ended up being pretty entertaining.
Spoiler alert: no one was able to pull the sword out of the stone.