So my new favorite thing is
I Heart Faces
... and their theme this week is SILLY. You are supposed to recreate a picture of you from when you are little--and I'd encourage all of you to join in!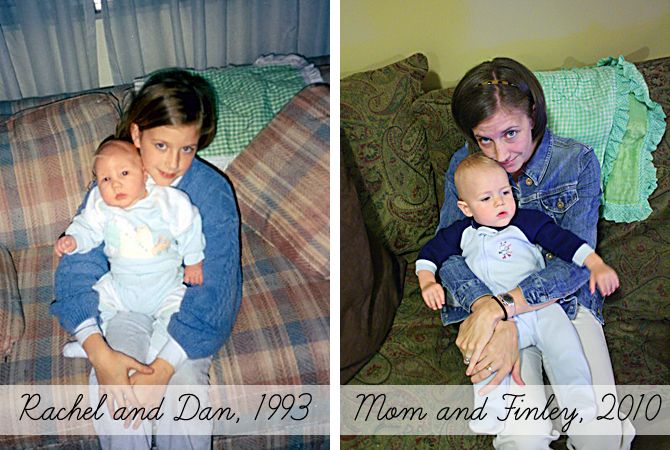 It's funny to look at this picture and know that my sweet little baby brother Dan is about a foot taller than me now--I guess this means Finley will inevitably grow up too. I remember trying to force Dan and Ben to pretend they were babies long after they were big because I loved to hold them. What will I do when my boy doesn't want to be held anymore? (Who am I kidding, he barely wanted to be held tonight!)
Also, I think
these pictures
would have been an even better entry, but they aren't of me so I can't use them. Bummer.
In other news, I promise to fill in all the
details of the marathon
soon. Thanks for being so supportive and loving. The number of emails, tweets, facebook messages and comments that I have received makes me feel so loved. I'm bummed I didn't qualify and mad that I missed it by so little, but I ran my best race and am happy about that. My legs are shot and I forgot the power cord for my laptop, so this is about all you get for tonight.
But stay tuned... there are several thrilling posts on the horizon. Here's a little hint about one: I GET TO MEET
PW
. Could my life BE any cooler?