What a bittersweet day for me--it's my last day teaching for quite awhile. I'm totally,
totally
excited about staying home with my boys for the forseeable future, but it's a little scary to be giving up what I've done for the past 6 years. I've heard that the average length that teachers teach is five years, and I definitely get that. My patience is a little shorter, I'm a little less excited day to day and a little more jaded about certain aspects of teaching. I still love middle schoolers and I still love math, but it is time for a break.
It's strange not knowing when I'll come back to education--and in what capacity. I'm not sure if I will want to teach, or do something with that Master's I got when we were in Boston. And if I do teach again, my heart is really with the inner-city kids; I loved teaching in Boston and have never felt quite as fulfilled teaching in suburban Virginia.
It's a rather anticlimactic end to my time here--I have to run out to my last OB appointment right after school, so there's not much time to be sentimental. But I have been so lucky to work with really great teachers, have relatively easy kids to work with and an excellent administration to work under. The kids have been so funny--asking me what will happen if my water breaks and what I'm naming the baby (which will obviously be
something from this list
) and how much it hurts (AWKWARD!) Some kids have sweetly said goodbye and given me cards, and some have rudely celebrated my departure. And some of my students became strangely obsessed with the fact that my Masters is from Harvard and won't let it go. Middle schoolers are awkward and really weird.
I'll also miss this girl.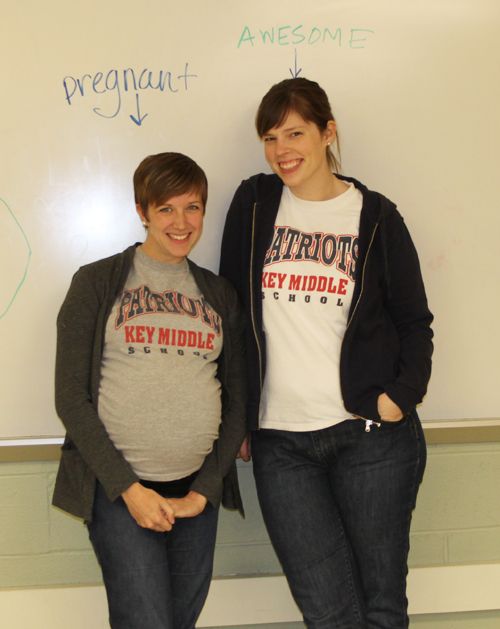 How lucky have I been to get to teach with my college BFF? We were living the dream, that's for sure. I'm looking forward to not being mistaken for her mom/sister/aunt/cousin anymore though. I guess that's what happen when you wear the same clothes to school and used to have the same haircut. I'll definitely miss her drawing excellent profile pictures of me. This one is totally accurate. And not at all inappropriate.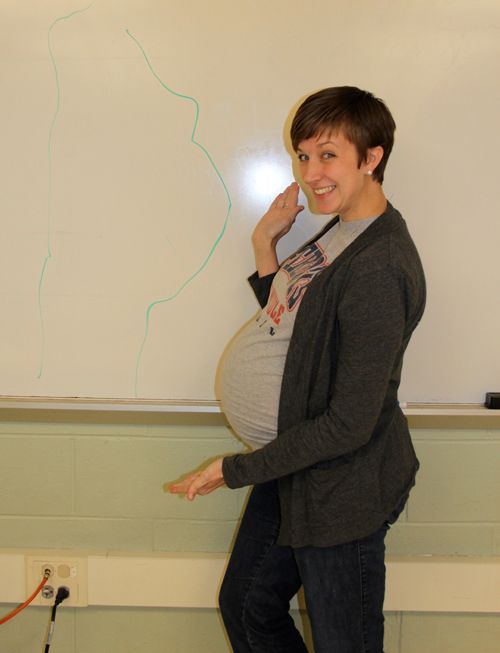 In the meantime, I plan on being the world's awesomest mother (except all the other awesome mothers I know), running a lot and putting some serious effort in to my
Etsy business
. I'm struggling a little with the fact that the answer to "What do you do?" is no longer "Teach Algebra." The answer will be "Change diapers and try to nap on the couch." But I think I'll make it.
I will also be taking suggestions on what to do at home with little children. Help.