Um, yeah... in addition to never posting the story of the day my little guy was born, I've never posted about his nursery (thanks for reminding me, Kat!) It's pretty much in it's final state now, so it's as good as time as any to post about it! The pictures are from various points over the seven months I've been working on the nursery, so it may be a little confusing, but you can deal with it. Also, I really struggled with the lighting, so you can pretend there isn't a weird glowing window below and that the colors look a little more normal.
The nursery's theme started off being "look at this cute fabric I found!" but has slowly turned into giraffes and orange and teal. Weird. Pretty much everything made from fabric I sewed myself--from the
crib sheets
to the bunting above the bed. I ordered all the flannel from flannelqueen.com and the curtains and
bow pillows
were made with some awesome fabric from fabric.com. Love ordering from them.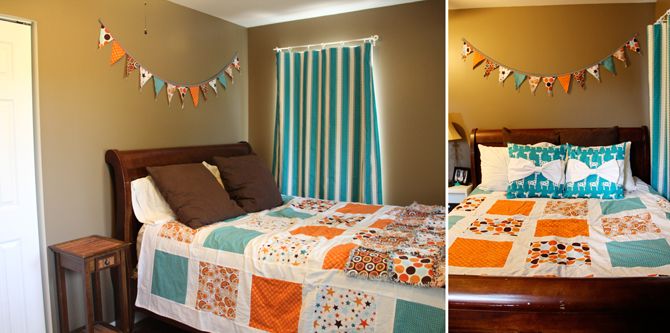 I made this rather silly mobile above his crib using a circle punch and my sewing machine. It was a LOT quicker than I thought it would be, and I think it's super cute.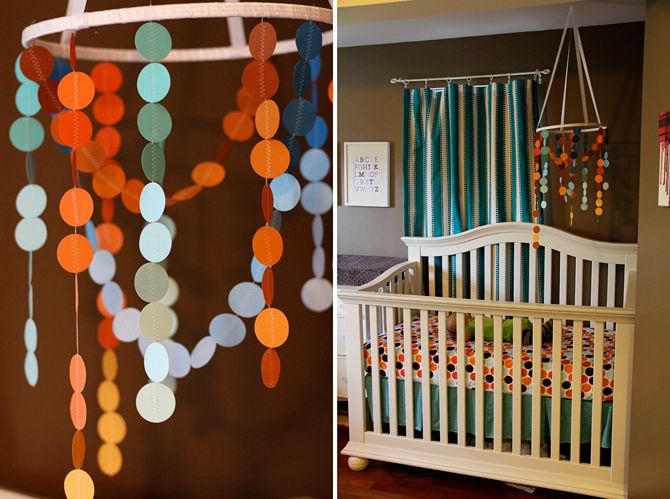 Wall art was inspired by an Etsy shop I found and replicated by me. Imitation is the sincerest form of flattery, right? Isn't that what the internet is for? Finding cute ideas and making them on your own? The changing table was Craigslisted... along with every single piece of furniture in our house. Seriously.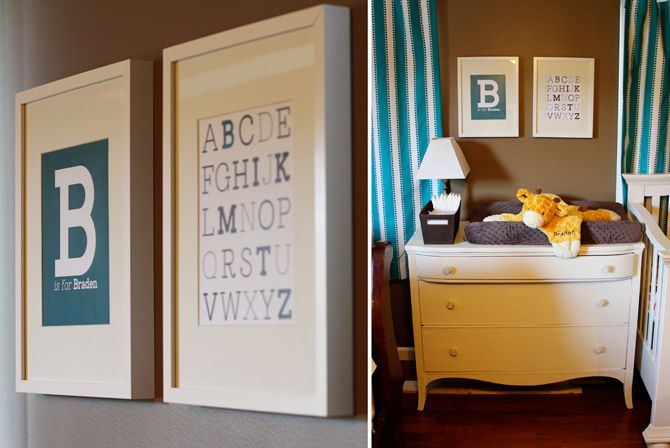 I did NOT make this
giraffe print
--I bought it on Etsy and it shipped from France! C'est la vie! Monsieur! Shake your bon bon!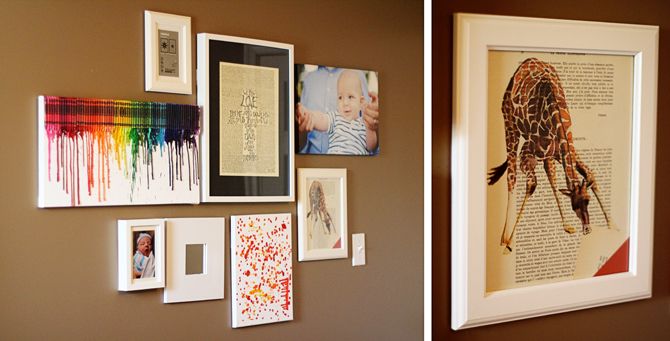 I did make the
crayon art
on the left, as well as the weird crayon art on the bottom. I know. It's strange. The cross print in the middle was a wedding gift from Sol's dear friend Luke, who Mr. Braden Luke is named for. And the empty frame is to remind me that my work is never done.
And that's the nursery. It's almost as cute as the little boy who sleeps there.