Before we left for our trip, I found some Mickey shaped notepads in the Dollar Spot at Target. The boys like meeting characters, but we had never made a huge effort to meet lots of them--just important ones like Mickey and Peter Pan. This time--we met all.the.characters. I saw some moms who brought photo mats for the characters to sign--and in retrospect, having a cheap notebook full of signatures was probably not the way to go. Finley took his role super seriously and made sure to get a signature immediately. Braden occasionally wanted an autograph, but most of the time was just excited to get a hug.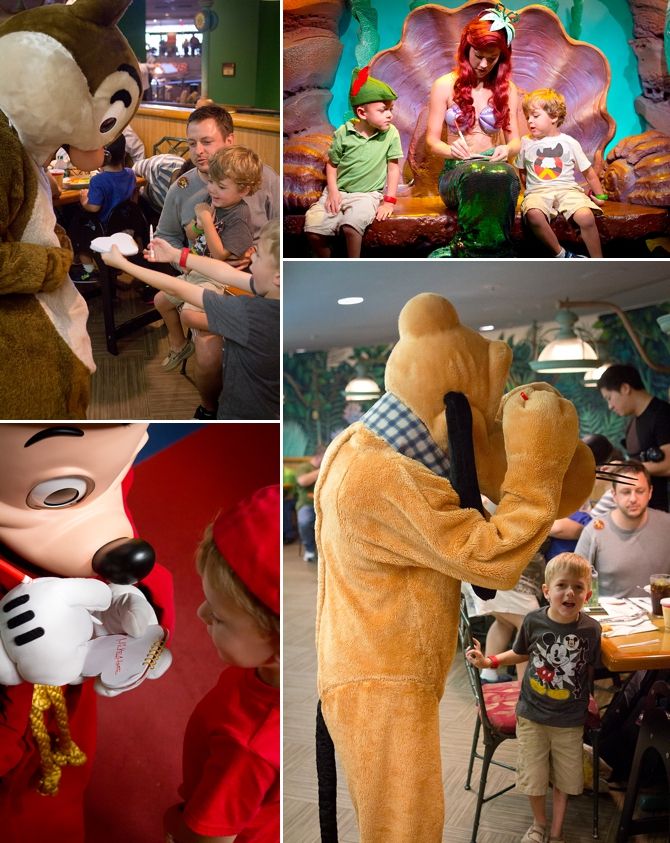 Meeting Daisy, Donald, Goofy and Minnie at Magic Kingdom was our kick off character experience. It's an easy way to meet a lot quickly--there's rarely a line and all four characters are in the same room (with two separate lines). Braden gave Aviator Goofy the sweetest, looongest hug. He kind of hung in Goofy's arms longer than was normal. But it was cu-ute.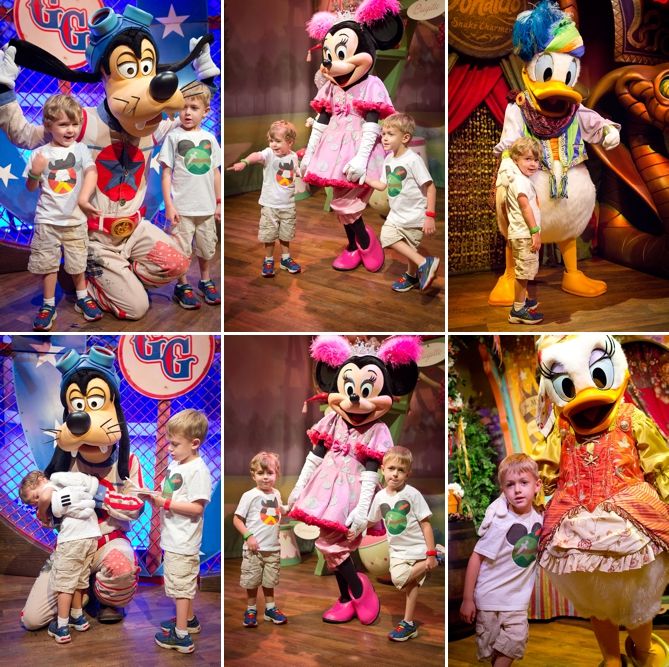 Our crowning achievement (pun intended) of the character experiences was meeting Anna and Elsa. The line to meet them regularly topped three hours and the Fast Passes were gone before we had a chance to get one. And even though we have boys--they still really wanted to meet the Frozen gals. (Not sure what Anna is doing in the first picture...) We made it to the Magic Kingdom early--and Sol was at the rope when they dropped it to let everyone in. His plan was to run to get in line--but the people who ran got YELLED at, so he walked quickly and respectfully with ALL the other people they were safely corralling to meet the Princesses. And we got in to see them within 15 minutes, so it was ridiculous--and worth it.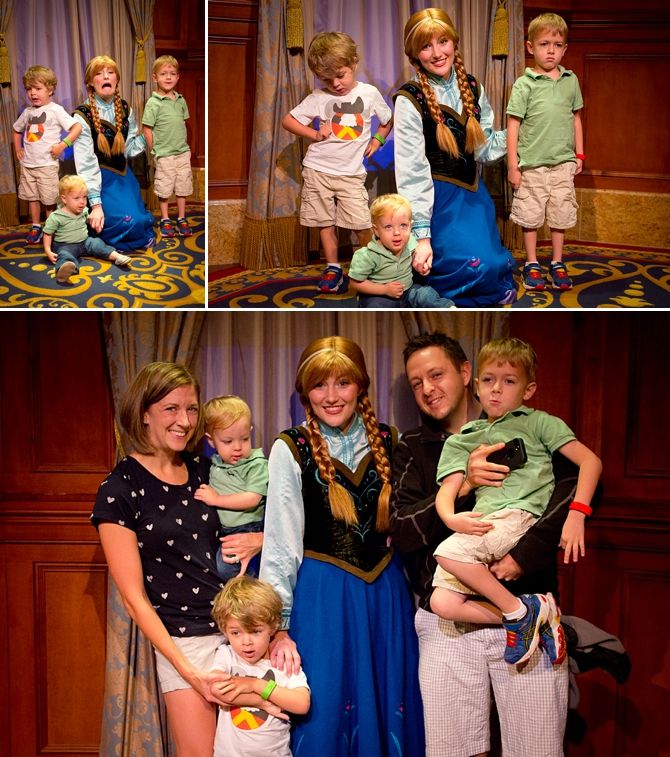 We had never meet Anna and Elsa before--and it was just so fun to talk to them and see them interact with them. I was disappointed it wasn't Idina and K Bell, but these ladies did an excellent job bringing their characters to life. Elsa was regal and Anna was goofy--so fun. (Please see Finley pretending to be frozen in the second picture._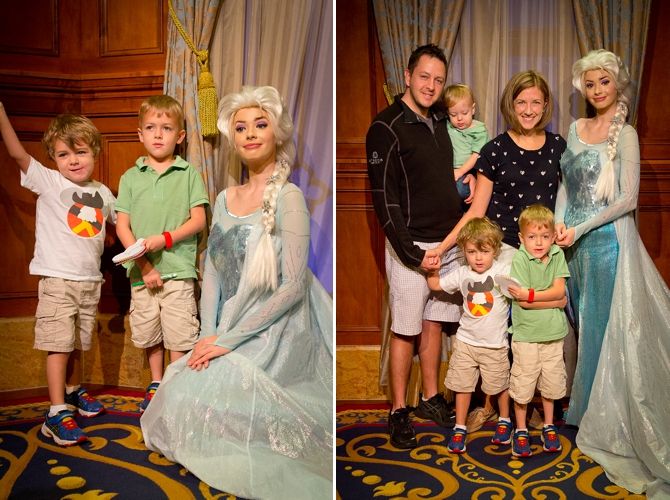 Peter Pan was one of the characters we HAD to see--I had matching Peter outfits for the boys, but Braden didn't want to wear it and that was not a battle I wanted to fight. So he was Captain Hook. This was the third Peter we've met and probably the least cool. Sorry Peter. For some CUUUUTE pictures of my babies meeting the same characters almost two years ago--
here you go
.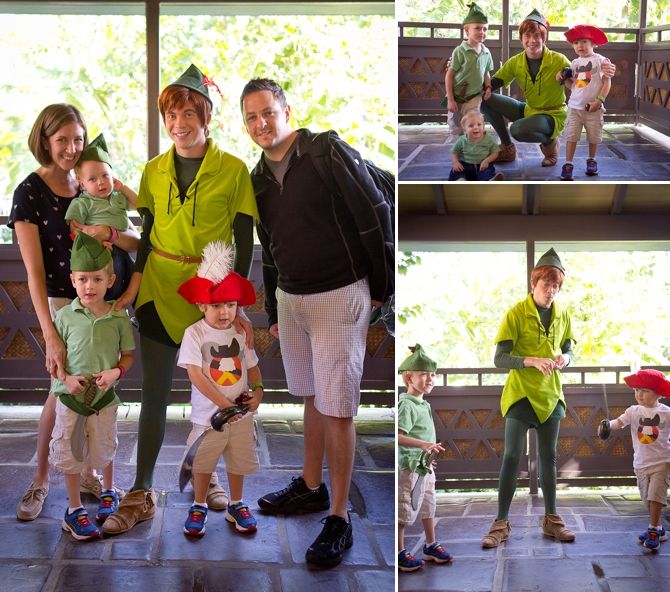 Keaton was pretty wary of the characters--but he liked to sit beside me and watch them come by at Garden Grill. We only did one character meal this time--they were mostly booked by the time I got around to making reservations, but Sol managed to get one at Epcot. It was a fun one! Not our favorite food, but we got to meet Farmer Mickey, Chip and Dale and Pluto.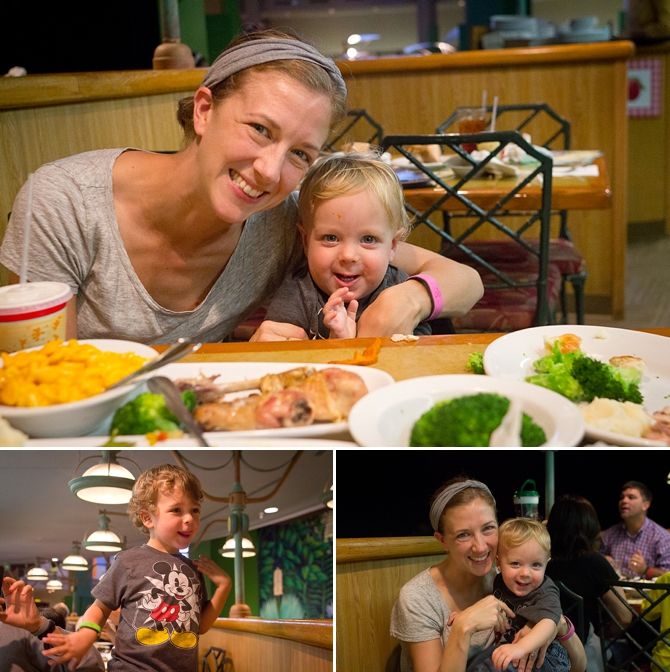 This was probably Braden's favorite--he was smitten with Chip and Dale and was SO excited to see them. Finley was pretty excited to see them too.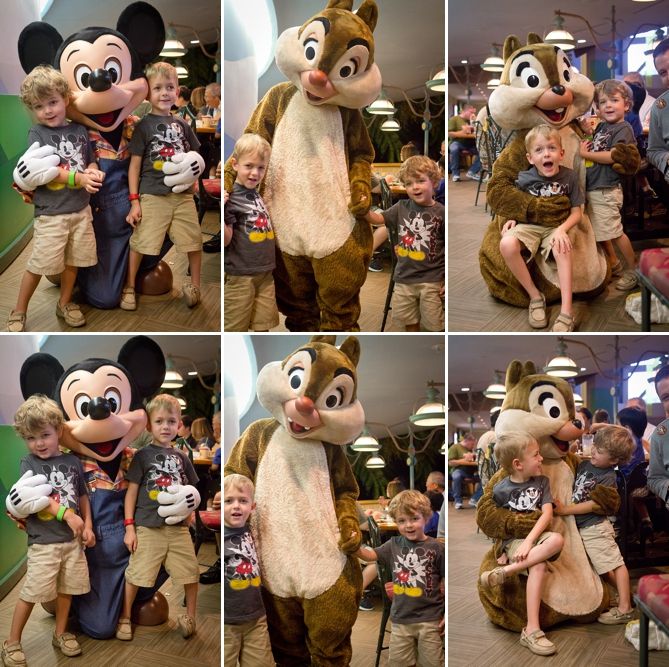 Meeting Buzz and Woody was entertaining--we had just bought the boys light sabers (of course) and they took them and did a little mock sword fight. We met Ariel for the first time this trip too--and neither child pulled her shells off, which was a victory. Behind her was a pile of forks--I'm guessing little girls bring her "dinglehoppers" or whatever she calls them, and it was cute.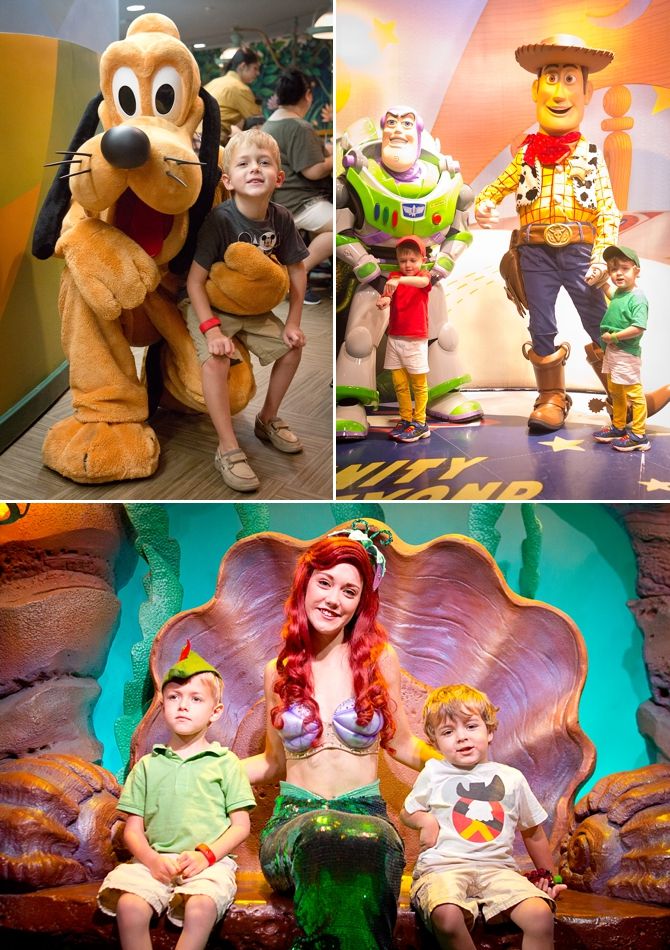 Santa Goofy, Mexico Donald and MARY POPPINS!!! How fun is Mary Poppins?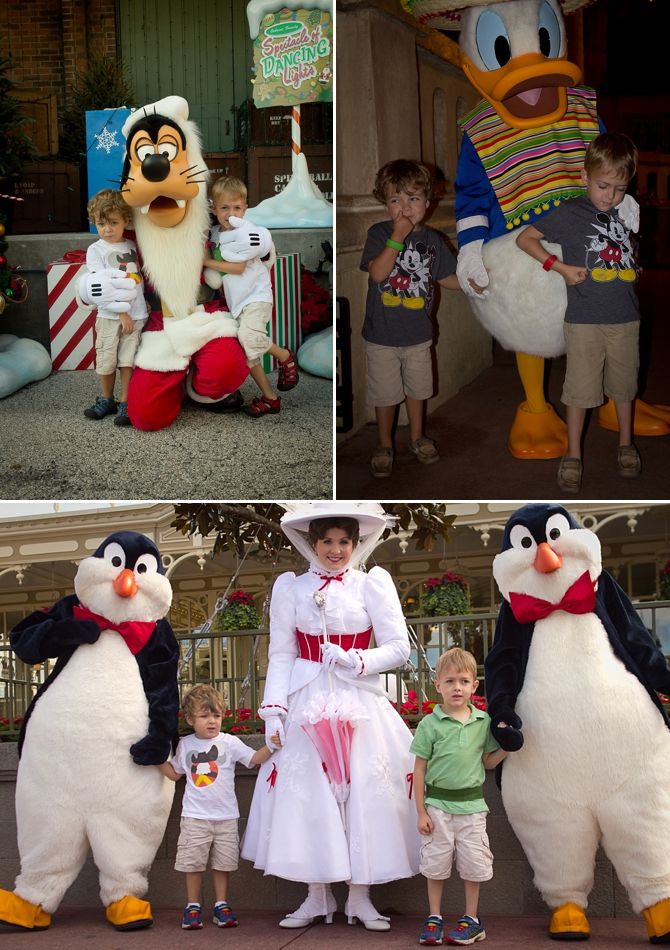 Meeting Donald while the boys were dressed as Huey, Dewey and Louie was one of my favorites. It was fun to watch Donald get excited to see them in costume. And Finley and Braden were so pumped to take a picture with him.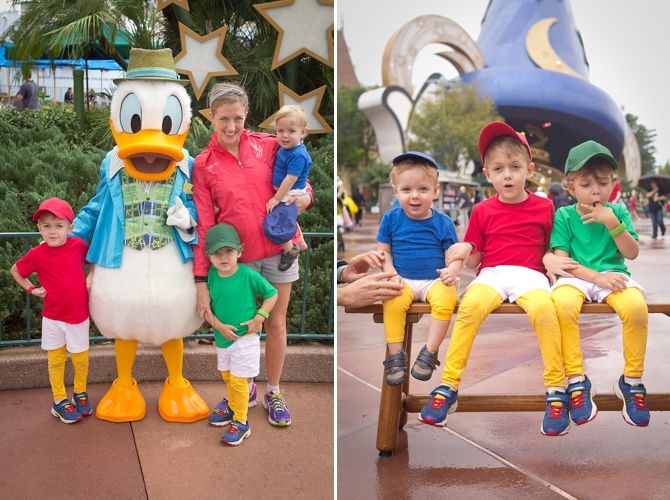 Talking Mickey is always a hit with the boys--I know I'm a sap, but its so fun to see the characters make those magical experiences for the kids. And Sol loved taking a picture with Belle... magical. Braden was really excited to meet Tinkerbell and gave her an awkward hug.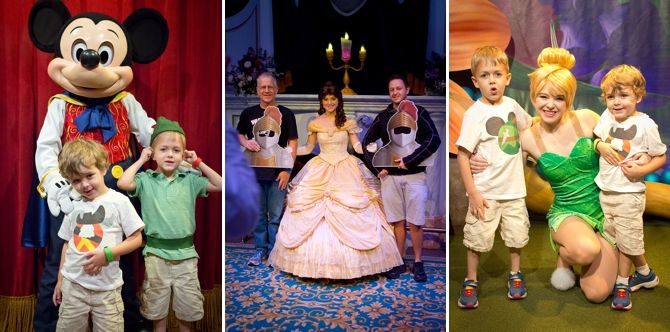 I was hoping for a good Christmas picture with Santa Goofy, but that did not work out. Ohhh well. We got a decent one with some Christmas lights though. Except most of the lights are cropped out.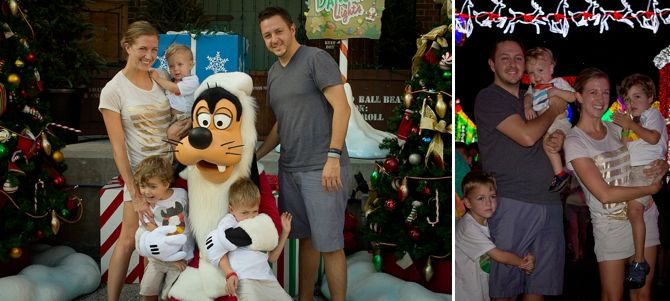 And a family picture with Mickey to wrap things up. We love that mouse. And we love his castle, which is actually Cinderella's castle. Don't tell my kids.